As Mothering Sunday is nearly upon us I couldn't think of anything nicer than giving some reviews on some blissful gin tipples! I am a big fan of anything that tastes of raspberries and I was excited to be presented with a sample of this wonderfully infused botanical and raspberry gin.

Pinkster Gin all came about when founder Stephen realised wine and beer no longer agreed with him. A keen maker of sloe liqueurs and other concoctions, he turned his attention to spirits and started experimenting at home, mashing assorted fruits with different spirit strengths. It wasn't his intention to create a pink drink, it's just that after working his way through an entire fruit bowl, raspberry delivered the best flavour. G&J Distillers, one of the world's oldest gin distilleries, was recruited to the cause. They produce the core spirit with five botanicals to the original stunning recipe.This is then macerated with a further three botanicals, including fresh raspberries grown locally to our rural base outside Cambridge.
Nose: Slight hint of orange peels with a subtle aroma of unsurprisingly, raspberries coming through.
Palate: Yet more fruit, in the background is a hint of pepper with vanilla. Raspberry of course the focal point.
Finish: Raspberries and a grassy hint of water mint.
Another unique and equally appealing gin is the Eden Mill Love Gin 42%  Bursting with exotic fruit botanicals and crafted at St Andrews in Scotland and bottled in this cool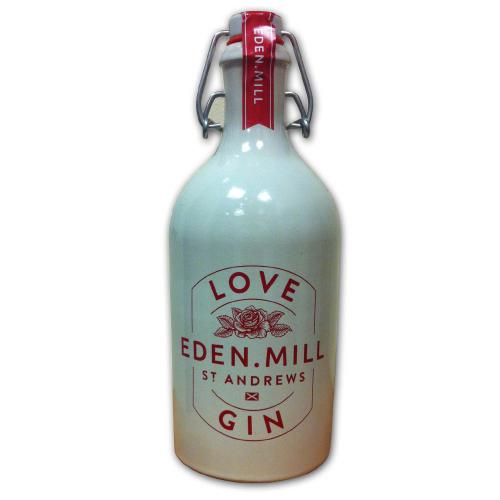 earthenware swing top bottle. Love Gin brings together an outstanding blend of local botanicals and infusion of exotic fruits. One-to-one research shows that it works well in the company of a very close friend but it's a sociable elixir too. Enjoy with premium tonic water or a quality prosecco.
Soft subtle juniper on the nose with a touch of warm, spiced berries – strawberry and raspberry. Sweet vanilla and green fruits – green apples and pears then come into play as the gin finishes with a delicate citrus pink grapefruit and a drop of rose water at the very end.
If you're looking for a gin gift set to give on Mother's Day then this Whitley Neill Gin Gift Pack 70cl with signature glass will certainly please!
A London Dry Gin made with African botanicals including extracts from the Baobab Tree (known as the Tree of Life) and Cape Gooseberry to give it an even more exotic feel than other gins. It's made in a one-hundred-year-old copper pot still! There is also a stronger version at 48%. This stunning Whitley Neill Gin comes with a 'Whitley Neill' branded glass and 70cl bottle, both presented in a fantastic Whitley Neill presented box.
Nose: Smooth and balanced is the overriding impression. Green pine is restrained. Subtle citrus, fruit and earthy notes are delicate, and suggest a lighter style of gin.
Palate: Juniper is restrained too on the palate as the balance between all elements is a success here. Relatively sweet for a 'dry' gin, fruity and floral notes shine throughout.
Finish: Just enough coriander spice and a perky hit of orange peel on the finish lift things and maintain interest.
Slainte,
Pete