Yes its true! Shock – horror… And delight at the first new release of 2014 ☺ a new addition to the Hoyo de Monterrey range: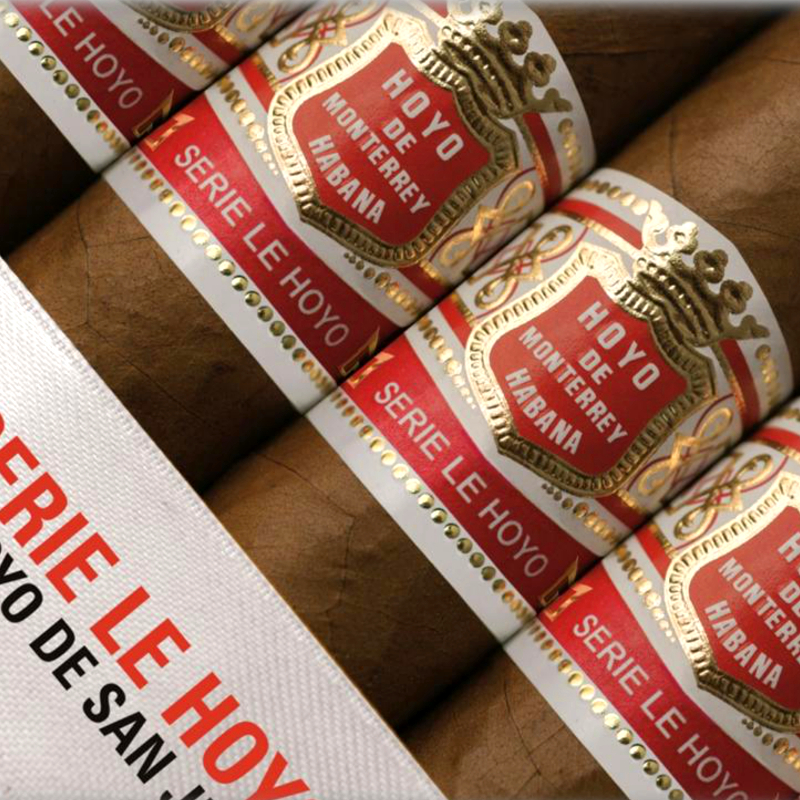 'Le Hoyo' series from Hoyo de Monterrey – Le Hoyo de San Juan.
San Juan y Martinez is a small town in Vuelta Abajo (the main source of tobacco for Habanos) which gives it name to the district that is protected as a Denomination of Origin (DOP). The new heavy ring gauge cigars joining the Le Hoyo range not only take its name from this district but also only use Seco and Ligero leaves in the blend that are grown there which gives the cigars a rich finish whilst maintaining a refined light aroma that is a character of the Hoyo de Monterrey brand. The famous Hoyo de Monterrey plantation is also located here which grows some of the finest leaves for other prestigious Habanos brands.
The cigars are presented in SLB 25s and are dressed with a totally new style of band.
Measuring in at 5 7/8" length and 54 ring gauge and available in singles and cabinets of 25
Cigar Auction season is fast approaching and we have a change to the usual routine for the Winter sale.
C.Gars Vintage Cigar Auction and Dinner
Monday 1st December – Boisdale Belgravia 
We are delighted to be returning to Boisdale of Belgravia where our cigar auctions started in 2009. A change of format for this year with pre auction and post auction cigars on the terrace and a splendid dinner following the auction
Resident auctioneer Jonathan Humbert expects to be offering and knocking down 300 Lots of Aged, Rare, Vintage. Limited Edition, Davidoff, Dunhill and Pre Embargo Cigars.
Viewings by appointment at our London office Monday – Friday 10 am – 4.30 pm and final viewings Sunday 30th November 12 pm – 4.30 pm. Email us at sales@cgarsltd.co.uk
4:00pm: Cigars and pre auction drinks on the Cigar Terrace.
5:00pm: Auction in the restaurant.
7:15pm: Cigar Terrace for cigar and cocktails.
7:45pm: Sit down for sumptuous three course dinner with excellent wines.
9:45pm: Retire to Cigar Terrace for cigars and whisky/Cognac.
Ticket price £149 to include auction catalogue.
Auction Catalogue will be online and in print from the 1st November.
In other news this week…
Congratulations to my smoking chum Chris (affectionately known as Chris da Grik) on his marriage last weekend. A thoroughly delightful affair and great to catch up with some of my old herfing chums (Gordon, Zaffie and Tillman)
Office herf this week well attended by Zaff, Tillman, Mike and Nick – lot of fun testing out the new Hoyo which was generally liked by all (it must have been 'cos everyone wanted a second one to check for 'consistency' lol) herf was continued till late at the lovely Bulgari Hotel (Sahakian Cigar Lounge) where we enjoyed Ramon Petit Belicosos followed by Cohiba Behike 56's paired up with Old
Fashioned cocktails. My thanks to Mike and his staff at the Bulgari for the usual warm welcome.
Next week I'm off to the InterTabak trade show in Dortmund to source even more great products for my clients at the best prices in the UK (like everything we sell – lowest prices always guaranteed!)
This weekend I'm kicking back with C.Gars Co-Director (also my wife!) Karyn to celebrate her birthday… and mine (yup we have the same birthday!) I have some Dunhill Don Candido 500 set aside for thorough enjoyment which should mark the occasion perfectly with a bottle or two of Bilecart Salmon 1989 🙂
Have a smokey weekend,
Peaceful puffing,
Mitchell