I'd like to say that I'm delighted that our new super-duper Turmeaus Liverpool is open and it is indeed open but not fully open yet <groan>.
We did a soft opening around 10 days ago as we still don't have our electricity on thanks to a cock up from the council in allocating our post code so we could have a meter installed (long story/wont bore you), so, we are working on a generator (bloody noisy and not crazy about the diesel aroma) until we can actually have the meter installed on Saturday and get the mechanical and engineering system (pretty serious stuff!) commissioned and up and running.
In hopeful anticipation of this I'm planning to be in Liverpool on Tuesday to sort of officially cut the ribbon and open the cigar sampling lounge and officially declare the new Turmeaus fully open.
Karyn and I spent a rather back breaking week together with our fine Liverpool team and the ever energetic Sara from Turmeaus Chester moving from our old Fenwick street shops to our new premises at The Albany Building in Old Hall street.
I can only say that the architect designed results have exceeded my expectations by far. I may well be wrong but I believe that this is the largest walk in cigar humidor in the UK and the range of premium cigars is endless and rather impressive to say the least. There are quite a few lines that you won't find anywhere else in the UK.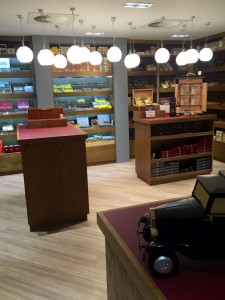 The humidor has an unrivaled range of Havanas as well as an enormous range of new world cigars, if it's worth smoking… we have it: Fuente, Inka, Oliva, Padron, Macanudo, Torano, Dunhill, Joya. I could go on and on and on…
I'll pop a load of photos up over the next week.
The shop has a huge range of humidors, cutters, lighters and all manner of cigar accessories. I can best describe this as a dream for the cigar aficionado. Fabulous choice and of course the best pricing in the UK.
The premises is fully licenced so drams can be enjoyed at the bar and our opening range includes some 24 single malt whiskies on optics and far more in rare bottles behind the bar.
The whisky room has a magnificent range of single malt Scotch whisky as well as other premium spirits and champagne. Whisky from 30 quid a bottle into the £thousands a bottle for the rare stuff, something for everyone 🙂
I think I can also boast that we have the biggest range of pipe tobacco in the UK as well as a massive range of pipes and all accouterments for the pipe smoker.
And then there's the sampling lounge 🙂 state of the art ventilation, air conditioning (actually we have this throughout the premises) and smoke eating equipment. Armchairs and coffee tables that were custom made for us, espresso, soft drink, snacks and newspapers with our compliments whilst you sample a cigar from our vast range.
My Turmeaus Liverpool team (Christine, Ian and Veronica) are assisted by new members Matt and Raluca as well as David who will be a familiar face from our Turmeaus Mayfair shop. David is extremely enthusiastic about cigars and no doubt enjoying the super big humidor after taking care of Turmeaus Mayfair for the last year.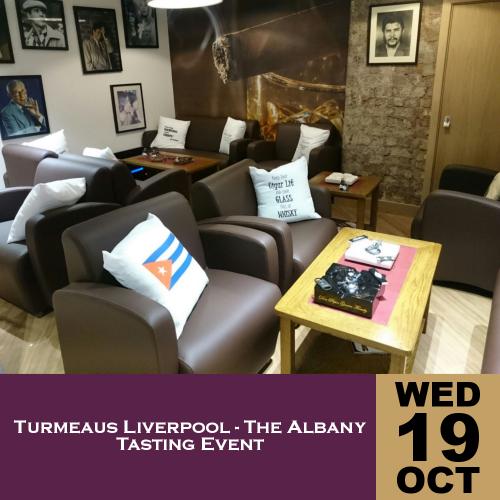 Our first tasting event which I am delighted to be hosting will be held on the 19th October and will feature 6 whiskies from the Dalmore and Jura stable as well as two fine Havana cigars. Tickets available here.
It's been a long journey for Turmeaus which celebrates its 200th anniversary next year. I understand it had some financial wobbles over the years before C.Gars bought the last remaining shop (which was on its knees) in Watergate Street. I persevered year in year out and am very proud that our flagship Turmeaus is in the fabulous city of Liverpool where the business first started. I don't think there are many 200 year old cigar merchants in the world 🙂
But we are not stopping there, in fact this is only the first phase of the Liverpool Turmeaus development and we expect to start building the second phase very soon. This will provide an 'evening Turmeaus' featuring another cigar shop and sampling lounge, the largest whisky bar in the North and a whisky/cocktail/tapas lounge that will be open until 11 pm. More details to follow…
Whilst I'm in the expansion mood, the builders have now started on our new premises at Kingsgate so we can better cope with the huge increase in mail order. I'm very happy to say that I'm being thrown out of No. 18 and moving my aged and rare stocks to a gorgeous new  and rather large walk in humidor in No. 14 by mid-October.
In other cigars news this week: no sign of any new releases from Havana I'm afraid and plenty of lines going short or out of stock. We are plugging the gaps by drawing on our vast cigar reserves as best we can. We have heard a whisper that the Romeo Capuletos Limited Edition may be out soon but no word on the UK Regional Edition… or any others.
Happy birthday (this week) to my assistant James at C.Gars/Turmeaus Norfolk and happy birthday (next week) to my Co-Director and girlfriend Karyn 🙂
I'm off home to enjoy the weekend with a bottle of my very own Orchant Seleccion Cigar Malt and a few Davidoff Château Latour. A perfect way to toast the continued success of Turmeaus I reckon.
Have a smokey weekend,
Peaceful puffing,
Mitchell