The last week was probably one of the most exciting weeks I can ever remember since being in the cigar trade! The launch of the Ramon Allones H&F 225th anniversary cigars went ahead as planned with an incredible party that was clearly enjoyed by all.
The cigars rolled into our shops and warehouses and rolled out faster than any new cigar I can ever remember. The Limited Edition Humidors are breathtakingly beautiful, the rum is delicious and the cigars are outstanding. Allocations have been horribly tight due to overwhelming demand particularly for the humidors and regrettably some friends who would have liked a humidor will be disappointed. At least they can still enjoy the cigars.
Well done to all the clients that pre-ordered cabinets at the reduced pre-release offer price. We are clearing all pre-orders as fast as Hunters & Frankau can deliver the cigars to us. This outstanding cigar is destined to become a classic. Its rich and complex with excellent construction and a beautiful colorado maduro wrapper. I haven't stopped smoking them this week!
The Bolivar Belgravia – UK Regional Edition was also introduced at the party although we have no clue as to when they will actually be released. Here's hoping that it may be before the end of the year. Measuring in at 5 ¼" length and a hefty 55 ring gauge this is sure to be another resounding success in a long line of magnificent UK Regional Editions.
I enjoyed a splendid lunch with my business partner Guy Hancock at our favourite Boisdale restaurant in Belgravia yesterday. Could this delightful restaurant be any busier or any better?! The cigar terrace was crammed full of cigar smokers enjoying the fabulous weather in London. Great food and service and the Gran Cru St. Emilion went down very well with our Cohiba Behike 54's.
I keep hearing about countries that have no Cohiba BHK's available but thankfully our importers keep us well stocked up. There are a few Havana cigar lines that are out of stock including Por Larranaga Sobresalientes but we are hoping that there are more on the way over to the UK from Havana.
It's been a crazy busy week in the London office with our auction clients collecting their Lots following the Summer auction and quite a few sampling sessions have been thoroughly enjoyed 🙂 We managed to go through half dozen bottles of the delicious Dancing Stag Clynelish together with copious amounts of Bolivar Belicosos (still my favourite Havana)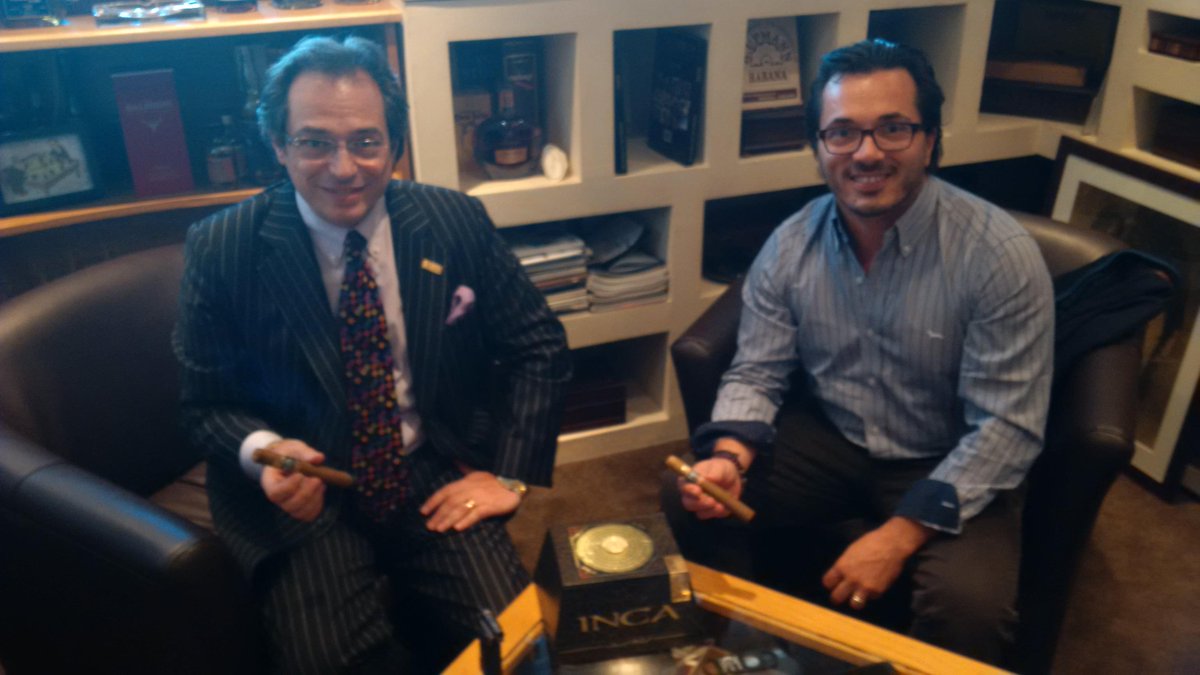 Gennaro Lettieri from Tabalacalera del Oriente in Peru also stopped in to go through more blending samples for a planned UK Limited Edition of a new Inca – Secret Blend planned cigar that will be released before Christmas. The 'Reserva d'Oro' will be a super-premium 100% Peruvian cigar made with the finest aged tobacco with a sweet, rich and bold flavour. As you would expect from C.Gars, the price will be exceptionally attractive
We have also had another new Havana released this week. The Montecristo Media Corona measures in at 3/12" length and 44 ring gauge. I smoked a few as soon as they arrived and think this could become the perfect breakfast cigar. Classic Montecristo flavour and very well crafted. I'm going to add this to my daily morning rotation together with the Partagas SD No. 6 which I just can't seem to get enough of. These cigars are like candy for me 🙂
My thanks to my old ASC cigar newsgroup pal Jeremy Goodwin (and his wife Jill!) for hooking me up with best seats in the house for Fleetwood Mac on Wednesday evening. I've been to their concerts over the last 30 years but I actually think they are better than ever now.
Looking forward to kicking back this weekend with a baggie stuffed full of BBF's and Ramon 225's 🙂 and can't wait to head up North next week to Turmeaus Liverpool and Chester. We have a whisky and cigar tasting on the 1st July at La Casa del Habano Chester together with the launch of the Wednesday Whisky Club. Manageress Sara assures me that the hospitality will not be spared! So attendees are in for a great evening. One or two places available if you hurry to book up.
Finally, congrats to my daughter Tasha for graduating from school today, big celebrations this afternoon 🙂
Have a smokey weekend,
Peaceful puffing,
Mitchell