When discussing Irish whiskey, most casual drinkers will go straight to Jameson. While there is nothing wrong with Jameson, there are others I have greater fondness for. Like Teeling! I have many people here and across the pond that have no knowledge of Teeling, and I am always delighted when I can make the introduction.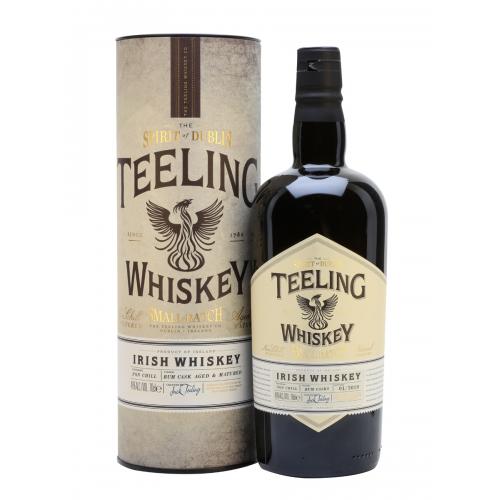 In 1782 Walter Teeling set up a small craft distillery in the heart of Dublin, which started the love of distilling within the Teeling bloodline. In 2012 Jack and Stephen Teeling were working at the Cooley distillery, but after that was sold to Beam the brothers bought 16,000 casks of aged Cooley to launch their own distillery. It wasn't until 2015 that the latest of the Teeling family whiskey makers opened the first new distillery in Dublin for over 125 years! Not only that, but it sits in the historic distilling district, just down the street from where the original distillery sat. The phoenix on the logo represents their rebirth well!
The brothers set out to put Teeling at a premium position instead of the mass-produced cheaper end of the market. They pride themselves on doing things in an unconventional way in both marketing and whiskey making. Using a variety style, number of barrels, and time spent in those barrels maturing gives Teeling a uniqueness that they are proud of.
"Our goal is to retain the drinkability of Irish Whiskey while introducing new and interesting flavours to complement the naturally smooth and sweet taste of Irish Whiskey. We aim to encapsulate our passion for quality, authenticity and craft in every bottle of Teeling Whiskey."
Teeling produces an array of different bottlings, some that are part of their core range and others that are quite limited. The Small Batch is their flagship offering which marries both grain and malt whiskey that have been aged in ex-bourbon casks. After the marriage, the combined spirit sits in Central American rum casks for up to 12 months. Beyond that, they have the Trinity Collection which includes a Single Grain, Single Malt, and Single Pot Still whiskey. Each of which packs their own style and unique profile. Teeling's Vintage Reserve Collection boasts a collection of hand-selected casks that showcases Ireland's finest and rarest single malt whiskeys. Finally, you have the Limited Edition bottlings, which are some truly special bottlings. LE bottlings just display the distillery's dedication to innovation with special cask maturations or collaborations with different partners!
Teeling is a distillery that should always be on your whisk(e)y radar for as long as they are producing!
Slainte,
Anthony