I'm back to our London office! and just in time according to the weather forecast!
I spent the last week visiting Robert Graham cigar and whisky shops in Edinburgh, Canongate, Edinburgh Rose street and West George street Glasgow where I was on duty in the walk in cigar humidor 🙂
We only moved a couple of months ago from West Nile street to our new flagship premises in West George street and the shop was heaving with customers morning till night. Quite a sophisticated cigar clientele as well as a lot of novice smokers that were very interested in chatting with me about Havana and new world cigars.
I can't remember working in any of our retail cigar stores for many years so it was very interesting to see 'what was hot and what was not'!
Without any doubt Montecristo outsold everything by a mile… No surprise there. But, brands such as Alec Bradley, Regius, Fuente and Davidoff were immensely popular particularly with new cigar smokers who like to mix it up and try Cubans and new world cigars.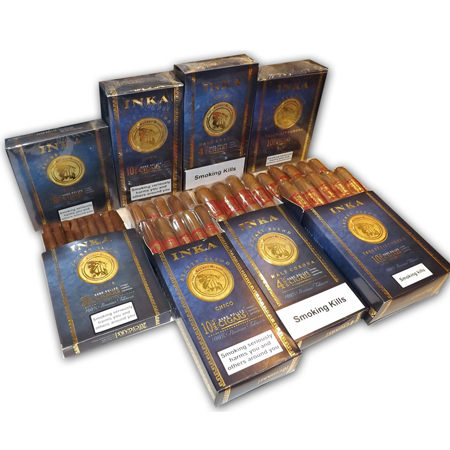 Sales of Inka – Secret Blend were staggering and outsold all the non-Cubans put together. I am guessing it's a combination of quality as well as price. I started the week with a mountain of Inka cigars and ended it more or less sold out!
It goes without saying that the popularity of our award winning range of Dancing Stag whisky was overwhelming and we were restocking the shelves by the hour! The Bowmore 1990 and Hoebeg were the most popular and I would be surprised if there is a single bottle left now.
Chatting with loads and loads of customers over the week reinforced what my Partner Ron and I have always thought… Customers love the fact that we are an independent family owned and run business. Passionate about whisky and passionate about cigars. Personal and old fashioned best service online and in store.
2013 has been our best year ever by a long stretch and we have certainly come a long way since we started C.Gars Ltd in 1997 and took over Robert Graham in 2003 from the Graham family.
We never had any doubt that we could resurrect the brand successfully and we have worked tirelessly to do so. Now operating from 5 specialist shops and our websites specialising in the finest single malt whisky and premium cigars with a fabulous experienced Team and planning to expand our range of award winning Independent bottlings of single malt as well as open more retails locations in 2014.
C.Gars mail order and Turmeaus cigar shops are also having their best 'season' ever. Our shops in London Mayfair, Liverpool and Chester as well as our offices in London and Norfolk report record sales of cigars and accessories, in fact we have never sold so many humidors in a year in our entire history. So much for smoking ban! Clearly cigar smokers are resilient and don't like to be told what to do, or rather what not to do.
We have some exciting plans for 2014 including our new Norfolk premises and our new super duper C.Gars website. More whisky range and even more cigar range at the best prices in the UK… Guaranteed.
I'm heading home to chill out with a bottle of Dancing Stag Bowmore 1990 and a couple of boxes of La Flor de Cano Gran Cano cigars. But if you need any advice, we will still be online 24/7 over Christmas.
So it's very Happy Holidays from all of the C.Gars and Robert Graham team 🙂
Peaceful puffing,
Mitchell