So, after a zillion flights so far this year my smoking chum George and I decided on a road trip to Las Vegas for the annual IPCPR trade show with a quick stopover in Iowa where I have some relatives and so we can look for some places to visit in Iowa 🙂 Renting a no smoking car we immediately lit up some rather huge cigars and headed off for a 4 hour drive from LA to Vegas enjoying Davidoff, Fuente and Alec Bradley smokes whilst taking in some great scenery on the way and watching the temperature soar to a peak of 115F near Death Valley (how appropriate!)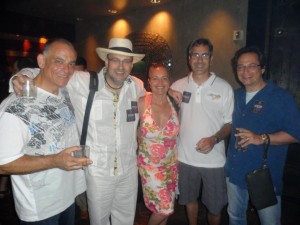 No sooner than I checked in to the Venetian Hotel did I start bumping into friends and colleagues in the industry. Over the next few days we enjoyed fabulous parties hosted by Cigar Journal, Torano Cigars, Alec Bradley Cigars and Davidoff to name a few.
Met up with old friends from the ASC newsgroup as well as Cigar Family and walked the show over and over again from 10 in the morning, usually starting at Fujipub for a liquid (whisky) breakfast to get us going in style. (TY Bobby!) and tried to methodically go up and down the miles and miles of booth of exhibitors.
I am always amazed at how many new brands of cigars are at the show and I can't for the life of me understand where they think they will find a niche in the market with so many well established and first rate brands. I mean seriously how many similar blends and similar packaged brands of Nicaraguan cigars can there realistically be? Maybe some folks think that the cigar trade is easy? – Connect with someone to brand up some off the shelf cigars and 'create' a new brand and then hey presto 'success.' I don't think it's that easy personally but no doubt we will see how many new exhibitors are still at the show next year.
It was great to meet Charlie, Bruce and Brian from Torano out on a fabulous evening. I'm a big fan of this brand and they kindly made our very successful house brand of Nicaraguan cigars. We also import some of the Torano range to the UK as we  highly rate their cigars. There are some great new ranges that we will be bringing in later this year.
Bumped in to my new friend George Sosa (we did a tasting with him at our Cambridge store a few months ago) and met Alan Ruben from Alec Bradley cigars at their huge booth (complete with bar and not too shabby single malt!) and was presented with a delicious new limited cigar to try  which C.Gars Ltd will exclusively be selling in the UK in the next month or two. More details to follow.  Their party was a huge event at the Palms hotel swimming pool and that part was preceded by the Davidoff Golden Bands Awards black tie dinner at the Venetian. An amazing evening as one would expect from this premium brand, packed to capacity with the best Davidoff retailers in the trade. Always great to see Edward and Eddie Sahakian from Davidoff London too.
Davidoff introduced their new Nicaraguan cigar range which we hope to introduce to the UK shortly. Not for the novice, this cigar has a very bold full strength and full flavour blend. Rich, complex and smooth.
I love going to the trade show as I'm able to do all my buying for the next season. Literally 1000's of pipes, 1000's of humidors and of course Palio cutters and lighters to name a few bits and pieces.
Also in discussions to import some of the other fabulous new world cigars such as Litto Gomez, Drew Estate and CyB through our friends at Tor Imports. May take a little while but C.Gars Ltd will of course have the largest and best value range of new world smokes in the UK and quite a few exclusives too.
A brand to watch out for is Regius which seems to be gaining sales traction by the day. Made in Nicaragua by hand with finest long filler tobaccos this range hits the spot for quality and value. 2 exclusive limited editions that I assisted in selecting the blends of and are co branded with our specialist cigar store Turmeaus Tobacconist est. 1817 were introduced at the show and immediately sold out! I selected the very popular short robusto and the funky Culebras. The blend is sweet, smooth and spicy. I will have allocation of these limited edition cigars for my UK clients later this year of course.
I'm well known as a Havana cigars specialist and very proud indeed to be a Havana cigar connoisseur and people constantly ask me 'What are you doing messing around with these non Cuban brands?' well the simple answer is that Havana cigars in my opinion are the finest cigars in the world, however they may not suit everyone's palate so my job as cigar specialist is to give my clients 'choice' from cigars of merit that may suit the non Havana cigar smoker as well as the Havana cigar smoker for perhaps a change of pace. New World cigars are not inferior in any way they are simply different. A bit like comparing a Coke to a Sprite! To educate ones palate variety is indeed the spice of life for many.
I was very proud to be able to present the first prototype cigars and packaging of Inca – Secret Blend cigars for the US market. These 100% Peruvian long filler puros that I have created in partnership with Tabacalera del Oriente in Tarapoto Peru. They were very well received and feedback was very positive and encouraging. We are looking forward to first production samples in September and market roll out soon after.
If I can replicate the success of the UK version (Inka – Secret Blend) I will be more than satisfied. The second generation development of the UK version will roll out in August with additional sizes and superb professionally designed packaging – all exciting stuff for me.
Back from Las Vegas and continued herfing with a splendid evening at Grand Havana Room Beverly Hills (TY P.L.) where 20 chums gathered for dinner, drinks and smokes till we… Closed the joint down 🙂
Next it was off to Pebble Beach, a beautiful place that can best be described as Disney Land for golfers! (You guessed I'm not a golfer) pretty cold  in Pebble after the sunshine of West Hollywood but I read on the news that the UK is going through an incredible heatwave (my luck I missed it!)
Now back to my hotel for a few days catching up on testing a load of cigars from the show and making some final decisions on what to order for our fabulous Robert Graham and Turmeaus cigar shops. Tough job…
…And finally, BIG congrats to Will and Kate on the Royal baby!!! What a great year the UK is having and about time we did too 🙂
Peaceful puffing
Mitchell