Back at last after almost 6 weeks in sunny Los Angeles and suffering from the jet lag from hell. My body just doesn't want to reset its time clock back to the UK despite getting back to my early morning espresso and BBF routine, I'm still whammed tired!
I had such a great time herfing with friends from all over California and of course at the trade show in Las Vegas. Despite all the crazy FDA laws which I still can't quite get my head around, I dare say the cigar industry in the US will continue to survive and thrive. That's good news for Inca Secret Blend cigars sold in the USA of course . I smoked my way through the range (repeatedly) during my LA trip and I think I love this cigar more than ever. Sweet taste characteristics throughout, light on strength and medium to full on flavour. I can just smoke them back to back. I'm looking forward to doing an Inca Secret Blend tasting evening in Chicago in a few weeks' time (oh-oh… more jet lag).
Whilst in LA I was terribly sad to hear of the passing of Carlos Fuente Snr. C.A. mag published a very comprehensive article, our thoughts are with the Fuente family at this sad time.
Plans for my new super duper architect designed Turmeaus shop in Old Hall street were going exceptionally well until I heard that we are waiting for someone at Liverpool council to confirm our new post code for the address so we could get our new electricity supply turned on. Conventional wisdom would dictate that this should be simple two minute job and indeed my understanding is that it is. However, that assumes that the person at the council actually replies to phone calls, letters and email… which he does not. Even funnier is that there is only one person in the council who can do this monumental task and he has been on holiday. When he got back over a week ago, he has still not been able to fathom out how to reply to us.
So, the raspberry of the week goes to Zika at Liverpool council. The man allegedly responsible for not doing a tiny job that would enable us to open our new cigar and whisky shop on time. In fact, this chap is responsible for holding up 10 new local jobs as well as rather substantial business rates being paid on what was a derelict grade 2 listed building. There is another chap at the council called George, but he also doesn't believe in replying to emails. As we say 'you couldn't make it up'.
Not to worry useless people in Liverpool council, we will somehow get our business open on time on the 30th August regardless of your rubbish non-existent service. I'll be coming to Liverpool on Tuesday and will sit outside your office until you sort this out.
Thereafter I can get back to work at finishing off our latest flagship store which so many of our clients are looking forward to enjoying.
Useless council aside, Liverpool is such a cool city, beautiful architecture, great bars, restaurants, hotels and shopping. Super friendly people and of course Turmeaus was established in Liverpool almost 200 years ago. I can't wait to be up North again.
Following on from my last blog and my advice about minor wrapper foot nicks may I offer a word of advice regarding shipping? If you place an order and it has not arrived in the allotted time schedule ( i.e if you ordered overnight or 2-4 day delivery) please let us know straight away and my shipping team will always be delighted to assist 24 hours a day. If you enquire a month later we are still happy to help but no need to send a screaming email because before you contact us and let us know the order has not arrived, we would have no idea. We are good cigar merchants but our mind reading skills are not up to scratch these days 🙂
Lots and lots of emails over the last week (some rather irate too!) questioning 'why have I received a box of Havanas that is not sealed?' So, for those who do not know, there are no sealed boxes of Havanas in the UK and have not been for the last 40 odd years. All boxes of Havanas are opened and thoroughly quality controlled by Hunters & Frankau the sole importers of Havanas to the UK. One of the reasons why we have such high quality Havanas and why EMS (English Market Selection) Havanas are so desirable in the collectors market. On arrival in C.Gars walk in humidors my team do an additional quality control check as well. Yes, we are terribly professional cigar merchants.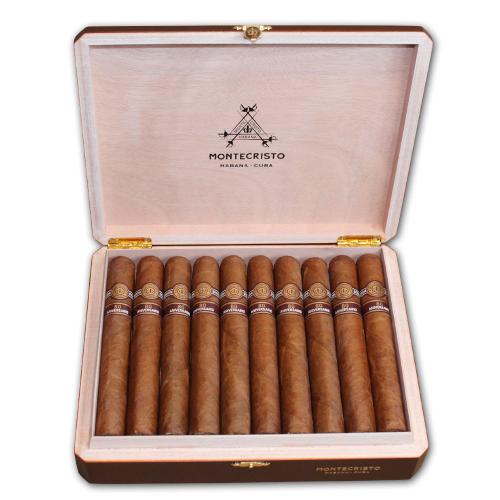 No sign of any more Montecristo 80th at this time but we are still ever hopeful and we are utterly sold out of all sizes of Cohiba Behike, still though I may release a few more of our reserved boxes in a week or two. As the supply situation worsens I understand that El Rey Demi Tasse and Choix Supreme are not available and I understand that a lot of Continental cigars are being discontinued in the next few weeks (I am guessing perhaps due to range rationalisation or the new health warnings that come into play next May.)
To combat the stock outs expected we have increased our stocks to fullest capacity which should iron out a few rough spots. Regrettably there is a price increase on Havana cigars of up to 7% from the 1st of September. I think this is probably due to the decline in the value of Sterling since Brexit. I will hold my prices at current levels for as long as possible but be advised to top up at current prices while you can.
I'm hopeful that the 1966 edition of Cohiba 50th anniversary humidors will be out sometime soon though nothing has been confirmed yet. In the meantime we have released a few more boxes of the delightful 1966 and a couple of Orchant Seleccion jars crammed full of them too 🙂
Righto, I'm off to celebrate Team GB being 2nd in the Olympic medals table after the US with a Bolivar Belgravia. What an amazing achievement.
Have a smokey week and hope to see lots of friends of Turmeaus up North when I visit next week 🙂
Peaceful puffing.
Mitchell