I think the subject title is supposed to continue '… stays in Vegas', however I am happy to confirm that the HUGE quantity of cigars and accessories I bought at the annual IPCPR Trade show will indeed be coming to the UK very soon 🙂
By my reckoning this was the 19th trade show I have attended in the USA and I think I enjoyed it the most of all. It was held at Sands convention centre which is part of The (extremely loud bing bong, bing bong) Palazzo Hotel.
The show used to be known as RTDA but changed its name to IPCPR a few years back to reflect the international nature of the organisation and trade show I believe. I can't help but think IPCPR sounds like something you do to someone with a dodgy ticker though! That said, I did notice a chap walking around with a surgical mask on and couldn't help thinking 'Dude, you have chosen the wrong industry as a life occupation choice' lol. This is one smokey industry!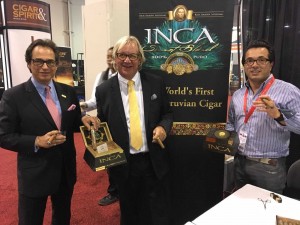 But, what on earth am I doing at this US trade show? Well dear blog readers, I am sourcing the finest New World cigars and accessories for my lovely C.Gars and Turmeaus clients in the UK 🙂 and , I am also promoting
Inca – Secret Blend cigars
in the USA.
My business partner Ron and I were joined at the Inca stand by my trusty smoking chums George and Barry as well as Gennaro from Tabacalera del Oriente in Peru where we were delighted to introduce new sizes to the secret Blend range, including a piramides and robusto.
I'll be introducing a host of new products in store and online over the coming months including some beautiful humidors, cutters and lighters. We have some very exciting new cigars being made by Alec Bradley and will be increasing the superb range of Nat Sherman cigars too.
Another run of Orchant Seleccion by Oliva is also being made and Inca – Secret Blend (thats the one for the USA!) is planned to be available in the UK and throughout Europe before the end of the year.
We also plan to release more range of Macanudo and Torano as they have again become so popular in the UK.
I reckon the Fuente stand was the busiest at the show,this brand must now be one of the most popular in the world. Personally, I love them. If you are looking for superior quality , a perfect draw and true blend integrity at a very decent price check out the range here.
I tried out the new Davidoff Yamasa and it was far more to my taste than Escurio. I think it will be popular with my clients looking for a very very full flavour and full bodied cigar.
Back in the UK I gather the Monte 80th finally arrived (should be the 81st, no?) in teeny weeny quantity and accordingly has already sold out. Here's hoping for a further installment in the very near future.
Various other cigars toys will be winging their way over to the UK for my clients and I'll keep you informed of course on my regular newsletter.
I settled back into vacation routine, at least for the weekend, herfing my way through a baggie of all of the aforementioned smokes whilst watching what I'm sure must be one of those reality shows, I think its called ' The Trump & Clinton show'… Most amusing indeed.
Have a smokey weekend.
Peaceful puffing,
Mitchell