So I missed the great UK snowstorm of 2019, I'm pleased to say, whilst I was sunning myself in Central America. I understand it lasted all of 36 hours! That said it is incredibly mild for mid-February so I'm planning on some mega car herfing over the next couple of days 🙂 I blame it on global warming, my wife blames global warming on my use of hair spray lol.
I had a lot of laughs herfing my way round Costa Rica, Panama and Colombia as well as a few Caribbean Islands on a very lovely cruise over the last few weeks. In fact, the amount of counterfeit cigars I spotted was hysterical, if not quite ridiculous. If you follow me on Facebook you will have seen some of the funny photos and… funnier counterfeit cigar photos.
The ship had a lovely deck and bar that was packed with cigar smokers day and night, so I was not short of herfing company, and it shows how popular cigar smoking still is!
Sadly a few of my fellow travellers were duped into buying fake Cohiba cigars on the Islands. A few asked me for my opinion. In fact I laughed so much at the first person that asked me my opinion on an Esplendidos he must have thought I was a bit of a mad Englishman. Call me the doyen of tact… not. I mean seriously, do people really think that a "5 Buck" Esplendidos exists and it's real? (Apparently some do sadly.)
We finished our vacation with a few days in very lovely Las Olas where I managed to find two cigar shops to herf at on the street where my hotel was located! Havana Republic Cigar has opened recently and is very lovely with super friendly service, right next door to the Riverside Hotel where we stayed (you can smoke in the hotel court yard as well). Maccabi Cigar Bar, 1219 E Las Olas Blvd is a bit further down the road and open until 1am.
Back to Blighty for a few days catching up and some finishing touches on the March 3rd auction catalogue. Surprisingly big sale with around 350 Lots to be knocked down. Plenty in the pre embargo section, a few limited edition humidors, Davidoff and Dunhill, aged and mature. Limited and regional editions. Should be an interesting sale and a good gauge on where values are headed at this time of the year.
Lots of requests received for Cohiba Robusto Reserva but I'm afraid the reality is there is little stock in the market currently. We did release around 100 sticks (5 boxes) so we could share them around as such but there is currently no sign of any more though I am ever hopeful. I can't say I understand how the system works as it's all a bit beyond my mathematics abilities. If there are 5000 cabinets… Where are they? Where did they go? Or were they not all actually made?
But we did get meaningful stocks of Siglo VI back after a rather long absence. So fill your boots (or humidors!) at the most competitively priced Siglo VI in the UK. Or… has everyone deserted Siglo VI and moved to Siglo IV instead? I think that could be the case as our Siglo IV sales have been quite astonishing.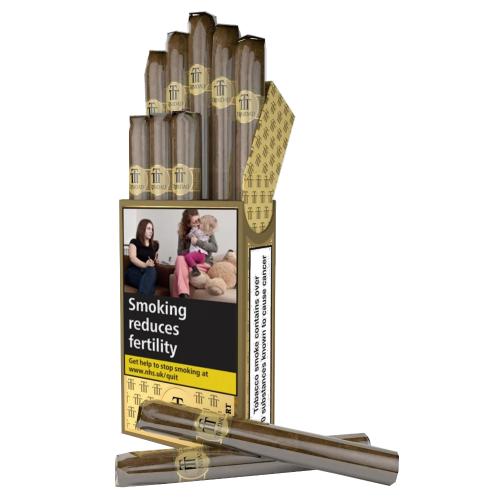 New in… not much, but these are a decent whiff when you need something small snazzy packaging too.
Have you tried our exclusive range of Italian Nostrano cigars? these have taken us by some surprise as they are incredibly popular. Don't diss it till you try them – they are a pretty tidy smoke.
Check out my range of Davidoff here. I have the largest most insane range of Davidoff in the UK, I even bought all their discontinued lines as I love this brand so much! Why?… Because they all draw, the construction quality on this brand is legendary, the blends are awesome and of course we guarantee the lowest prices in the UK. We really are the home of Davidoff cigars in the UK.
If you didn't know, the Avo brand of cigars is one of Davidoff's brands which we had an exclusive made for us last year, the Avo Orchant Seleccion – a fab smoke. Rich, smooth and balanced. A triumph of blending.
My rather yummy range of Stalla Dhu single malt whisky has some new bottle sizes in the range; the sexy 20cl bottles of Speyside, Islay  and Cigar Malt. You can find them here.
Bored? Go to one of our events 🙂 there's always something going on. It's worth the trek oop North, nothing quite like a Turmeaus tasting event 🙂
Loads of friends asking when our new Norfolk shop will open and my apologies that we are a tad later than expected as we put the finishing touches to everything. We have moved in but hope to open the doors to our retail clients in around 2 weeks' time. It will be worth the wait! I don't think Norfolk has ever seen anything like it!
I think we have reached a milestone with over 5,000 Customer Testimonials! If you have enjoyed good service in one of my shops please give us a review on Trip Advisor or Google reviews. If you have enjoyed your online shopping experience with C.Gars Ltd please give us a review on Trust Pilot… we are always grateful for reviews 🙂
Righto… I'm off to pack as I'm heading to Havana this week for the annual Festival. By my calculations that's the 20th Festival I have attended and something ridiculous like the 110th trip to Havana since 1997, I should get a special prize for that – has to be a record?! Maybe make me president of something 🙂
Have a smokey week,
Peaceful puffing,
Mitchell