This week we are taking a look at our range of rare and collectable whiskies, over the past few years whiskies have become a very collectable item and we do offer a wide range of whiskies which will be a great piece for collectable.
Here is a few that I would recommend:
Glen Flager 5 Year Old
A 1970s bottling of 5 year old whisky from the incredibly rare Glen Flagler. It was not actually a distillery, but the name of the whisky produced from stills at the Moffat Grain Distillery in Airdrie. Only produced for 21 years between 1964 and 1985, Glen Flagler bottlings are highly collectable.
Nose: Warm grain, with fruity fragrances of pear.
Mouth: Medium body with apple cider, sour at first with vanilla notes.
Finish: Short with oak tannins and white pepper.
Bruichladdich 1998 Oloroso Sherry 10 Year Old
Part of a pair of 1998 Sherry Editions from Bruichladdich, this whisky was distilled during a six week period in 1998. This was the only time the distillery was working between Jan 1995 and May 2001. There was only 9000 bottles ever released this bottle number 3044
Nose: Sweet with raisins and vanilla as refreshing fruits also dominate with honey.
Palate: Rich with chocolate and yet more raisin, vanilla and honey as dark summer fruits also feature on this sweet palate.
Finish: Medium length, and sweet.
Ardbeg 1990 Alright Nam Beist
Airigh Nam Beist (pronounced 'Arry nam Bysht' 1990 is a delicious vintage bottling, matured in ex-bourbon casks from the ongoing success story that is Ardbeg.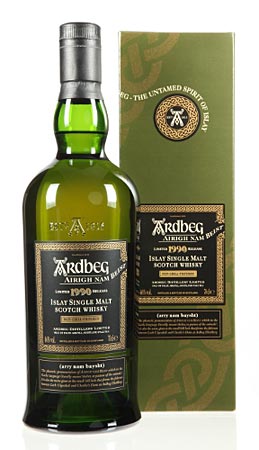 Unfortunately now discontinued due to exhausted stocks, 'the Beist' was an extremely popular Ardbeg, with assertive and powerful peatiness and a lovely honeyed edge.
The rather ominous name, 'Airigh Nam Beist' derives from the Scotch Gaelic for 'Shelter of the Beast.'
Nose: Initially a combination of sea spray and creamy vanilla ice cream infused with hints of peat oil with a fudge sauce.
Palate: A traditional Ardbeg taste with peat, bonfire smokiness, crispy bacon and maple syrup leaving a peppery feel. Sweet and fruity flavours later emerge as notes of black coffee, liquorice and reminders of parma violets linger in the background.
Finish: Long on the finish with dried peat and creamy notes.
Always keep an eye out on our website for whiskies which come under our "Golden era" which is 60s/70s these whiskies are very collectable.Also remember we have a Turmeaus rare and vintage facebook page which you can find here.
Slainte,
Craig