Thankfully the back problem is steadily getting better and I was able to get back to my usual routine this week with a splendid trip up North to the Turmeaus Cigar and Whisky empire 🙂  (I reckon Scotch could well be the best pain killer!)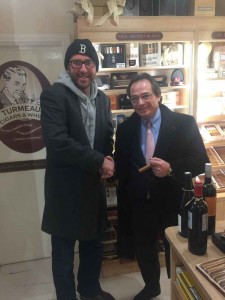 Starting off at Turmeaus Liverpool on Tuesday and spending a few hours working on Turmeaus – The Albany project whilst thoroughly taste testing a Cohiba Robusto Supremo I just love this cigar! It's a bit of a gobstopper though I hear the cigar made for the Cohiba 50th Anniversary will be a monster 60 ring gauge! No need to ask when these will be available as I don't know! but… I will try to find out next week when I head to Havana for the Festival del Habanos.
Moving on to Turmeaus and La Casa del Habano – Chester with industry colleagues Keith and Michael ( Road trip !) and we merrily herfed some rather remarkable 2012 RASS  which were blended to perfection, simply first rate sweet tobacco and faultless construction. One of my all-time favourite robustos. It was the first time Keith and Mike had seen the expanded Turmeaus and I think they were suitably impressed with our beautiful whisky department and La Casa del Habanos Humidor and lounge.
We grabbed dinner at my favourite spot in Chester, Bar Lounge which was as perfect as ever followed by yet more RASS on their smoking terrace. I reckon Bar Lounge service is the best in the UK, I love this place and its super cigar friendly.
Next stop was to Turmeaus-Knutsford for a wine tasting session as we have almost completed the fit out of the new wine room which is due to open in March. My lovely Turmeaus – Knutsford team (Andrew, Sue and Liz ) are looking forward to holding regular wine tasting events. It started as a pretty small project but I understand we will have something like 1000 bottles of wine for a kick off so it should be quite an impressive range.
We have finally completed the cigar sampling lounge at Turmeaus – Knutsford and it does look super cool and cosy if I do say so myself, airy and spacious, news on the TV, soft background music , soft drinks and espresso, a perfect environment to sample cigars before you decide what suits you best. The walk in humidor is now fully stocked with Cuban and New World cigars and the whisky range is quire comprehensive £25 – £1,500 a bottle) wine, whisky, cigar and pipe tobacco – who could ask for more ?! well, there is more ! we also sell drinks by the dram and have a great range of single malts and Cuban rum.
Next month we are doing a joint promotion with our friends at Guys Barber Shop in Knutsford, grab a haircut or wet shave and get a voucher for a half price dram! I tested out the wet shave and it was very very good 🙂
Back to La Casa del Habano – Chester for a massively packed whisky and cigar tasting event which was enjoyed by all. The aperitif cigar was a Montecristo Media Corona followed by a Bolivar Royal Coronas. A selection of whisky and rum was sampled including the magnificent Robert Graham exclusive Littlemill which is available directly from the new Robert Graham website and Ron Santiago which paired up very well with the cigars.
The big success story is our Stalla Dhu single malt whisky which has taken us by surprise  created by my partner and whisky expert Ron Morrison this Speyside and Islay are exclusive to C.Gars and Turmeaus and exceptional value at 35 quid a pop for a quality single malt.
So, auction time is upon us ! Check out the Lots on the auction website  300 Lots of aged, rare and interesting Havanas of all vintage, shapes and sizes. The auction ends this Sunday and it's easy and fun to bid, we like to think of it as cBay … a bit like eBay for cigars  🙂 Very best of luck to all of our Bidders and Sellers.
Next week I'm off to Havana for the Festival and looking forward to catching up with many friends from around the globe. The Festival celebrates the iconic Cohiba brands 50th anniversary so I expect it to be something special. If you follow me on Facebook or Twitter I'll try and post up some photos (connection in Cuba allowing!) after all this cold weather in the UK, I'll be hoping for a little sunshine herfing on the Island.
This weekends baggie is filled with cigars from 1997 as we are celebrating my daughter Tasha's 19th birthday on Sunday. So I have Saint Luis Rey Petit Coronas cabinet selection, Romeo Tubed Churchills and some Punch Double Coronas plus a bottle or two of Dom Perignon to suitably celebrate with 🙂 Happy birthday to Tasha, the official language translator for C.Gars lol
Have a smokey weekend.
Peaceful puffing
Mitchell