Just back from a few days R&R in sunny Prague 🙂 I have been to Prague with Michelle many years ago but had almost forgot what a beautiful city this is in terms of architecture (quite breath-taking) as well as in terms of how smoker friendly it is!
Granted, I was lucky as the weather was fairly fab but just about every café, bar, restaurant had outside (many covered and heated) patios with ashtrays on the tables and no one batted an eye lid as I lit up my Inka Secret Blend Half Coronas, Chicos and Upmann Half Coronas.
I visited the La Casa del Habano which is a pretty large cigar store and lounge with a decent range in the walk in humidor and I went to the Cohiba Atmosphere which was pretty impressive as a concept (first one I have seen) We stayed in the Kings Court Hotel which was first rate/very well located and the casino allows cigar smoking (I finished 20 quid up on roulette!)
That's the end of my international trips for a few weeks at least which is a bit of a relief as it is starting to feel that I have spent more time out of the UK than in the UK!… and that's the first 5 months of the year passed already! Vintage cigar auction coming up fast on the 20th and we are already taking entries for our Winter auction. They say time flies when you're enjoying yourself so I must be having a bloody good time!
So a few other exciting bits and pieces including the introduction of two new Macanudo Inspirado sizes next week to join the madly popular Mareva. We are also looking forward to the Davidoff cigar roller events at our Chester Turmeaus shop in June and we'll be running a series of Davidoff specials at all of our shops and online from the 8th June.
The huge success of the Regius cigar brand marches on with no end to this brands popularity in the UK. Checkout the range on this link. Great quality and super value. My favourites being the Orchant Seleccion of course 😉 Volumes of flavour from this Nicaraguan dark wrappered beauty.
Nice article about Marc Sinden in Cigar Journal last week, read it on this link.
Turmeaus at The Albany, Liverpool is coming along nicely and I understand in addition to a floor we now have walls! this will give you an idea of what the humidor will look like. Fair to say it should be pretty impressive with a huge range of Cuban and the best New World cigars.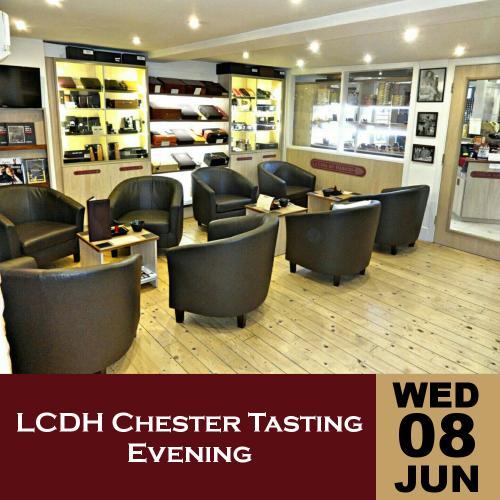 We're having a bit of a Summer party bash at La Casa del Habano – Chester on the 8th June. Tickets on this link but you may need to hurry as the event is more or less sold out now. We have shoe shines and wet shaves, music, canapés and of course a Havana cigar tasting paired up with some rather tasty single malt whisky and Cuban rum. I'll be hosting the event so I'm looking forward to herfing with our whisky club members as well as our La Casa clients. It will be a memorable evening 🙂
On the 14th June I'll be herfing at the Hunters & Frankau Summer Party which is being held at The Corinthia. I can't wait to see what new cigars will be released and I'm hoping it's the new UK regional edition. I can't think of any other new cigars that have been released from Havana this year so fingers crossed this will be the first… at last!
Michelle is on vacation this week so I'm 'stuck' in the office all week and I'll be taking advantage of the time putting the finishing design touches on the Orchant Selection Cigar single malt whisky that I have just created. It's a first rate Highland that pairs up to perfection with a fine cigar. it won't drown out the delicate flavours of a good Havana and this will be the best value cigar malt on the market (would you expect anything less of me?!)
Have a smokey week.
Peaceful puffing,
Mitchell