I've had some fast selling cigars this year but the brand I created from Peru has taken the Team completely by surprise. Inka Secret Blend have literally stormed out of the humidor since they arrived and are more or less out of stock now even though I was sure I had imported enough to last for 6 months!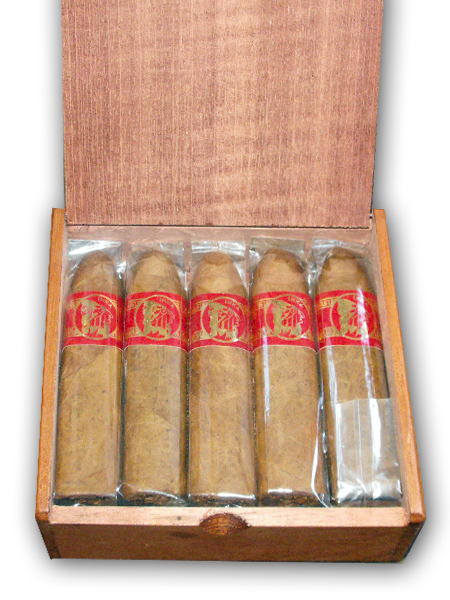 The project started out some time back when I challenged my friend, who owns the cigar factory and tobacco plantation in Peru, to create a blend that would have character and merit, handmade cigars that are smooth but with some 'zing', easy draw and a competitive price. We created two lines, a red and a blue, long filler and medium filler in 3 popular sizes. Clearly its ticked all the boxes for our clients.
So, we expect our next shipment of Secret blend to arrive in a week or so and we are also adding additional sizes in maduro and natural wrapper. Apologies to clients who have been patiently waiting, particularly for the robustos but they will all be available again soon!
I
t's been a Cohiba piramides Extra week for me 🙂 and although we always say that cigars are not addictive (unlike cigarettes) I could easily get addicted to these puppies! They are like candy for me, so sweet, rich, smooth and complex with excellent maturing potential. The 54 ring gauge makes it an exceptionally cool smoke.
No surprise that the new Partagas Serie C no.3 have been flying off the shelves at our cigar shops since their launch. I rate this as one of the best limited editions ever made, don't smoke it on an empty stomach or in the morning though as this is a full bodied-full strength Havana and it will make your head spin!… Not for the novice.
The collection we were offering last week sold so fast I actually wonder if people are investing in cigars instead of putting money in the bank, probably sensible as the right cigars certainly increase in value over time. The trick is picking the ones that increase and not the ones that don't!
We still have a couple of new releases to go this year: Ramon petit Belicosos UK regional edition for the UK (This is going to be a treat!) and Montecristo 520 Limited edition, a monster sized 6.1″ and 55 ring gauge cigar in boxes of 10… Now that's a gobstopper! (May even shut me up for a few minutes!)
L
ooking forward to kicking back on the weekend but will be at Mayfair – Alfie Turmeaus cigar shop on Sunday at noon if anyone wants to speed herf with me and have a wee dram as we start offering our award winning Robert Graham single malt whisky this weekend in store.
2 days off for me again Monday and Tuesday but I'm armed with a baggie overflowing with UK regionals 🙂 Just released another 10 boxes of Punch Serie D'Oro no.1, singles available too, one of my faves if not the best of the UK regionals so far, at least for my palate.
If you are not already following me on Twitter… why?! You should be! and my Facebook site is good fun too!
Have a smokey weekend
Peaceful puffing
Mitchell