Greetings from the madhouse we like to call C.Gars Ltd World Headquarters in rainy London! Fortunately its legal to sample cigars in the comfort of my office and what a pleasure it has been to sample the new monster sized Montecristo 520 Limited edition 2012 which we have released this week.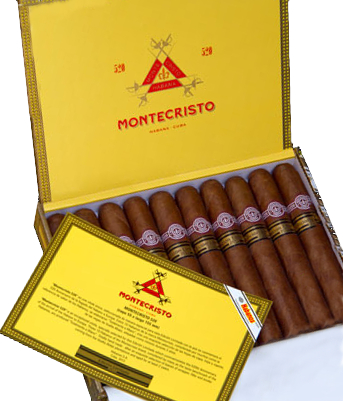 Measuring in at a hefty 5 ¾" length and a whopping 55 ring gauge, the latest cigar from Havana delivers huge volumes of sweet flavours from start to finish. Medium strength, well balanced and with a very cool draw, this cigars is dressed in the most beautiful vein free, smooth maduro wrapper. Surely destined to become as popular as the now sold out 2008 Montecristo Sublimes.
On the other end of the strength and size scale, we expect to introduce the latest Orchant Seleccion Havana cigar in the next 48 hours. The Quai D'Orsay Corona  is a sweet and light flavour and light strength Havana that is a splendid daytime smoke. It won't knock out your palate with strength but the flavours are quite delicious. Light colorado wrapper, mild, herbal and toasted tobacco flavours. Only 64 boxes of 25 will ever be made. Available on my website and in our cigar shops from Monday.
Despite the more or less nonstop rain in London we are lucky to have some fabulous cigar terraces that are well protected from the elements. One of my favourites is Ten Manchester Street Hotel, A cigar friendly hotel with great service, smokes, drinks and eats! I herfed there a few days ago and was not surprised how busy the terrace was as it's such a comfortable place to herf.
My other favourites include all the Boisdale establishments. Super cigar friendly, great value and the best ambience and atmosphere. Boisdale have their own range of wine and Champagne that we are planning to introduce in our retail stores very soon and Robert Graham Independent bottled single malt whisky will be available behind Boisdale bars very soon 🙂
I'm planning on checking out the cigar terrace at the Mayfair Hotel with Karyn this evening. Full herfing report to follow.
But the best is yet to come with the planned December opening of the Wellesley Hotel which I reckon could be the best venue to smoke in the UK… Can't wait!
My exclusive Inka Secret Blend cigars from Peru have finally arrived in the UK so with any luck the full range will be available, including new sizes, next week.
Enjoyed a Partagas Serie C no.3 compliments of Ignacio, the Cuban Director of Hunters & Frankau, when he popped into the office yesterday with Ricardo from Habanos SA marketing. Funny how my Cuban friends drink Scotch and I drink Cuban rum!
Auction catalogue will be online and posted to clients next week. The 26th November auction is quite a huge sale with over 300 Lots. Davidoff and Dunhill, Pre embargo and vintage, Limited edition and mature Havanas, a delightful selection indeed. We are also offering an outstanding collection of rare Havanas from a connoisseur/collector recently moved from his humidor and now stored at Davidoff Geneva (Thank you Davidoff of Geneva!)
Viewings on Sunday 25th at our London offices from noon followed by a pre-auction event herf at Ten Manchester street.
We are very looking forward to sampling  Balvenie Rum Cask 14 and Glenfiddich 18 together with some of the finest English Market Selection Havanas from Hunters & Frankau. Delicious canapés by Boisdale and the best of company should make this a memorable evening for cigar aficionados and connoisseurs from around the world.
Tickets for both evenings are now available on the following links:
Sunday 25th November Ten Manchester Street
Monday 26th November Boisdale Canary Wharf
Both evenings
That's the news for now except that I'm off to Turmeaus cigar shop in Mayfair this afternoon for another Monte 520  and a wee dram or two of Robert Graham Ailein Mor Highland single malt, recently awarded Silver in the 2012 Independent Bottlers Challenge for best Highland.
Don't forget to follow me on Twitter and Facebook!
Peaceful puffing