The first recorded mention of the distillery was in 1779, the first on Islay.
Bowmore Distillery is situated on the shores of Loch Indaal, right in the heart of the lovely town of Bowmore, which means great reef or Sea Rock. A few distinctive characters of Bowmore Single Malt Whiskies are smoke, salt and sea-weed, a great combination which will appeal to most fans of Islay drams!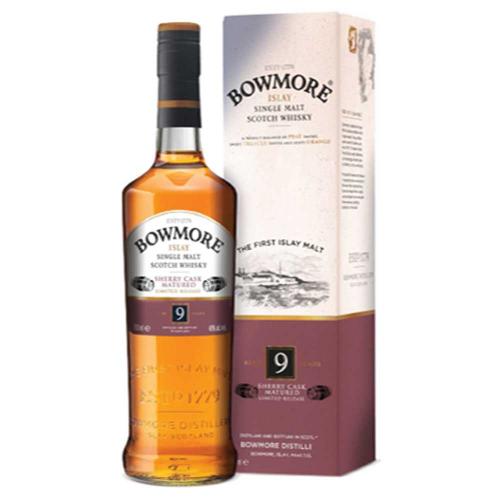 Bowmore 9 years Limited Release Sherry Cask.
This Bowmore 9 Year Old is the latest addition to the Islay favourite's core range. Matured in the finest Oloroso sherry casks, Bowmore 9 Years Old reflects the natural elements that surround the No. 1 Vaults and the generations of tradition within. The result is a rich whisky with notes of cocoa, dark fruits and crème caramel, along with Bowmore's trademark smokiness.
Colour: Treacle amber.
Nose: Breathe in rich cocoa, pepper and raisins balanced with citrus tang and wisps of Islay smoke.
Palate: Complex sherry with peat smoke followed by dark fruits and sweet crème caramel.
Finish: Savour the perfect balance of sea salt and peat smoke.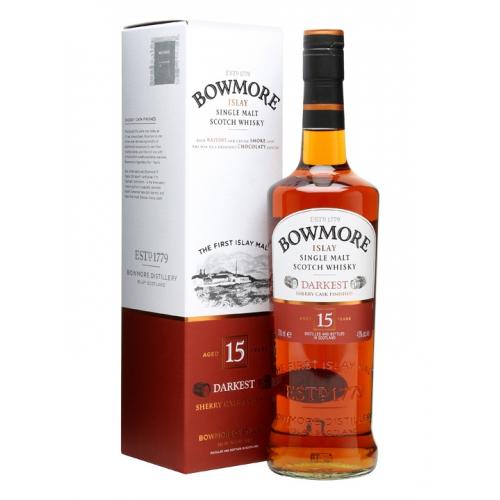 The next Bowmore Single Malt that really stands out for its perfect harmony of peat smoke and Sherry sweetness is the Bowmore 15 Years Darkest.
Matured in an inspired combination of both bourbon and sherry casks, this stunning 15 year old edition spent its final three years in Olorose sherry casks which is what gives this 15 year old 'Darkest' a beautiful Bowmore balance.
Colour: Burnt Sienna.
Nose: Dark, delicious rich chocolate and raisin aromas compliment the classic Bowmore smokiness.
Palate: Wonderful Cedar wood and rich treacle toffee flavours.
Finish: Robust and warming with just a hint of sherry tannin'.
As a really special dram that combines character, balance and incredible complexity has to be the Bowmore 18 Years. Cosseted away in the finest, hand-selected oak casks and allowed to mature at its own sedate pace, this is one of the most remarkable, perfectly balanced malts of its kind. A rare exceptional bottle, the stocks of Bowmore 18 Years Old may be limited but there's no end to its enjoyment.
Colour: Mellow mahogany.
Nose: Creamy caramel toffee, with ripe fruit and smoke aromas.
Palate: Incredibly complex, with beautiful soft fruit and chocolate, all balanced together nicely with a light smokiness.
Finish: The finish is long and wonderfully balanced.
Slainte
Pete