Don Tomas are a well-made Honduran cigar blended with select Dominican, Mexican and Columbian Cuban seed fillers, wrapped in either a natural Indonesian or Mexican Maduro wrapper. The cigars have silky construction and mild to medium bodied smoke with subtle coffee and toast flavours with a hint of spice and C.Gars Ltd offer the full range!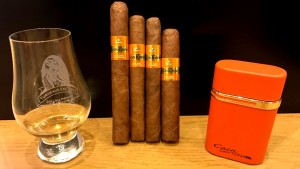 Now if you haven't figured out a reason to smoke these beauties then I am here to give you a few. To start with they're all reasonably priced so you won't find yourself waiting for payday to purchase one of these. If you have just started the art of smoking cigars these are perfect as a beginner cigar as they offer a mild to medium smoke. Each one has been tried and tested by me and I will say that I was very satisfied.

I would give this a 4/5 stars. A smooth smoke throughout with constant coffee notes. Not only is it a great cigar but you won't break the budget purchasing one. The draw was perfect and didn't require any relighting. If you are looking for a 40-minute smoke for a walk in the morning this is perfect😊.
Like it's big brother above this cigar deserves a lot of credit enough that I would give it 5/5. It has the classic Don Thomas taste but I found it to be slightly smoother than the corona, more of a cool smoke. Will be perfect in the summer with a nice glass of Tullibardine.

I would wait for the afternoon to smoke this one. It has more of a medium strength to it but with a creamy smooth draw. Such subtle hints of coffee and nut and a beautiful woody aroma. As you get to the final third it starts to get a little spicy which really adds to the complexity of the flavours, if you haven't tried yet, you need to get yourself one.
Last but definitely by no means least to try was the Rothschild. Now if you like coffee these are the cigars for you. Each one I've tried I definitely notice they have a classic flavour of Coffee but this one being a slightly darker wrapper had a sweet taste during the second half, why made this, one of my favourites. The final third added a slight leathery taste topped off with subtle nutty notes. Perfect in the evening.
So, if you're still working your way through Cuban and New World cigars, I would recommend your next stop to be Don Tomas. Four different sizes all with a variety of flavours and aromas. These really will update your palate to new tastes.
Have a great weekend,
Liam