If you are looking for outstanding Highland Single Malts that are consistent with quality,  great style and satisfying to the palate then  the Glengoyne distillery is where to look.
GLENGOYNE 10 YEARS SINGLE MALT 40%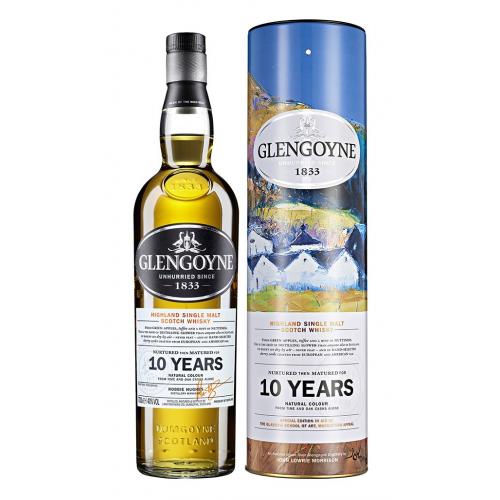 This special edition tin is in aid of the Glasgow School of Art Mackintosh Appeal, which was set up after a tragic fire damaged the art school in May 2014. John Lowrie Morrison (also known as Jolomo and famous for his striking landscapes) was asked to create a collection of seasonal paintings inspired by the distillery. Inside the tin you'll find a bottle of the 10 Year Old – unlike most other single malts Glengoyne has been preserving the essence of its flavour for decades by using air-dried barley rather than barley dried using harsh peat smoke.
The result is a more subtle, complex whisky in which all of the delicate flavours are freely allowed to express themselves. The 10 Year Old has fresh green apples, toffee and a hint of nuttiness. This is the taste of distilling slower than anyone else in Scotland, of barley dried by air – never peat – and of oak casks selected by hand as always.
Complex, sweet and rounded, with a spicy oak finish. This is the taste of distilling slower than anyone else in Scotland and of barley that is dried by air never peat. The flavours develop in hand selected sherry casks – balancing deep character with light vanilla notes.
Nose: Hints of candied lemon and a touch of butterscotch. Creamy cereal sweetness and porridge oats with demerara sugar.
Palate: Oily, rich palate entry with notes of toffee popcorn, salted butter and hints of ground walnuts. Allspice and lemon rinds.
Finish: Malty and oaky.
Now on the the luxurious Glengoyne 18 years expression. This is everything I look for in a malt!
Silky sweet sherry notes, dried fruit, spice, cocoa and the complexity just goes on and on!
This is the result of 18 long years and a generous proportion of first fill sherry casks, and of the patience they take over the slowest distillation in Sco
tland. A mix of refill sherry casks and a generous slug of first-fill sherry-matured whisky.
Appearance: Medium gold with a rich glow.
Nose: Awash with red apple, ripe melon and fresh banana. Heavenly and well rounded, it drifts into hot porridge topped with brown sugar.
Taste: Full bodied, round and rich. At first macerated fruits, marzipan and walnuts; then warm spices, dry cocoa and lingering Seville marmalade.
Finish: Long, warm and dry.
Comments: Remarkable depth. Each glass unveils more layers.
Pete