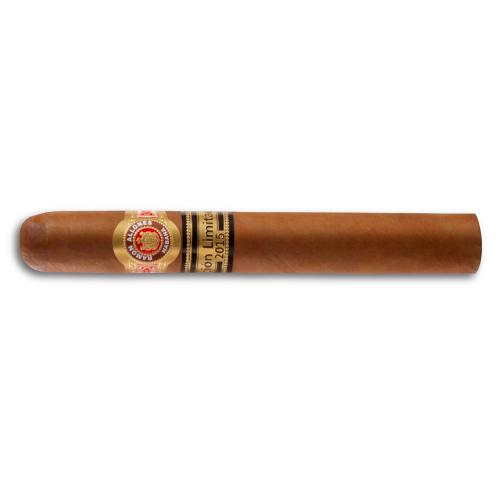 Ramon Allones Club Coronas Limited edition 2015, this cheeky little smoke is in… And out. Another super fast seller in short supply before it even reaches the shops.
Fortunately our La Casa del Habano got them first 🙂 But have more or less sold out now although we do expect another small delivery any time now. Turmeaus shops should have them by Monday with any luck.
This is a great size, large enough on the ring gauge at 47 to deliver volumes of flavour and long enough at 5 3/8" to satisfy. It's the last of the 2015 LE's and I'm already a fan of this smoke.
Actually I think Ramon is one of my favourite brands. I get on well with all the vitolas except for the Gigantes which I could never quite fathom out despite most of my pals loving this cigar. Perhaps its just too long a smoke for me.
I loved the brand so much we have already had Orchant Seleccion boxes of Ramon Allones Belicosos (UK regional edition) and 898's some years ago and I'm delighted to announce that this years Orchant Seleccion Havana cigar will be the Specially Selected. Just 64 boxes have been selected and will be adorned with the distinctive Orchant Seleccion gold bands and box dressing.
Selected for their superior quality, condition, appearance and blend, I expect to release these in late October. Read more background on Orchant Seleccion Havanas here.
Its been a short week for me as I wasn't in on Monday and Tuesday taking a break for New Year and birthdays. 3 day weeks are a very relaxing routine 🙂 I enjoyed a Cuban Davidoff birthday starting with a 4000, followed by a Haut Brion and finishing with an Yquem (well actually… 2!) All splendid smokes but the Haut was quite remarkable. For such a small format cigar its packs a hell of a punchy full flavour. I absolutely love vintage Davidoff (actually I'm quite fond of the New World Davidoff too!) when stored correctly this brand of Cuban Davidoff ages to perfection and is a sublime experience for the cigar smoker with a sophisticated palate.
In Empire expansion news this week(!) I'm happy to report that Chester part three now has an alarm system, CCTV, phone lines, a beautiful paint job and a few wires hanging here and there for the new lighting scheme! Tub chairs have arrived and the doorway between the La Casa VIP bar area and the new shop has been opened (thank you Chester locksmith!) If all goes to plan the super chic, trendy and expanded Turmeaus will be open early October.
We have also agreed terms on another new Turmeaus oop North (secret location till contract is completed!) with a planned opening in November. More details to follow.
I'm not sure if there's a mini boom going on in the UK market but C.Gars Ltd has never been so busy (TY customers!) both our retail and mail order divisions are dramatically up on last year. Well done to all the Team for coping. I can tell you its no mean feat having 99.9% on time delivery for 1000's of orders a week.
My guess is that it's a combination of new cigar smokers, existing cigar smokers being hacked off at anti smoking legislation and perhaps a bit of stashing cigars due to perceived shortages of cigars in the market as well as fear that if the US market opens up there will be even greater shortages. Whatever the reasons I will keep growing C.Gars and Turmeaus to satisfy our customers needs for the finest in cigars and customer service. If we ever fall short on service, the buck stops here so you can always contact me personally at sales@cgarsltd.co.uk or co- Director Laura at  Laura@cgarsltd.co.uk. Huge business this may be but we are still a family business with an ethos of traditional values and personal service.
I'm off to Dortmund now for the annual Inter Tabak trade show and looking forward to the Davidoff Golden Bands Awards evening on Saturday. I'm still on their European Retalier Panel so it will be interesting to hear all the latest developments from this great brand. This is a huge trade show that I attend every year. Full report next week.
Have a smokey weekend.
Peaceful puffing.
Mitchell