Fonseca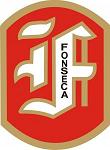 Founder of Fonseca cigars Don Francisco E. Fonseca was born in Manzinillo,Cuba in 1868 and established a factory and his own cigar brand in Havana in 1892. He registered the brand bearing his name in 1907. Fonseca and his wife Teresa immigrated to New York and by 1903, Fonseca was operating a factory at 169 Front Street, he became an American citizen in 1895. Fonseca made frequent trips to Cuba, where he supervised "F.E. Fonseca. Fábrica de Tabacos y Cigarros". His business stationery reflects his double loyalty, depicting both the Statue of Liberty and the Morro, Havana.
Fonseca cigars quickly became a success. Besides having a reputation for selecting the finest quality tobacco, Don Francisco developed an innovative method of packaging his cigars, wrapping each one separately in a tube of tin foil, and then an outer covering of fine Japanese paper, so as to shield the cigar from atmospheric changes. (They are still packaged this way today, with the tubes now usually made of aluminum foil instead of tin.) After Don Francisco's premature death of a heart attack in Havana in 1929, his wife Teresa continued the business and merged the brand with T. Castañeda and G. Montero to form the firm of Castañeda, Montero, Fonseca SA.
Production continued uninterrupted after the revolution and the cigars are still produced at the Lazaro Pena factory in Havana. As a cigar brand, Fonseca is relatively mild by most aficionados' standards, sells for cheaper than most other Cuban cigar brands, and is marketed mostly in Spain and Canada, where the brand is particularly popular.
Click here to view our range of Fonseca Cigars
Written by Oliver Partington - 06/05/2020