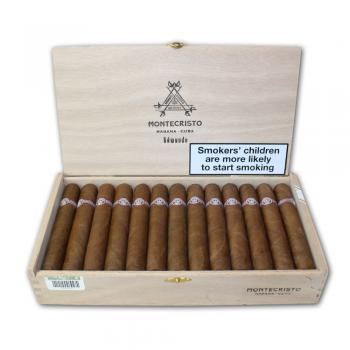 Date Added: Tuesday 26 January, 2010 by Duncan
I should preface this by saying this is my first review, I am a relatively new to cigars and when I smoked this it was only aged for a few months.

The aroma was very nice it looked gorgeous and I was looking forward to a very good cigar; the first inch was a little dissapointing with relatively little flavour however after that it did pick up, there were definetly some floral notes as well as classic monte light leatheriness, however it wasn't really as full as i'd hoped for sucha thick cigar and during the middle there was a brief taste of tannins however this would probably go with aging. I found the draw was too light and you got huge volumes of smoke, which would ahve been good except it didn't give huge flavour there was just lots for no reason and smoking it felt strange. The ash held together for a good two inches before finally succumbing to gravity which suggests a good construction, it was a light to medium grey and looked good.

Overall this was a pretty good cigar, however I've found that with cigars I either like an easy cigar not too complicated that I can enjoy with a group of friends such as the No.4, normally a bit cheaper or a really full falvoured comlex cigar that I can really take time over and enjoy such as a Bolivar Belicosos Finos or a trusty No.2. This was neither and thus didn't really suit me which was why I've only given it a 3. If you don't find this then perhaps it deserves a 4 but really for the price there are more flavourful cigars or you can get the same flavour from a smaller cheaper cigar.