Pipe 101 Basics
Selecting your Pipe
Stem/Shaft/Mouthpiece/Material
Price vs Quality
Pipe Anatomy
Where to Begin?
Choosing a Pipe Tobacco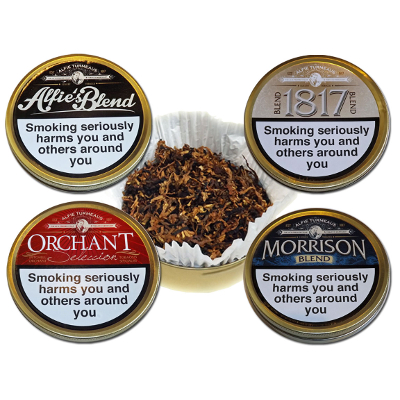 Finding the right tobacco can be rather daunting as there are hundreds of different types of tobacco available in the market. Every pipe smoker will have different tastes in what they like or dislike based on their smoking style, generally it'll all come down to personal preference. There are a few guidelines to follow which can help identify the tobacco types/blends/flavours etc, however the best way in finding out is by trial and error.
It's a good idea to sample various tobaccos from buying 'Sampler' packs, these packs will usually contain a small amount (10g per pack) samples of assorted pipe tobaccos. Samplers will vary and range accordingly; flavours, strengths, manufacturer and so fourth. This method is perhaps the best way to try out and explore new tobaccos and will be the safest and cheapest option out there.
Onto the subject of cost, pipe tobacco will either be supplied in pouches, tins or come loose (also available in 12.5g sample sizes).
If you've tried out a vast range of pipe tobacco, but can't find something you truly enjoy or simply want something different, you can try adding in loose tobacco to give it that extra punch! Once your palette has built up tolerance and fully developed the flavours from the pipe tobacco, you can experiment and make your very own blend! Make sure to note down as you go along so you know what works well and what doesn't work well. This will be handy as you can re-produce the recipe again at a later date without the added frustration.
Back to home page