The weather has changed from rainy and humid to blue skies and sunshine in Havana and I've been tearing around herfing at all the usual joints during the last few days of the Festival.
The cigar shops are fairly full of regular stocks but everyone moans as usual that they can't find any 'specialities' like
Ramon Allones Replica, Partagas Gran Reserva, Cuaba Coleccion Habanos books
etc. Of course they can't, I have bought them all already! 😉
Had breakfast with Simon and Sean from H&F and bumped into Mike Choi from the Bulgari (Sahakian Cigar Shop and lounge) who came second in the cigar sommelier contest. Well done Mike.
The Trade Fair seemed a little quieter than usual but that may be as it was winding up on the last day. I was very excited to see the first of our Turmeaus humidors made specially for us by Cuba de Arte. The humidors are a numbered limited edition of 10 made of Bubinga with intricate marquetry. Planning to release them complete with some outrageous aged Havanas later this year. Partagas VIP was the perfect place for bumping into friends from all over the world and catching up with them over a smoke (BHK54's) and a spot of Santiago. Manager 'Hamlet' is exceptionally hospitable.
Late lunch at Asturia followed by cigar (Hoyo Grand Epicure) and espresso in the cigar lounge. Could this be one of Havanas best kept secrets? Lovely service, comfortable and in a great location.
Headed to Pabexpo for the gala dinner with Pals, David and Zaffie. Simon Chase hitched a lift with us so we were VIP'd through past the crowds into the reception with a glass or two of champagne and an Upmann Half Corona. Good start to the evening that was to celebrate the brand of H. Upmann.
I had a delightful table including David Savona (Cigar Aficionado magazine), Colin Ganley (Cigar Journal), Gary Heathcott (Communications Award nominee), Paresh Patel (Havana House – Windsor) and Bert Stagnetto from Gibraltar LCDH. Needless to say that a good laugh was had by all.
Being a veggie, the food ain't for me but the general consensus was that it was pretty good and the service was very slick. There was plenty of wine and rum too as usual.
The evenings entertainment started off with a surprise performance by Tom Jones (who thanked Sir David Tang for the invite) singing 3 songs, including 'Its Not Unusual' Tom told us he loves Havana cigars and has been enjoying them since the 1960's but this was his first visit to Havana. Well 'my chair turned around' lol as the Tom Jones performance was the highlight of my trip. Just brilliant!
Entertainment was non-stop (and very loud!… Read that as too loud!) for the rest of the evening. Cigars flowed between dinner course – H. Upmann Connoisseur No. 1 , H. Upmann Magnum 50 and finally the long awaited H. Upmann No. 2 Reserva Cosecha 2010.
The Upmann Reserva did not disappoint (neither have any of the Reserva series!) The additional years of age have softened the usual No. 2 blend into a more sophisticated balanced cigar. Medium sweet, cedar, woody flavours and medium strength. My cigar had a colorado wrapper that was smooth and vein free, cool and easy draw. It doesn't get much better than this in all honesty. The only down side is we have no idea when they will be released and available in our cigar shops although we are hopeful it will be before the end of the year.
If you haven't tried previous Reserva series cigars, we usually have Montecristo, Partagas and Romeo Reserva available and you should try them while you can as they are awesome smokes!
If you're thinking of starting to collect fine cigars, Reserva and Gran reserva are a great place to start. Historically they have proven to go up in value steadily. (We do have limited availability of Partagas Gran Reserva at this time)
Simon Chase conducted a very exciting auction that achieved excellent results with all proceeds going to the Cuban National Health Service.
There were 6 cigar Lots and an extra Lot '0' which was a painting.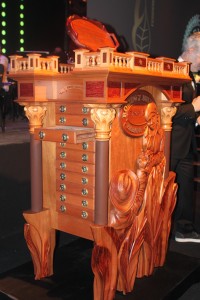 Its hard to say which was the best Lot as they were all quite breathtaking. Beautiful cigars and magnificent humidors.
The auction was conducted in Euros and the final hammer (or should I say Chaveta) price included shipping and import duties to final destination.
Well done Habanos S.A. On another incredible evening.
I'm hosting dinner this evening at La Fontana and will be enjoying a 1960's Montecristo No. 2 with… The oldest rum I can find 🙂
Raspberry of the week goes to Mastercard who have fraud blocked my credit card whilst in Cuba. Bravo, very clever… Not (I have others no worries!)
In other news… Our Online Cigar Auction ends on the 7th March, still time to get your bids in.
Our next Online Cigar Auction will be Mid April. Still a little time to send us your entries.
Hasta luego
Mitchell