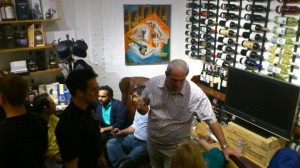 Had one helluva herf at Robert Graham – Cambridge last Thursday evening. We had a  HUGE crowd of cigars and whisky aficionado's, in fact I have never seen the lounge so full!!
Almost 40 friends joined us for a very, very smoky evening of drinks, smokes and canapés.
Our Davidoff representative Andrew gave a short talk about the two excellent cigars that we enjoyed, the Davidoff Entreacto and Puro D'oro Deliciosos cigars and we enjoyed a DVD of Henki Kelner from Davidoff in the Dominican Republic explaining the long and hard  years that it took to develop the fantastic Puro D'Oro. I remember meeting Henki in the DR 9 years ago on a Davidoff trip and learned a great deal from him.
We matched up the Entreacto with our exclusive Robert Graham Dancing Stag Benrinnes 23 year old  and the full bodied Puro D'Oro with our exclusive Robert Graham Dancing Stag ( and rather peaty/smoky) Bowmore 22 year old which made an excellent match. Our new Team member Julian introduced the two Robert Graham single malts to the crowd – welcome to the team Julian 🙂
Davidoff cigars are available online at C.Gars Ltd and Robert Graham Ltd as well as a limited range in all of our retail cigar shops across the country. We expect to expand the range substantially in store over the coming months. The quality of Davidoff cigars is impeccable, it's a large range with something sure to please every smoker.
Thanks to Andrew and to Davidoff for all their help in organizing a fabulous evening.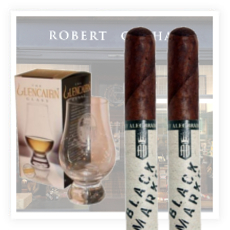 Our next tasting is selling out fast and scheduled for the 13th June, again at our Cambridge store. Our guest of honour is George Sosa from Alec Bradley cigars and we will be featuring 2 fabulous premium handmade cigars:
– Alec Bradley Black Market Robusto
– Alec Bradley Prensado Robusto
And… Additional SURPRISE CIGARS to sample that are not yet on the market!
As usual we will  be matching up the cigars with some exclusive Dancing Stag single malt whisky from our steadily growing award winning range.
Cigars, whisky and canapés and no doubt another evening to remember. If all goes to plan I'll be there too and look forward to seeing our regulars and some new faces too. Book soonest to avoid disappointment.
I can't believe we have already been at our Cambridge location for almost 6 months, the store has a fabulous range of premium cigars in two walk in humidors and a select range of single malts including our full range of Independent bottled Robert Graham whisky. Kick back in the tasting lounge with complimentary drinks and some chillin' jazz music… We made it as comfortable as possible for our clients.
Auction time is upon us – June 10th at the fabulous Boisdale Canary Wharf.
Full details on the auction website.
Almost 350 Lots of Vintage, aged, rare, mature, Davidoff, Dunhill, Limited edition and pre-embargo cigars will be sold and no doubt some bargains will be scored !
Join us for the whisky and cigars tastings before and after the auction and join in the auction action too 🙂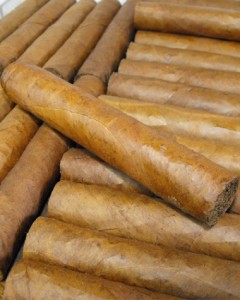 We were hoping to have a Cuban cigar roller at the event but regrettably her dates clashed with another event. We do have some of her fabulous custom blends (Mas Fuerte) available for anyone that would like to try a freshly rolled Havana
For our clients in Glasgow who frequent our charming little shop on West Nile street managed by the lovely Linda, the sad news is that we will be closing down in the next month or so… BUT!… We have listened to your comments and wishes for a larger cigar and whisky shop and Ron and I are very proud to announce that as soon as we close West Nile street we will be opening what we believe will be the biggest and best cigar store in the UK, very close to our West Nile street location 🙂 The deal is signed and the shop fitters are already working. We will have a huge range of whisky and cigars (As well as pipe tobaccos, wine. Champagne and delicious chocolate) over two floors of pure decadence! More details to follow.
I spent the weekend in Biarritz, I'd like to say it was sunny Biarritz but I think the weather was about the same as London. Surprised to say that I couldn't find a single cigar shop! Not a problem as I had my baggie of smokes with me (UK regional Ramon Petit Belicosos and Punch Serie D'Oro no.1) which kept me well satisfied.
I can honestly say though, that I can't remember any other location where I have seen so many cigar or cigarette smokers. The same stupid smoking ban exists in France as in the UK but clearly it does not deter. When the weather was reasonable, loads of people were smoking outside of just about every bar and restaurant that I saw. I even saw one bar that looked like it was 'inside/out' so there was no one inside and everyone was drinking and smoking outside!
The smoking ban is so funny, it has simply forced everyone to seek out places where they can smoke sort of outdoors or semi outdoors (Covered areas) it really is quite ludicrous.
That's about all the news for this week, I'm off to Boisdale Canary Wharf for dinner this evening… And a few smokes. Bravo Boisdale – fabulous cigar friendly restaurants.
Peaceful puffing
Mitchell