I would have thought that after 18 years of non-stop travelling the world on business trips I would be immune to jet lag by now but not so! The 8 hour time difference between London and California is pretty brutal and it's taken me the best part of a week to feel 'normal' again.
That said I was super impressed with the Virgin Dreamliner that flew me over here. Huge comfortable seats and the air circulation seemed to be so much cleaner. Please please change those awful old 747's on the London – Havana route Mr Branson! Super friendly flight attendants and a very nice First Officer who I spent ages chatting to (there are 3 pilots on the Dreamliner!)
I love the Virgin Airlines experience, from booking to checking in, Upper Class lounge through to the flight. All very slick, friendly, modern and cool. I like to think of C.Gars as the Virgin Airlines of the cigar industry 🙂
And so started my annual rather long annual Summer trip to the US 🙂 I got out of the airport in record time and grabbed a taxi just missing the rush hour which was just as well as it really was time to have the first smoke after a long days travelling. Of course I'm a Havana cigar smoker but there won't be any of those for the next month or so! Despite President Obama's watering down of the embargo I will have to wait a good while longer before I can smoke a good Cuban over here.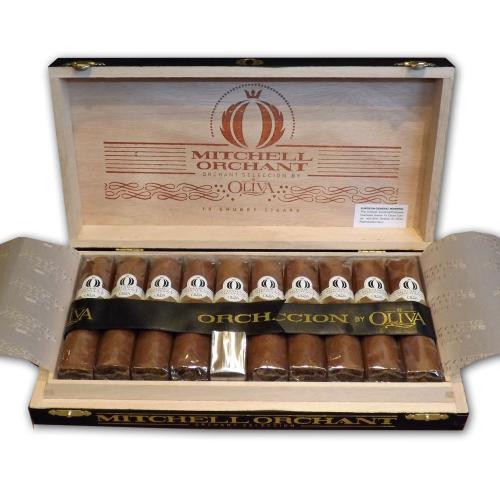 Happily I had some Inca Secret Blend with me so I smoked a Tambo with a good shot of Mac 12 which hit the spot perfectly! I have a few firm favourites that I've been herfing my way through over the last week including our fabulous Oliva Orchant Selection range (particularly the Chubby – bit of a bargain at £9.99 a pop which is probably why they are one of our fastest selling cigars!)
I've also been herfing my way through huge quantities of Regius Robustos. I like this brand of cigars, in fact I think I may be the only cigar specialist in the UK to stock the full range as well as sell them for the most ridiculously low prices. The fact is they are good smokes. Not for the novice as they have a bit of that full power thing going on in the blend but the experienced New World cigar smoker will enjoy this well-crafted completely handmade premium cigar. I know I'm right as well are literally selling mountains of them.
To add a little sophistication to my daily cigar rotation I have been enjoying the Davidoff Winston Churchill Toro immensely. Rich, bold and complex from start to finish. Highly recommended.
The weather is quite perfect in Los Angeles and it's great to have a change of pace and work from the pool side! Friends keep stopping by for a smoke with me so it's not much different to the London office but it is much sunnier 🙂
Thanks to my dear friend Peter for hosting me and a load of chums at GHR earlier this week. We had a wonderful full on herf! Dinner, drinks, smokes with a load of cigar smoking pals that I have known for many many years. I expect to be herfing with them for many more years to come.
I'm heading over to New Orleans for the annual IPCPR tobacco trade show and in fact I think this is the 16th trade show I have been to (it used to be called RTDA). I love to come to this trade show, not only to herf (though there is quite a bit of herfing going on!) but to see what's going on in terms of new products whether New World cigars or Cigar accessories. My trick over the years was to cut out the middle man, buy products that were not in the UK, buy huge quantities to import and… Give my clients the best products and best value possible. By the sheer size C.Gars has grown to, I would say I have accomplished that 🙂
I'm looking forward to seeing my business Partner Ron Morrison as well as Gennaro Lettieri and Gary Hyams from Inca Cigars USA at the show as well as Guy Hancock from Decent Cigar Emporium Dublin. Guy and I own a company called Decent C.Gars Ltd and is the importer of the fabulous Arturo Fuente cigars to the UK.
A few days ago I heard that once again the EU is dictating their mental laws to the UK and next year we will have yet more awful health warnings ruining our beautiful cigar boxes. Apparently there is also some bonkers requirements for me to register the ingredients of Inka Secret Blend cigars. Umm ok then: Secret Blend cigar ingredients: Tobacco. Honestly, you couldn't make it up, it's so stupid.
Pretty exciting news that I can share in so far as we have just put another retail shop under offer and in solicitors hands so we are doing another little unexpected additional expansion this year. More details when the contract is signed in a few weeks' time (call me superstitious!)
Okay that's me heading back to the poolside office for a few more rays of sun before I head to the airport and New Orleans 🙂
Have a smokey weekend,
Peaceful puffing and… 'have a great day'!
Mitchell