I'm not quite sure if we are still in Lockdown or not?!  From the increase in cigar sales it seems that we may well be or it could be the sunny weather we're expecting over the next week? Either way here's hoping the CV19 nightmare is receding and the Lockdown is easing so we can all enjoy the Summer even if our vacations are cancelled for the rest of the year.
Karyn and I should have been herfing with friends and clients in New York City this week but obviously and sadly that had to be cancelled. Goodness knows when we will get a refund as the travel industry seems to be in a bit of a mess to say the least. We have had the best of times in NYC as its very cigar friendly but hopefully we will be back next year when life gets back to normal.
We are actually so busy our site was offline overnight for 'essential maintenance' whatever that means but we are back and faster than ever now! We finally raced through the 100,000 customer target on our database last week, in fact we are now over 103,000 customers! Pretty amazing when I think back to 1997 and our first Excel database of 43 customers. But then I also remember our monthly sales ledger of 60 orders a month which Laura and I were very proud of! Now we do upwards of 2000 orders a day and have over 70 brilliant staff working 24/7 every day of the year. A nice success story…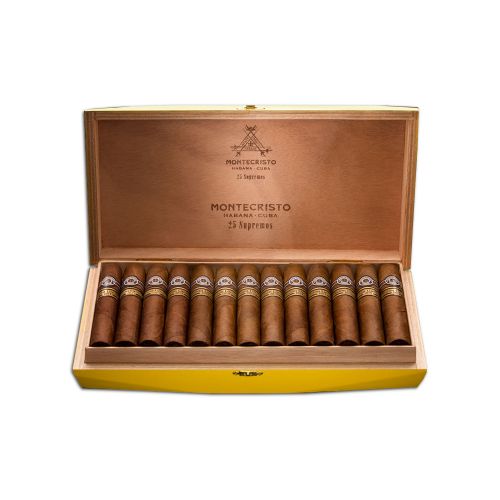 The good news is that Montecristo Supremos are expected to arrive into our humidors any time now. Measuring in at 5 ¼ length and 55 ring gauge, this Montesco vitola cigar delivers huge volumes of typical sweet and tangy Montecristo flavours. Presented in rather snappy yellow cabinets of 25 cigars with very tight allocations this is sure to be a very popular smoke. No sign of any other new releases at this stage but we are ever hopeful.
Supply lines for many cigar products from all regions are now starting to feel the squeeze as many factories have closed down and are only starting to slowly get back to production now. Fortunately we carry huge stocks and are still running at around 98% availability overall. If you have favourites that are out of stock, shoot me an email and I'll gladly suggest alternatives. We expect supply to normalise by late July with any luck. I'm afraid one of the supply casualties is our own brand of Inka Secret Blend. The popularity of this range of cigars is incredible and despite our usual stock levels being 3 months worth we have all but sold out of them in the last month. We hope to be able to take in new stocks as soon as possible.
I seem to be spending half my time on Zoom meetings these days. What a brilliant app! I even did my first Zoom herf this week (maybe it's a 'Verf'!) this was a Davidoff Late Hour tasting with Sam Reuter from Davidoff as guest of honour and very ably hosted by Roy f
rom Davidoff and my colleague Paul from C.Gars Ltd. It was great to put some faces to names of clients I have 'known' for many years.  I must admit I do love Late Hour, probably my favourite regular range of Davidoff. Deeply complex and packed with a kaleidoscope of superb flavours.
Looks like garden herfing weather (a Gerf!) this weekend so I have the following in the baggie:
Davidoff Late Hour Churchill (I love these cigars)
Partagas SD No.5 (amazing quality currently)
Regius Connecticut Toro (for something a little different)
Plascencia Alma Fuerte (this cigar is an insane smoke!)
Alec Bradley Orchant Seleccion Pointy (no sweeter blend that we sell)
….and a bottle of our bestselling Cigar Malt whisky (Gold medal winner)
Have a smokey weekend
Peaceful puffing
Mitchell