Lack of blog last week due to a little R&R and a little business to take care of in sunny Los Angeles ☺ so here is the news…
I spent a week in L.A. organising yet more focus tasting groups for Inca – Secret Blend. The results were overwhelmingly positive and very encouraging.
Nice to be herfing in 80F sunshine instead of the constant rain in London. Whilst not easy to find locations to herf in LA, we managed to get through quite a few cigars between Inca taste testing sessions. I enjoyed Davidoff Short Perfecto in the morning and Nicaraguan Toro in the evenings, man that's a bold sophisticated smoke, no wonder they are flying off our shelves. I also snuck in a few Alec Bradley Prensados which always hit the spot for me.
Inca – Secret Blend (that's the version destined for the US market and beyond) is also making some progress as we have signed up US distribution with one of our very favourite cigar companies (more details to follow.) The first production batch of cigars have been made and are amazing smokes, the bands are made and look very cool if I do say so myself!… And all we need now is 'the box!' We have been working on the bloody  box development for the last year. It's a bit different so it's taken a bit longer than we would have hoped but I am cautiously optimistic that we will have the final pre-production prototype mid-March which I'm very excited about.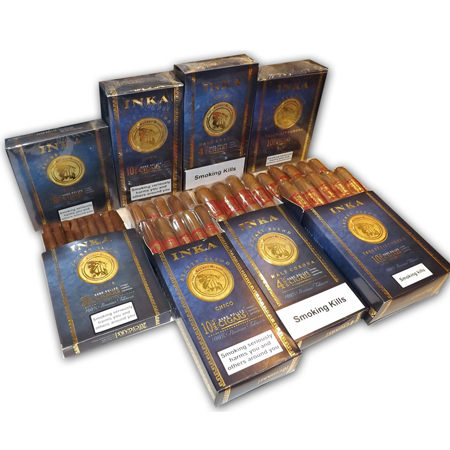 Inka -Secret Blend for the UK market expected to be back in stock next week in sizes requested by our customers, that's the petit coronas and robustos that have been more popular that we would have ever imagined. Apologies for the delay and hopefully we have such a huge imported quantity flying in now that we will not stock out again!
Pound for Pound I don't think there is a better quality handmade cigar available in the UK. The blend is deliciously sweet and accessible and makes me want to smoke them back to back. It seems that 1000's of C.Gars and Robert Graham customers would agree with me ☺
So back in my little London HQ and thankfully with no jet lag (my body clock must be broken after years of travelling!) and happy to announce our first ever Spring Cigar Auction. This is an Online only auction with a splendid selection of mature, aged and rare Havana cigars. It works much like eBay… Think of it as CBay! Bidding opened on Thursday and the auctions finishes every few minutes from the 7th March. We will have another 100 or so Lots to list and hope to have them up next week.
There are some top end Davidoff and Dunhill that collectors love as well as smaller single Lots for smokers. Could be some decent bargains to bag. See the FAQ's here and shoot me an email sales@cgarsltd.co.uk if you have any questions.
Most of the Lots are in our London humidor and if you can't visit to personally inspect you are always welcome to email us for condition reports sales@cgarsltd.co.uk
Next week is the Festival in Havana which I'm looking forward to immensely, especially as we expect to be tasting the H. Upmann No. 2 Gran Reserva (I love Reserva and Gran Reserva)
Expecting to herf with friends and clients from all over the world and joining the Hunters & Frankau table at the gala dinner as usual.
Just back from lunch at the lovely Ten Manchester street Hotel with friends from Davidoff. Smoked the rather outrageously good Limited Edition Year of the Horse. What a perfect venue for a lunch herf, great service, delightful menu, comfortable and warm… Who could ask for more. We are just starting to build a web page with details of some of my favourite places to herf. You can check out the work in progress here.

If you're not already signed up to our newsletters you could be missing out as we are planning a series of whisky and cigar taste testing sessions at our beautiful Cambridge branch as well as Liverpool and Chester over the next few months.
Have a smokey weekend
Peaceful puffing
Mitchell