I'm getting super excited about the launch of the Ramon 225! I tried this cigar in Havana at the February Festival and it's the perfect expression of an old style Ramon blend.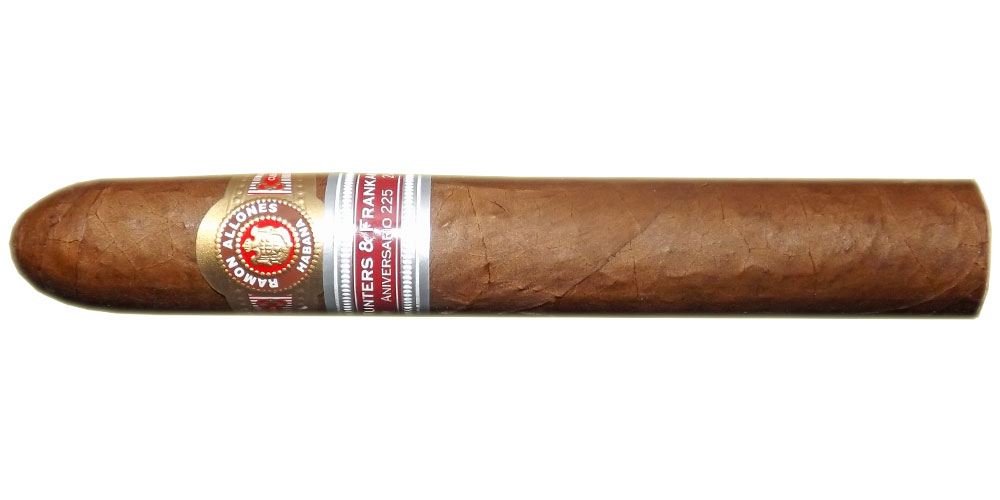 I have to be patient for a while longer though as the cigars will be launched at the H&F Summer party on the 19th June and they will be available a few days later.
They measure in at a length of 5 1/2" and ring gauge of 50, well matured as they were rolled some years ago and perfectly crafted for a perfect draw. Wrapped up in a smooth colorado maduro wrapper and double banded 'Hunters & Frankau – Aniversario 225 – 2015'
Made to celebrate the 225th anniversary with a limited edition of 225 numbered humidors.
Prices will not be known until the cigars are released. No doubt whatever the price, these are sure to become a collector's item.
C.Gars will be offering the cigars in singles, cabinets of 25 and humidors of 100 cigars including a specially made bottle of 25 year old Havana Club Cuban rum.
I was busy up North again in Liverpool and Chester Turmeaus last week which are now sporting the rather lovely new shop image due to the 'display ban' that came into force this week.
The UK law now states that we can't show a tobacco product if you are standing on the street looking at the shop. How bizarre. I can't imagine it will stop anyone from wanting to buy a pack of pipe tobacco or a premium cigar! In fact I think our shops look better than ever with their cool new signage. We actually started to 'cover up' the shops at the beginning of the year in readiness for the latest stupid nanny state law and what are the results? Well so far we are 20% up on sales in comparison to the same period last year… You couldn't make it up.
Pity the poor corner shop and CTN's/small supermarkets who can't even display tobacco in their stores. So much for freedom of choice. It's a legal product after all, at least it was last time I looked!
We are still selling an extraordinary amount of Inka – Secret Blend cigars, I literally can't keep up with the demand so apologies for the odd size being out of stock now and again.
Most popular since the start of the year are:
They are great value but don't confuse them with cigars at the same price as Inka are a premium cigar totally hand made with premium quality well matured tobacco. Sweet Peruvian 100% tobacco – filler, binder and wrapper. They are in fact our bestselling New World cigar for the last 2 years.
I have now released the last 25 boxes of the wonderful 2013 Regius Robusto – Turmeaus Limited Edition full flavour and medium to full strength, a man's cigar! Great value at £99 quid a box. The additional age on the cigars has rounded off the blend nicely. A smooth, full bodied Nicaraguan smoking experience.
If you want to try something cool and funky I still have a few boxes of my Turmeaus Limited Edition Regius Culebras a bargain at £59 Quid and a great smoking experience.
I'm looking forward to being at LCDH – Chester for our next tasting evening on the 28th April the best Havana cigars and a few drams of single malt whisky, should be another brilliant evening. Book up soon as I believe the event is almost sold out now. Chester's whisky room is now fully stocked with some incredible single malt, a mouth-watering range from £30 – £3000 a bottle . Not the sort of stuff you can find in the supermarkets! Loads of tasting bottles open so you can try before you buy in the comfort of the tasting lounge.
We weren't sure what to expect in the way of trade after we opened Turmeaus Norfolk a few weeks ago but have been pleasantly surprised by the amount of clients in Norfolk that have visited and enjoyed smoking in the lounge. A paradise for cigar and pipe smokers! I can't wait to visit next month.
I'm just finishing off the catalogue for our next vintage cigar auction. It always amazes me how this all comes together and we end up with a super range for the auctioneer to knock down. We have some incredible Pre Embargo cigars as well as Davidoff, Dunhill, Limited Edition, Vintage and Mature Havana cigars.
The auction will be held in the cinema room of the Bulgari Hotel in Knightsbridge at 2p.m. on the 15th June. Tickets for the event will be on sales in the next week or so and early booking is essential due to limited space. This is an auction for the serious cigar smoker and collector.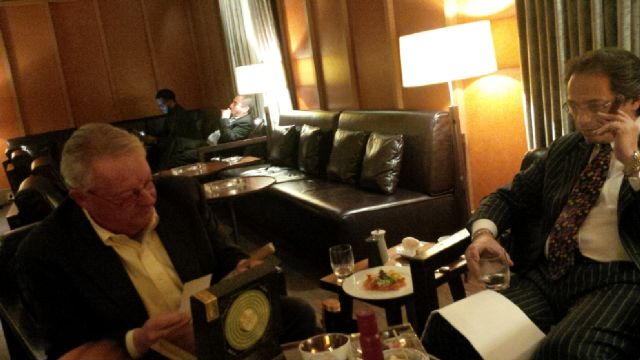 I went to the Bulgari (Edward Sahakian Cigar shop and lounge) last week and had a splendid evening. This really is one of my favourite places to sample a cigar. The best of service always, great food and super comfortable. My business partner Ron was over from Florida and we also met up with Robert Lockwood from Smokes magazine. My regular smoking chums Dov and Joe also herfed with us.
I'm a bit of a part timer these days, just the odd few days a week in the office as I'm working on Turmeaus at The Albany project in Liverpool and travelling here there and everywhere meeting clients (herfing!) and still working on the launch of Inca – Secret Blend in the USA. Next week I'm off to Spain for a few days R&R and a bit of herfing with my Father which is always a welcome break from my business schedule.
That's the news for now… Next report with a sun tan from Spain 🙂
Peaceful puffing,
Mitchell