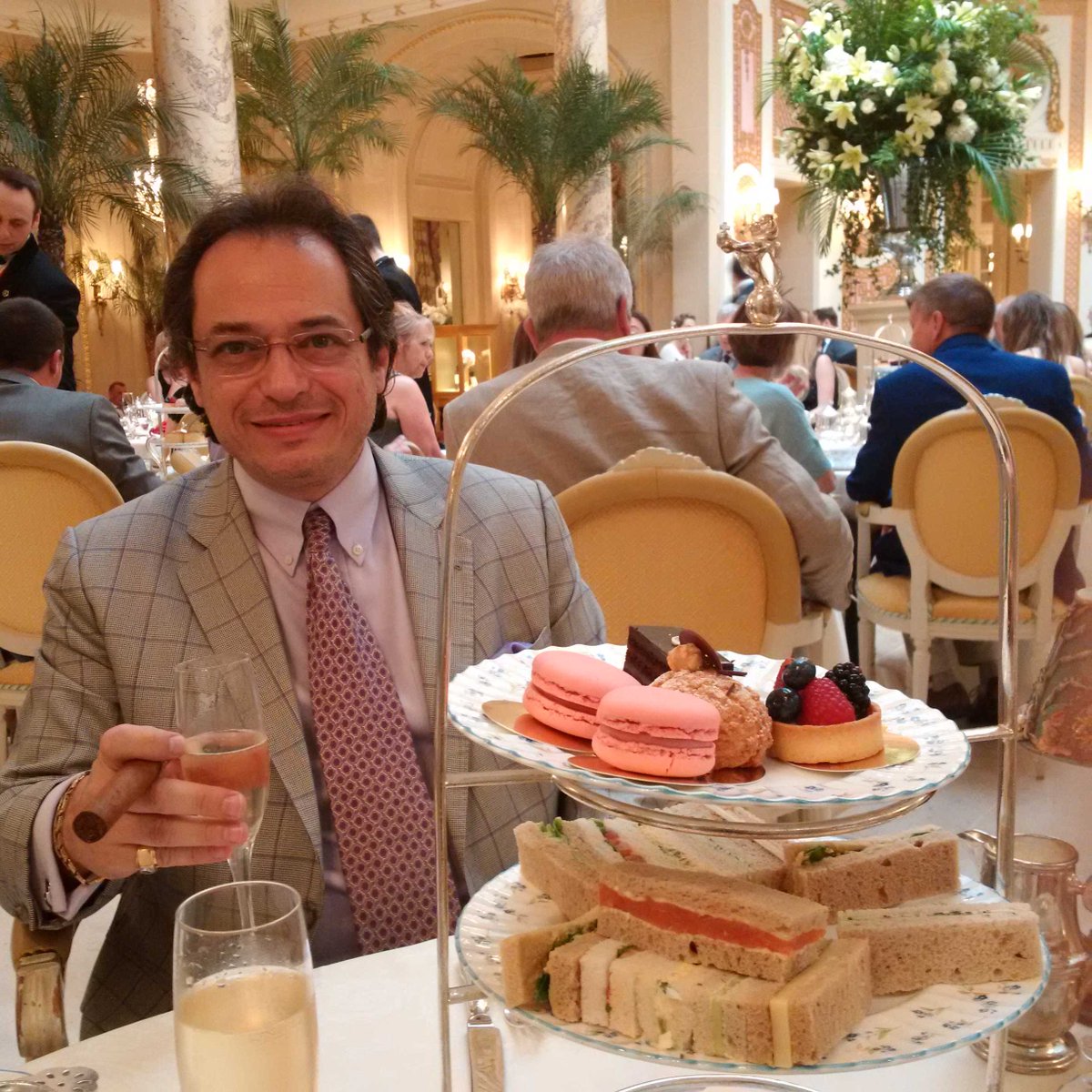 My week of herfing started off with Sunday tea at The Ritz with Karyn and Tasha, a most decadent affair to say the least (back on the diet thereafter!) this was a lovely birthday present from friends that I have only just got round to using, just as well as yet another birthday is fast approaching.
Tea was followed by a relaxing smoke and drink in the cigar lounge, well actually the outside part of the cigar lounge as the weather was so beautiful. The Ritz has an excellent cigar lounge and a great range of Havana cigars if anyone can actually find it as you have to go through the casino club. I consoled myself with a large single malt as lady luck was not with me at the tables buy hey ho, that's this year's gambling budget done with 🙂
I zoomed up to Turmeaus – Liverpool on a rather comfortable and air conditioned first class carriage with Virgin and had a few meetings at The Albany. Plans are coming along well and we are all very excited about the opening of this flagship cigar and whisky paradise later this year.
The highlight of my week was our cigar and whisky tasting at La Casa del Habano – Chester. To say this was a sold out event would be an understatement. The bar and the lounge was crammed full with the launch of the Wednesday Whisky Club and sadly we had to turn away many people who had not pre booked. Even with two sessions we were still totally over booked.
I think Wednesday was the hottest day in the UK since 2006 with temperatures soaring into the 90's. Thankfully the air con in La Casa worked very well in keeping everyone cool and chilled out 🙂
Clearly our tasting evenings are more popular than we could ever have imagined. Any why not? Three fabulous Robert Graham single malt whiskies ( Caerban, Ailein Mor and Hoebeg) Montecristo Media Coronas and Bolivar Royal Coronas as well as fabulous food from Bar Lounge.
The Wednesday Whisky Club is limited to 50 founder members and I understand its more or less fully subscribed already (email Sara for more details sara@cgarsltd.co.uk ) and has some wonderful membership benefits including priority and special prices to our events and 15% off our range of smokers accessories.
Best of all is that members can use the bar and sampling lounge till 11 p.m. on Wednesday evenings and enjoy our rather lovely hospitality. The bar has a super menu of single malt whisky and Cuban rum available by the dram and the lounge has Bloomberg TV, newspapers, music, soft drinks, coffee and snacks. Needless to say the walk in humidor is filled to the ceiling with every Havana you could dream of as well as some super rare Havana's too. And, if you prefer New World cigars you can always go next door to Turmeaus as we have a dedicated New World walk in humidor and sampling area too 🙂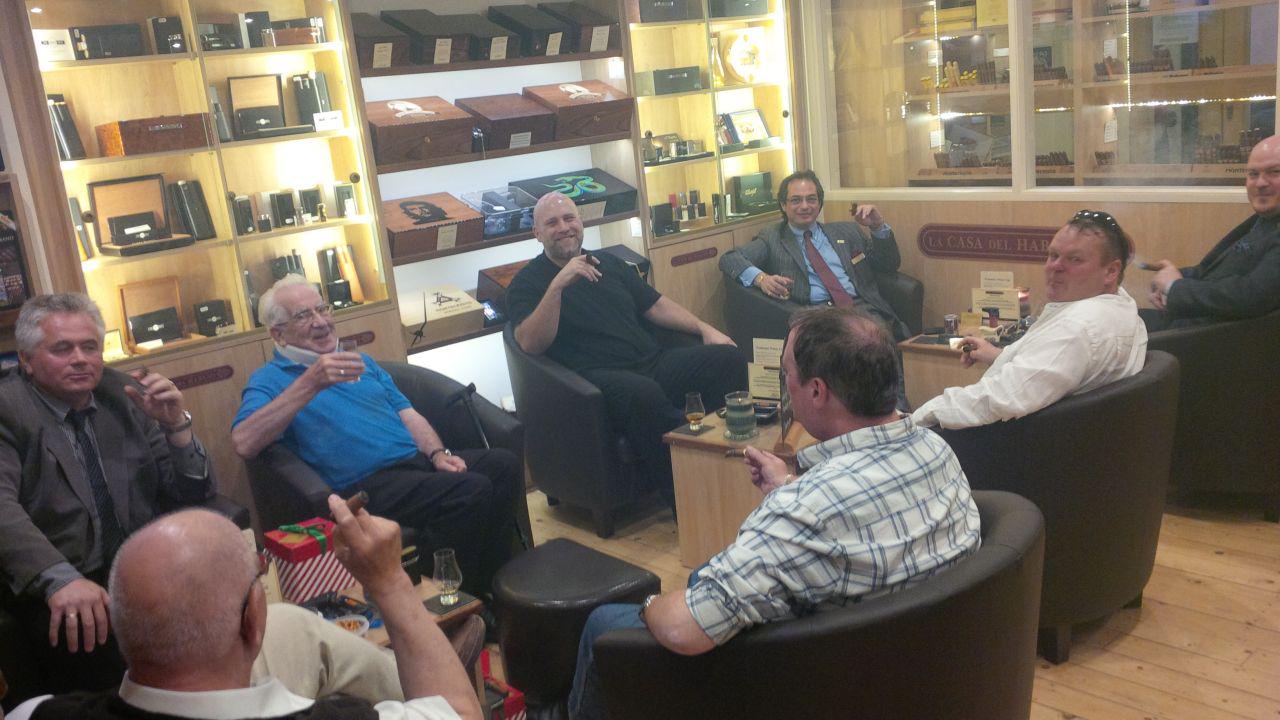 We had a fabulous crowd, lots of regulars and lots of new faces, some even traveled 2 hours or more for the event and one friend even came over from Norway! Our next whisky and cigar tasting is set for the 10th September but you may want to book up early…
Well, its official – the RA 225's are our fastest selling new release Havana cigar in history and it really is now or never as we are at the end of the line with stock levels perilously low. Allocations were cut to ribbons due to high demand. Well done to all of our friends who pre –ordered. What a fabulous smoke it is. Well done to H&F for such a wonderful cigar.
I'm a bit of a Monte 2 and BBF smoker and have been for as long as I can remember but I am utterly smitten by the Partagas SD No.6 not my usual vitola for sure but the blend is just incredible, sweet and full flavoured, smooth, balanced and complex. I just can't get enough of these cheeky little smokes. Perhaps it's the 50 ring gauge and short length of the cigar that's producing volumes of sweet flavours but I actually prefer these to the current D4 blend which is another one of my daily rotation.
Happy to announce that we have just imported a huge quantity of Inka – Secret Blend and the full range is available again online and in store. The success of the brand takes my breath away. Our best-selling New World cigar.
Oliva Orchant Seleccion have been another super surprise and we can't seem to get these in fast enough. I love the Chubby (no comments please!) though the Skinny and Shorty ain't too shabby either 🙂 Superb value for a premium cigar if not unbeatable value.
The mountain of Regius cigars is slowly disappearing. No surprise there then! Robustos for £6.99, what a bargain. Get them while you can.
If you haven't tried the new Davidoff Winston Churchill range, I can highly recommend these cigars. They ain't cheap but they are really delicious smokes. My favourite is the Robusto.
Quick word on humidors – I don't think anything compares to the quality and value of Dunhill humidors they are just perfect and highly recommended.
If the weather forecasters have it right (do they ever get it right?) it should be a hot and sunny weekend so I'm ready with a full weekend baggie of PSD6's, RA 225's,Monte 2's and BBF's and will be herfing on the deck for the next 48 hours doing nothing but thinking about what a great week I just had 🙂
Have a sunny weekend,
Peaceful puffing,
Mitchell