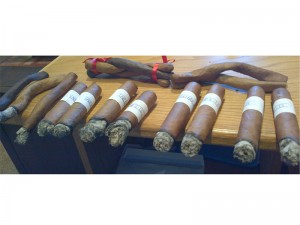 What is project X?? Well I'm afraid I can't tell you dear blog reader or I would have to shoot you 🙂 But if you look at the photo you will see that I have had a hard day's work testing out sample blends for a new, very exciting and exclusive cigar being made for Turmeaus Tobacconist.
Not easy smoking my way through a dozen blends but with my trusty palate cleansing sherbet dib dab I managed to make it through the day! That said, my office was in a complete cloud and the smoker filters could hardly cope!
The cigars are from one of the finest tobacco growing regions in the world and the final blend is light to medium strength but very full sweet  and smooth flavoured. The type of cigar that leaves you wanting to spark up another one as soon as you have finished the first one.
We expect to launch later this year and it will be available in all Turmeaus tobacconist shops as well as Robert Graham shops and C.Gars Ltd online – More details on Project X soon!
I had a terribly busy Tuesday with lunch at the magnificent Wellesley. Blow the diet! I went for an 'Old Fashioned' (best I have had anywhere in the world) and pasta followed by a Cohiba 1966. You can order from the full menu or the bar menu and enjoy it on the terrace by an open fire. Friendliest service and a magnificent selection of vintage, rare and recent production Havanas in the breathtaking walk in humidor. Can't recommend this cigar venue highly enough.
I continued herfing at the Bulgari Hotel in the evening with  friends from overseas (Well… Texas and Essex… Does Essex count as overseas?!) The manager, Mike Choi, took excellent care of us as usual and recommended delicious Trinidad Havanas cigars for my friends who were novice smokers but I think may be hooked now. We whammed through a bottle of Ailen Mor our award winning single malt whisky followed by a few bottles of Champagne.
Great article in Cigar Journals latest issue. After years of selling vintage cigars we seem to be getting more recognition than ever in the press lol. Seriously we love this real cigar magazine. Loads of news and reviews and great photography too.
If you haven't booked up already we have 2 great cigar and whisky tasting events coming up at Robert Graham – Cambridge. Nominal priced tickets, drinks, smokes and canapés included… Yes I will be at both events and happy to do a Q&A as usual 🙂
Auction Catalogue is closed and at the printers! It will also be online next week. Almost 350 Lots of Vintage, Aged, Rare, Mature, Davidoff, Dunhill and Pre Embargo cigars will be sold on June 10th at Boisdale Canary Wharf. Come and join us for an evening to remember cigar and whisky tasting as well as canapés and auction.
Could be your last chance to stash Cohiba 1966 Limited edition. Great smokes and potentially a great investment if past Cohiba LE's are anything to go by. When they are gone they are gone so stash 'em while you can.
We retrofitted our London office walk in humidor so we can fit another 300 boxes of cigars and I must say it looks pretty impressive. We were so choc a block I couldn't even see the stocks we have and had a few nice surprises when I finally managed to rearrange all of our stocks including:
Montecristo Sublimes
Cohiba Gran Reserva
Romeo Duke
La Gloria Cubana Gloriosos
Por Larranaga Magnificos
Montecristo D
Cohiba Sublimes
Cohiba Seleccion Reserva
I even found  a Bolivar Centenary humidor (EMS of course) and a Cohiba Millennium jar 🙂
… And it really went on and on 🙂
Ok well its May and that's another week done so I am the hell outta here and heading to sunny Peru this weekend to check out the fields and factory where my Inka – Secret Blend cigars are being made. Sorry for the delay in availability of the robustos and petit coronas. They are now imported into the UK and should clear customs and be on the shelves and online store next week,
Full Peru report on my next blog
Have a very Happy May bank holiday weekend
Peaceful puffing
Mitchell