I love bank holiday weekends, especially as a 4 day week follows 🙂 I'm definitely more suited to a 4 day week and think I will start to make a habit of it. I can't believe we actually had decent weather on Sunday and I was able to go topless in the C7GAR car whilst herfing a Cohiba Robusto Supremo with Karyn doing an excellent Bridget Jones impersonation!
Back to herfing, I mean working on Tuesday with a zoom on the motorway to Turmeaus – Norfolk where we held a wonderful tasting event on Tuesday afternoon and evening.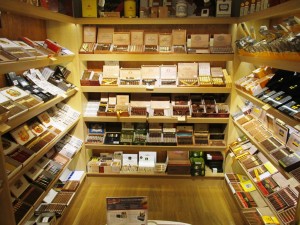 C.Gars Ltd has been in Norfolk for almost 20 years and we opened our specialist tobacconist adjoining our offices and warehouse a couple of years ago. Norfolk is a most beautiful county and we have super premises 12 miles from Norwich. To the best of my knowledge there are no other specialist tobacconists for a zillion miles around which probably explains the popularity of this location for our Turmeaus shop and lounge.
As you can see from the photos we have a well-stocked walk in humidor, a beautiful shop crammed to the rafters with a HUGE range of tobaccos and of course a comfortable sampling lounge. We in a remote but idyllic location in Rollesby with easy parking and if the weather is nice we even have tables and chairs outside 🙂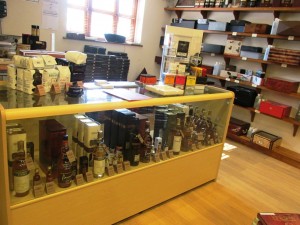 We recently had our alcohol licence granted so now all of our premises are licenced for the sale of alcohol .That makes our tasting events even more fun as we try to match up great cigars with splendid single malt whiskies and / or Cuban rum.
The lounge and shop were rather packed with local and regular Turmeaus clients who enjoyed H. Upmann Half Coronas and Bolivar Belgravia kindly supplied by Hunters & Frankau paired up with a magnificent range of single malt whiskies kindly supplied by Gordon & McPhail including:
Tullibardine 500 Sherry Cask
Glen Scotia Double Cask
Glen Scotia Victoriana – This was an absolute winner in the pairings.
Speymalt from Macallan 2006
Linkwood 15 Year Old
Connoisseurs Choice Tormore 1997
Benromach 10 Year Old
Benromach 10 Year Old 100 Proof
Ledaig 1999
I wasn't completely sure about the Bolivar Belgravia when it was first released but these cigars have now settled down into a divine smoking experience, light to medium strength but very full flavour. A perfect balance, beautiful wrappers and perfect construction.
Despite the vast variety of canapes laid on for the event we manged to take the Turmeaus team of 12 out for dinner to the lovely Chinese over the road and ended the evening herfing Partagas Salomones with a bottle of Fettercairn 30 Year Old now that was a perfect pairing!
Thanks to Laura's Team (including, James, Liam, Georgina, Imogen, Amy and our newest member Cally) for putting together such a wonderful event. I'm looking forward to the next one in a month or so.
The rest of my week has been filled with auction work as I put the finishing touches to the auction listings for the June 20th Vintage Cigar Auction. The catalogue is full and closed now and we are considering entries for the Winter sale.
I'm trying to limit entries to more interesting cigars going forward as well as close off the catalogue when it gets near the 300 Lot mark. I don't think I have ever seen more rare or unique pre-embargo cigars as this sale. Truly breath taking. A range of single, boxes, cabinets and humidors that are simply magnificent one of a kinds.
Catalogue will be in print and Online around 2 weeks or so before the sale. Tickets for the event are available on this link but are almost sold out already. If you can't make it to the Bulgari for the auction you will be able to bid online on the auction website as the sale will be live at the Bulgari and simultaneously online. We are always happy to provide condition reports to absentee bidders.
The weather is supposed to turn very hot this weekend and I'm planning on some serious car herfing with the "Car'ador" filled with some great smokes including:
El Rey del Mundo Demi Tasse (my standard breakfast smoke)
Cohiba Siglo VI (bit of a treat)
Bolivar Royal Coronas Orchant Seleccion (Simply awesome smokes)
Hoyo Epicure Especial (best in the Hoyo range I reckon)
Bolivar Belicosos 2007 Vintage (sweet as sugar)
And when I'm not driving ( of course!) I have a bottle of Towmore 1997 to compliment the smokes 🙂
Have a smokey weekend.
Peaceful puffing,
Mitchell