Yes its true we DO have the lowest priced products in the UK! We are a bit like the Asda of the cigar trade 🙂 Now monitoring competitor prices and adjusting our prices 24/7 – every day of the year to ensure that C.Gars will always be the best value in the UK.
When you factor in our fast delivery, massive range, massive stocks and legendary service, there ain't nowhere else to shop in the UK!
…Oh I almost forgot to mention we have more retail specialist cigar shops than anyone in the UK – from Edinburgh to Mayfair and a lot of places in between <insert maniacal laugh here>!
Seriously our range is just unbelievably great, whether you are a novice smoker or a connoisseur I am confident we have the right cigar for everyone. As Managing Director, the buck stops here so if there is ever an issue with your order I will personally get involved and resolve rapidly. Always available by email at sales@cgarsltd.co.uk
Looks like a  moiety of common sense has prevailed regarding the standardized packaging of tobacco with draft regulations now published and excluding cigars and pipe tobacco (read more on the C.Gars News Page) thank you to whoever has been involved in making this, the correct decision. Clearly our products are not aimed at children and never have been. I certainly don't remember ever allowing a minor into one of my smoking shops let alone hearing a kid say 'Can I buy  Montecristo?'!
I've had a bit of a Bolivar week this week 🙂 Blasting my way through Belicosos Finos 2007 vintage and followed up with maduro wrapper Corona Extra cabinet selection 2007 vintage which are an absolute powerhouse. Did I mention that 2007 is my favourite vintage in the last 20 years? Much like fine wines Havana cigars have great, good and not so great vintages. The trick is to know which ones are the best and stash 'em away!
Great to see our partner Gennaro (from Tabacalera del Oriente in Peru) last week as he visited the office and we put the finishing touches on some new Inca premium cigars that we will launch in the UK market after the Summer. Peruvian tobacco is incredibly sweet and our range of Secret Blend cigars continues to be our best-selling range of New World cigars. Excellent value for a premium blend cigar. Well-constructed, easy draw and all popular sizes and packaging.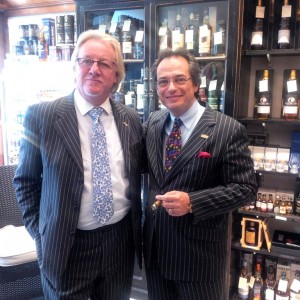 The Davidoff tasting at our Cambridge Robert Graham Whisky & Cigar shop was another resounding success with a capacity crowd, as ever, enjoying a video presentation from Andrew, our Davidoff representative. Plenty of Davidoff cigars and rather a lot of Dancing Stag single malt whisky ensured a good night was had by all 🙂 My partner Ron Morrison (our very own single malt whisky expert and Managing Director of Robert Graham Ltd) and I  also took part in the experience and were delighted by the turn out. I must say, Davidoff cigars are absolutely sublime and the tasting events are a real treat for any cigar or whisky lover (including myself!).
No cigars at the Clubhouse charity dinner last week but a great evening which raised a shed load of dosh for this excellent charity. Held at the Met in Hendon, great food, wine and company and clearly Karyn enjoyed being a copper with our friend Tim's wife Debra! (more pictures below)
Next cigar auction is part of the Spectator cigar awards dinner at Boisdale Canary Wharf of the 1st December. Check out the event details here should be a memorable evening. We are happy to consider Lots for auction at this time. Sellers should initially email details.
My old friend Yagi-san from Tokyo popped into the office for a smoke and was dressed outrageously as usual! We enjoyed some 1990 Yamazaki which was in fact, remarkably good. Paired up with some 1990 Davidoff – amazing combo.
No sign of any new releases from Havana any time soon and we are at the ends of our stocks on the following cigars:
– Montecristo 520
– Punch Serie D'Oro No. 2
– Hoyo Grand Epicure
So, you may want to tuck some away while you can
We have however released some of our reserve stocks of :
– Montecristo D 2005
– Cuaba Piramides 2008
– Romeo Duke 2009
We also have some of the rather beautiful regional edition Trinidad robusto extra jars and Coleccion Habanos Obras Completas available from next week. email for details sales@cgarsltd.co.uk  
Building work is rapidly progressing at our new Norfolk premises due to open in a couple of months' time. This shop will have the largest range of pipe tobacco in the country as well as a huge walk in cigar humidor and superb sampling room.
Michelle is on vacation for a few days so I'm stuck in the office pretending to run the business… Should be interesting!
Fabulous cigar smoking weather in London this week (don't bet on how long that will continue!) and I'm hoping it will continue for the weekend so I can do a little topless driving and garden herfing.
Peaceful puffing,
Mitchell