London really is the mecca for cigars smokers and I'm so lucky to live and work in this super city. Not only a few excellent cigar merchants but some of the best cigar terraces and sampling rooms and all in a very small area so it's very easy to do a bit of a cigar crawl and herf as one does from time to time 🙂
Over the last week I have visited The Wellesley for a smoke with Giuseppe, The Bulgari for a smoke with Mike and the Lanesborough to catch up with my old friends Neil and Luca. I sampled the food, wine, scotch and cigars. All in the interests of research of course. I wanted to pop in and say hi to Manu at The Corinthia but our diaries didn't work so that's on the agenda in a few weeks' time.
My other local terrace is at Ten Manchester Street, close to Baker street. Very chilled location and a lovely cigar friendly hotel too, hence I recommend all my clients to stay there (plus its only ten mins from C.Gars London office!).
My Girl Friday (C.Gars G.M.) Michelle is back from vacation thank goodness!… and just in time as I think we were melting down without her in her usual 'total control' of the C.Gars Empire mode! Mish was only away for a week but gosh did I miss her (call me high maintenance!)
I can happily confirm that Phase One of Turmeaus at The Albany has actually commenced! #woohoo A tad later than expected but all good things come to those who wait. The building contractors are in the strip out phase and I can't wait to see it next week when I head up North. Slight structural glitch when some bits and bobs were knocked down and a chimney and supporting column were found, hey ho – we have great architects and they have already found a solution so my huge walk in humidor plans will not be affected. I'll take some photos next week and pop them up on the blog.
The first phase of the project is a specialist cigar/tobacco/whisky store and sampling lounge. The second phase is a late night specialist cigar store and sampling lounge as well as a whisky and champagne bar and tapas lounge. I may have to spend a little more time up North later this year 🙂
Summer auction time is fast approaching and I'm aiming to close the catalogue at the end of next week which is a lot earlier than usual but I have to as the catalogue is already full with some 300 Lots of cigars. This sale will have a wonderful selection of mature & aged Havanas, Davidoff & Dunhill, Pre Embargo and Limited Editions. It's our second auction sale of the year and this one is being held at The Bulgari as well as simultaneously online for our overseas bidders.
We have some simply incredible and unique Havana cigars on offer and I'm really enjoying all the cataloguing as I learn so much each time I have to research a cigar I have never seen before. If all goes to plan the catalogue will be in print and online a few weeks before the sale.
One of my overseas clients popped in the office on Wednesday (with a rather magnificent bottle of old Dom Perignon!) and as he's a bit of a vintage cigar buff we herfed our way through some Davidoff Chateau Margaux from the 1970's which were quite delicious followed by Partagas Coronas from the 1960's which were absolutely sublime. Aged to perfection in my humidor for many years, the Partagas were still very full flavoured, rich and balanced. What a treat 🙂
Next week I'm zooming up to Turmeaus Liverpool/Chester/Knutsford and will be making sure our humidors are super fully stocked up for the bank holiday weekend coming up. Plenty of choice in cigars whether Cuban or New World and a ridiculously huge choice of single malt whisky in all our locations.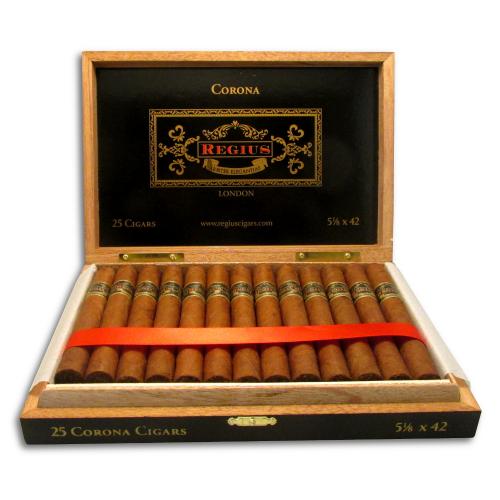 I've always been rather fond of Regius cigars. Great value, excellent sizes and just enough 'Nic Kick' in the blend to tease the taste buds. I've blended small batch limited edition Orchant Seleccion by Regius cigars for the last few years together with Akhil (owner of the brand) and we've had a ton of fun testing loads and loads of blending samples over some very long days… and evenings. Somehow we always come up with absolutely winners.
This year we have 3 new Orchant Seleccion by Regius and we will be launching them in the coming weeks. Only 200 boxes of 10 cigars for each size so I don't think they will be around for too long.
Orchant Seleccion by Oliva remain very high on the best seller list and of course my Inka – Secret Blend brand from Peru sales continue to scale new highs. My Partner Ron is in Tarapoto in Peru at this time doing quality control for the new Inca – Secret Blend Roca (robusto) due out in the USA next month. This joins the Tambo and Imperio in the US market.
Righto, that's me done for another week so I'm kicking back this weekend with my baggie stuffed full of:
Cohiba Robusto Supremo (total gob stopper but so delicious)
Bolivar Belgravia (this puppy is smoking like a treat now)
Torano Exodus 1959 ( my change of pace smoke)
Inka – Secret Blend Robusto Rojo (delicious, sweet smoke)
H. Upmann Half Coronas (a return to form for this cheeky little smoke)
No Scotch for me for the next week as its Passover festival! But thanks to those lovely folks at The Grapevine I'll be enjoying some tasty La Graviere 2004 which will do very nicely 🙂
And finally… Happy 90th birthday to Queen Elizabeth. I think I will, release an Orchant Seleccion Havana in her honour. I'll think of something suitable and let you know on my next blog.
Have a smokey weekend and a Chag Kasher v' Sameach!
Peaceful puffing,
Mitchell