Another first rate and sold out tasting evening at La Casa del Habano – Chester last Tuesday evening. Featured cigars were H. Upmann Half Coronas and La Flor de Cano Gran Cano, both of which were delightful smokes 🙂
We paired them up with three whiskies: Turmeaus Living Cask, Jura Superstition and Dalmore Cigar Malt. I can confirm they paired up very well indeed!
In the words of one of our attendees (by email):
Dear Mitchell,
I would like to thank you for the wonderful evening my Father and I had at Chester's "Le Casa del Habano" tasting and sampling evening. I have visited the shop on numerous occasions but this was the first sampling evening we have attended, and I am sure it will not be the last.
Please give my sincere thanks to Calum and Sara for their excellent service and knowledge throughout the evening. In all, it was a fantastic evening with fantastic company.
Thanks again,
Our Chester cigar and whisky shops are super! Huge stocks of the finest cigars, pipe tobacco and single malt whisky, whisky bar (click here to see the menu) and cigar sampling lounge – who could ask for more 🙂
Looking forward to the Alec Bradley tasting evenings with guest of honour George Sosa in a few weeks' time in both Liverpool and Chester. Just a few tickets left if you hurry! Liverpool and Chester.
I can't believe its May already, that was a super-fast first third of the year! If time flies when you're enjoying yourself, I must be having a bloody good time 🙂 It's strange running a retail business as many business owners will no doubt know. We work like crazy and finish the year with a great Christmas season but then think to ourselves 'oh no – its January, can we really keep the sales growing'. Sort of minor panic attack feelings for a few days until we realise that there's nothing to panic about and if the first 4 months are anything to go by we must be getting it right as our sales have done an unprecedented jump of 20% in the first 4 months of this year. So my thanks to our customers both old and new.
My thanks also to my sales, marketing and warehouse teams as I'm never really sure how they cope with the volume of orders coming in. I can only liken our shipping department to a New York deli at lunch time, crazy busy to say the least. The challenge, so my general Manager Michelle tells me is to have the right amount of staff and to train them constantly and exceptionally well. With a growing business, the amount of people on the team is constantly growing so the training program seems to be never ending
Our Inca – Secret Blend cigars for the US market are already rolling out to retailers. If you would like to find out your nearest or a shop that will give a mail order service drop me a line sales@cgarsltd.co.uk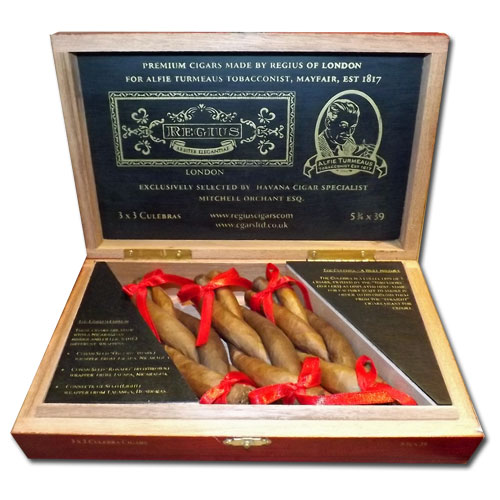 We're running an end of line sale on the Turmeaus Edition Regius Culebras at just £49.99 whilst stocks last. Bit of a bargain and a very cool cigar 😉
We've also released the last of the 2013 Orchant Seleccion Regius Robustos the additional age has rounded this cigar off to be an excellent full flavoured Nicaraguan. Highly recommended.
Save your money for the most exciting Havana cigar release of the year! 7 weeks to go until the release of the Ramon Allones 225th Hunters & Frankau anniversary cigars and humidor.
Looking forward to kicking back over the May holiday weekend and as I'm back on my diet I have selected a lovely looking box of Orchant Seleccion by Oliva 'Skinny' 🙂 Check out the 5 star reviews on these best sellers. I think I'll match it up with some 15 year old Mulata Cuban rum, incredible value at £53.99!
Have a smokey weekend,
Peaceful puffing,
Mitchell