Yes it's that time again, a happy birthday to C.Gars Ltd, 19 years old late Thursday 🙂 and a very fast and enjoyable 19 years that was! If you want a laugh have a look at some of our old website versions: C.Gars through the ages.
I was in fact selling cigars on the internet way back in late 1993 as 'Mitchell's Cigar Company' which I reckon makes me the first cigar merchant in the UK to have gone online. Our website was originally created by my Co-Director Laura and in fact Laura and her Team at C.Gars Norfolk still take care of all of the website stuff in house from start to finish leaving me with the fun stuff to do in the business 😉
The business has grown to a staggering size over the years, with specialist mail order offices and warehouses in London and Norfolk and specialist cigar shops that I reckon are the best in the UK in Liverpool, Chester, Knutsford, Mayfair and Norfolk. We also opened our La Casa del Habano a few years ago in Chester and also have an interest in the fabulous Robert Graham whisky and cigar business with shops in Glasgow, Cambridge, Edinburgh and London. Along the journey I was one of the owners of La Casa del Habano in Hamburg but sold out some year ago to concentrate on my growing UK business. You could say I am well experienced in the cigar trade by now… (but ever learning).
It's hard to believe that the business that Laura and I created from our homes all those years ago has become our little cigar empire employing over 50 people. Not to mention the complete madhouse of mail order with 1000's of orders going out every week.
Laura and I used to play a game years ago that every time a client would phone us we would remember what they last ordered. They were very impressed! We got it right most of the time and made the service very personal. Though the business has grown, our management team is still deliberately tiny so we can ensure a real high level of consistent personal service. In fact I am more or less online 24/7 and always pleased to help and advise our clients. I can always be contacted at sales@cgarsltd.co.uk. If you don't get a reply within a few minutes… I'm probably on a plane!
Next year we will be celebrating the 200th anniversary of Turmeaus Tobacconist. Quite a milestone which I reckon makes our retail cigar business one of the oldest in Europe (I think we are still just about in Europe!) We are already making plans for celebrations including anniversary tasting events, special release cigars and a limited edition humidor (200 of course) of Havana cigars.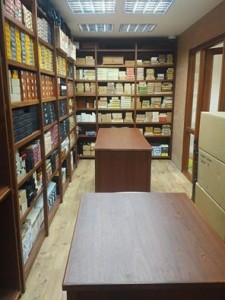 Onward and upwards as we say and the C.Gars expansion marches on. We have finally cut the ribbon on our London C.Gars expansion which has given us more warehouse and packing area as well as a super new walk in humidor that we are using just for aged and rare Havanas and client lockers. We store our aged and rare Havanas more cold and dry to slow down the maturing process and it's great to finally have the space to show off some of the rarest Havana cigars.
Our Liverpool expansion is cracking on with the builders now bashing away at the second phase of the project. This will feature a whisky bar and tapas restaurant as well as another cigar shop and sampling lounge that will be open till 11 pm. I'm planning on opening early in the new year.
Where do we go next though? Lots of requests for another shop with a larger sampling lounge in London. Hmmm… very tempting.
Lots of panicky debate on the forums about bloom/plume/mould again. Everyone is an expert as we say. My colleague James did  Facebook post with a photo of a beautiful mature cabinet of BBF's which had a lot of bloom on the wrapper and there was outcry lol 'How can you sell mouldy old cigars?' Well I will stick to an earlier article I wrote some time ago https://www.cgarsltd.co.uk/cigar-library/plume_or_mould.html relax, don't panic, brush off smoke and enjoy.
Winter auction catalogue closed and at the printers. Over 350 Lots will be knocked down by C.Gars auctioneer Jonathan Humbert. Lots will be online two weeks before the sale. Tickets for the auction and the tasting event available now. Hurry, limited availability.
Tickets have been selling like mad for the Cigar Smoker of the year event at Boisdale canary Wharf on the 12th December. I reckon the event will be sold out in the next few days. Here's a link if you would like to join me and Karyn on the C.Gars tables for a truly incredible and decadent event.
I'm off to Turmeaus Norfolk on Thursday for a cigar and whisky tasting event. If the weather is as beautiful as today it will be a brilliant topless herf all the way. Turmeaus Norfolk has a fabulous range of cigars and very comfortable sampling lounge. Looking forward to catching up with the team as well as our local clients.
It's a pretty long drive to Norfolk so I have the boot'ador well stocked with:
Ramon Allones Orchant Seleccion
Macanudo Inspirado
Oliva Orchant Seleccion
Bolivar Belicosos
Inka Secret Blend Robustos
That should keep me in good shape for the drive 🙂
Have a smokey rest of the week.
Peaceful puffing,
Mitchell