Happy New Year to all our customers and we hope you all enjoyed some fantastic tipples over the holiday season! One whisky that always stands out for being a firm favourite and all-rounder are the Highland Park Single Malts!
Highland Park 18 Years is a stunning expression to appeal to most palates.
Considered by many whisky writers across the globe as the 'industry's favourite whisky', Highland Park 18 year old is a masterclass of balance, complexity and refinement.
Lingering layers of sweet honeyed malt meet characterful dried fruit notes, marzipan and golden syrup, all wrapped up in swathes of distinctive, subtle floral peat smoke.
A whisky, which reveals more layers with every glass you enjoy.
Colour: Natural colour, burnished gold, clear and bright.
Nose: Rich, mature oak, top note of aromatic smoke.
Palate:Rich, full flavour, honey and peat.
Finish: Soft, round and long.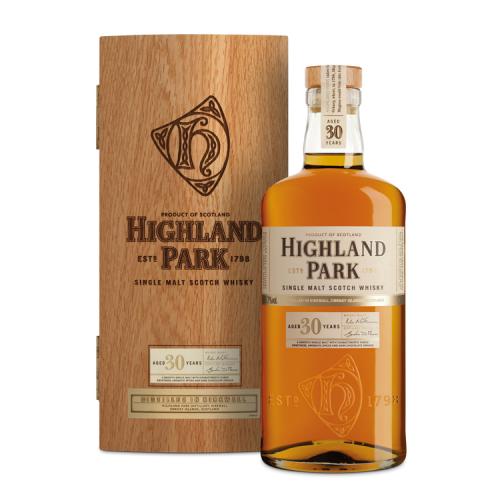 Now if you really want to push the boat out and indulge in sheer luxury I could not think of anything better than the Highland Park 30 Years! A real legend from Orkney rarely tasted apart from the privileged few! So here's your opportunity before these older bottlings become even harder to find!
Released at the beginning of 2013, this 30 year old Highland Park is the second oldest expression in the Highland Park range.
After spending 30 years maturing, this stunning single malt whisky has been bottled at a lower strength than previous editions, 45.7% ABV.
This Highland Park 30 Year Old is an outstanding whisky, with rich flavours which we have come to expect from older Highland Park bottlings.
Nose: Sweet and floral, with some fruits such as unripe peaches and mango, and lime zest. Sweet buttery pastry, marzipan, sticky cherries and a touch of plum jam also come to light.
Palate: Marzipan and sherry fruit firstly dominate, with sour spices and wood. There is also Cinnamon, maraschino cherries with a big woody spice.
Finish: Spicy, with nutmeg, ginger, soft brown sugar and dark unfinished wood.
Slainte
Pete