Alfred Dunhill was a great businessman and entrepreneur, constantly reinventing the saddlery company he inherited from his father in 1893 through diversification. He had a keen eye for business and the customer's needs, and, of course, moved from saddlery into a wide range of fields, not least tobacco and pipes.
The Alfred Dunhill name today remains widely respected thanks to the foundations the founding father established now more than a century ago. The move into tobacco began in 1907. That year, the first Alfred Dunhill tobacco shop opened, on Duke Street in London. This outlet quickly became the epicentre of a booming business that today is known throughout the world. The shop sold hand-blended tobaccos, cigars and Dunhill-made cigarettes, as well as French and English pipes.
Amid many other competing draws, the tobacco business was of great interest to Alfred Dunhill without him claiming any expertise. At the same time, after opening on Duke Street, he quickly realised that there was a gap in the market. Namely high-end, handmade tobacco pipes and bespoke tobacco blends. So an opportunity but also a challenge.
The key to establishing himself as a fresh presence was to achieve a new standard of quality. His first step towards earning a reputation for excellence was to be recognised as a tobacco specialist. He started to create blends for his customers and kept a book called "My Mixtures". It shows today how Alfred tailored service to his customers' needs with an offering reputedly of more than 36,000 different tobacco blends. Notable clients listed in order books include Queen Victoria and the writer, JB Priestley.
From tobacco, Alfred Dunhill moved onto pipes. Dissatisfied with the quality that was available on the market, Alfred began making his own pipes in 1910 using the finest briar available. These were priced accordingly and this approach meant customers had the strong sense of the quality and worth to an Alfred Dunhill product, compared to lower-quality pipes with a short shelf-life. With "Dunhill, Duke Street, S.W." stamped on their sides (ahead of 1930, when a shape chart was introduced that used numbers and letters with each pipe marked to help a customer identify the size and shape), Alfred Dunhill pipes were a contrast to the norm and expected to last a lifetime on the back of innovations such as aluminium tubes. These were inserted into the pipe stem that, ahead of the invention of pipe cleaners,  allowed the user to replace this part of the mechanism when the pipe became blocked.
Alfred Dunhill's next step was to refine the process of the tobacco blends. In 1912, he focused on creating Dunhill signature tobacco. He started with Royal Yacht, Cuba and Durbar. In the same year, he also introduced the Alfred Dunhill "white spot". Dunhill's customers were experiencing difficulties when re-assembling their straight pipes, so the designs began to feature a white spot on the top of the stem to help them align the parts. This spot, known then among technicians and users as the "tube sign", is today the symbol of quality it came to represent. (Indeed the white-dot guarantee, introduced in 1921, gave customers twelve months of protection).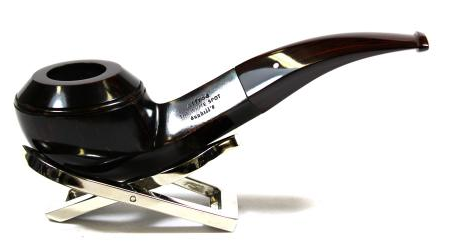 During the First World War, Alfred Dunhill became well known for sending special, sealed boxes of tobacco and pipes to men on the front line, with the boxes marked as castor oil so people would not steal them. Also included was a letter in which Alfred suggested sharing with other officers. A consequence of this generosity and support for those in battle was French, Canadian, Belgium and American soldiers became familiar with the Dunhill name and quality produce. By 1921, pipe sales that were 10,000 in 1918 topped 276,000, internationally, bolstered by innovations like the  Shell Briar finish in 1917, which we discussed in a past blog (March 26th this year).
As well as hitting such sales, in 1921 Alfred started to supply tobacco to the then Prince of Wales and heir to the throne, Edward. A Royal warrant followed, which was a pinnacle for Alfred Dunhill who retired at the end of the decade with his brother, Herbert Edward and then the founding father's son, Alfred Henry, taking the company chair.
As a company, Alfred Dunhill, itself, thrived throughout the 1920s and thereafter with the company growing and expanding, with this and acquisitions having a healthy focus on Tobacco products. At the start of the Seventies, the company concentrated on accessories so that the often-repeated saying "Dunhill pipes, regardless of shape, size, and finish, must always smoke well" still holds true to this day. The Dunhill of the modern era shares with the company of the past a culture where quality and detail are paramount.
This here is a brief introduction to the man behind this ethos and what remains a great company. The anthologies, "The Gentle Art of Smoking" and "The Pipe book" by Alfred Dunhill, contain further details. A fascinating read with Alfred sharing his thoughts on both pipes and tobacco and what we call now the art of slow smoking. As for the pipes, you will recognise the value and the passion in them whether you are a collector or an occasional smoker. Please browse our collection; I'm sure you will find your new lifetime companion.
My very best to you, whether already a pipe devotee or considering such a worthy path.
Until next time,
Christian
PS: I do wish we could still get hold of Alfred Dunhill''s Durbar tobacco!