Definitely on a bourbon kick lately and this one from Old Fitzgerald Distillery is really hitting the mark this week! Larceny is another one of those bourbons that just isn't widely spread, and usually brings out tha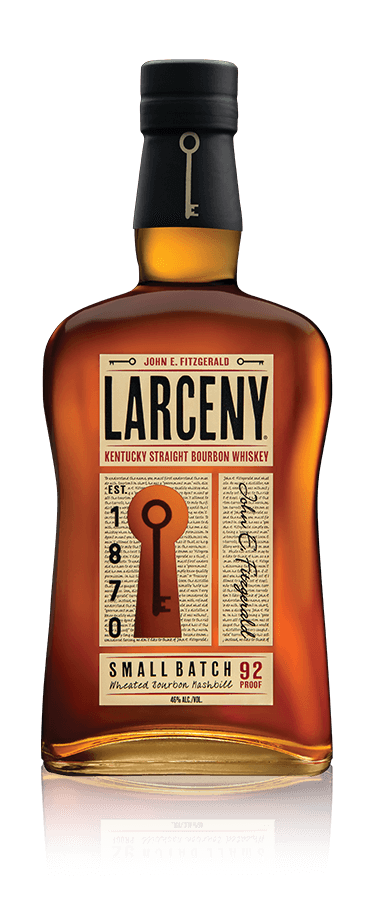 t reaction of ,"I haven't seen that one before", when you break it out for guests. It is always a joy to be able to introduce something to friends that haven't had it before.
John E. Fitzgerald, who had exceptional taste when it came to bourbon, is the inspiration for this whiskey. The story goes that Fitzgerald, who was a bonded US Treasury Agent, had the keys to the old rickhouses where all the bourbon barrels were stored. He would use those keys to get himself in and steal bourbon from the barrels and take jugs of it home for himself. When those barrels were unusually light and unbelievably smooth, giving truth to his exceptional whiskey palate. These barrels became known as Fitzgerald barrels, which just solidified his legacy.
Larceny Bourbon, part of the Heaven Hill family, is one of only a handful of wheated bourbons on the market. Most bourbon make-up is corn, rye, and barley. Larceny has replaced the rye with wheat, on top of that, it has 25% more wheat than other wheated bourbons. In turn that creates a much more softer and smooth sipping bourbon. The bite of the rye is not there.
Just because it is a softer sip, it most definitely doesn't mean it is less flavourful! This bourbon packs a hearty kick of flavours that open up into different avenues depending how you decide to prepare it. This is one I for sure do not get tired of drinking. Lots of honey and oak, along with some underlying cinnamon. This is not a polarising bourbon at all, I would bet most bourbon/American whiskey drinkers will get along with it. Very accessible, especially in a manhattan!
Slainte
Anthony