Greetings from Pre- Lockdown No.2 London where we are still trying to work out what's actually going on and how to adjust business accordingly from this Thursday.
We were able to keep all of our stores open during the first Lockdown as our stores all sell alcohol and we are considered 'essential', it's not clear if that still applies in the 2nd Lockdown at this stage though we hope it will.
After all, if you can buy a bottle of scotch from a supermarket, surely you should be able to buy the same bottle of scotch from an independent spirits specialist shop. We strictly enforce social distancing in our shops, we have hand sanitizer stations and customers and all staff have to wear face masks.
So, for now we plan to operate business as usual in our retail chain whilst our mail order division will continue operating 24-7 as always. We can already see demand has increased substantially with order numbers last week at almost double normal expectations. I think people were anticipating Lockdown restrictions (sensibly) and getting in orders earlier rather than later.
Hopefully Royal Mail and courier services will be able to cope well and maintain good service levels. We are releasing yet more of our reserve stocks of premium cigars as the shortages continue to get worse so we expect to maintain around 97% range availability. And what a range it is… now over 11,000 products. truly the largest range in the UK by a long stretch.
We remain positive that the Corona nightmare will be over at some stage in the future. So much so that I'm happy to announce we have started to fit out a new cigar and whisky flag ship store in the heart of St James's . This will be the first 'C.Gars' shop' (our other cigars and whisky stores are under our Turmeaus brand)
The building contractors are bashing away with the super modern design that will feature a beautiful walk in humidor, whisky showroom and comfortable sampling area. We're very excited about this expansion in the Mecca of cigar land of London :).
No change planned for our lovely Turmeaus shop in Mayfair (many customers have asked) this small but exceptionally busy shop will continue to trade as always.
The long awaited second batch of Ramo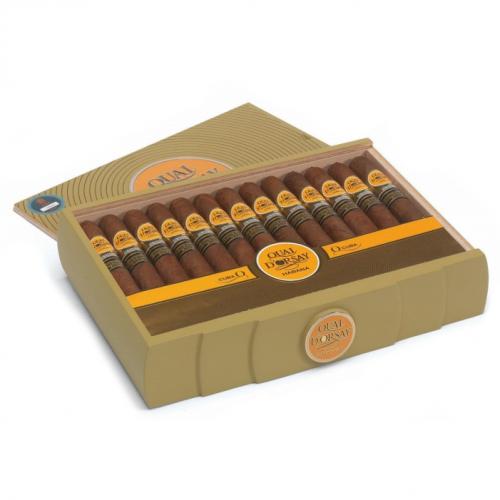 n Allones No.2 Limited edition finally arrived last week and all back orders are being fulfilled over the next few days or so.  I smoked one yesterday and it was truly a sublime smoking experience.
We expect the Quai D'Orsay Senadores Limited edition to be released next week (assuming no delays due to the Lockdown)  I love this brand as the blend is quite unique and nothing like any other brand. The range expansion a few years ago was very welcome and very popular with our clients.
I have just released 64 boxes of Quai d' Orsay No.50 – Orchant Seleccion that are smoking exceptionally well. Individually numbered, double banded, matured and ready to smoke. I paired up with a Foragers G&T from the fabulous Snowdonia Distillery for a perfect palate tingling experience.
We recently bottled a cask of Stalla Dhu Caol Ila 11 year old at a whopping 60.4%. This is a serious single malt! Goes well with a full bodied Partagas or Bolivar. Only 287 bottles from this beautiful cask of exceptional character from our multi award winning brand.
Our Winter auction  was a resounding success with well over £1M in Lots sold a few weeks ago. Prices were startling (high) with much interest from the Far East. We are shipping auction Lots over the coming weeks. I'm not certain when we will hold the next auction. it could be as early as December or as late as January next year.
Havana cigar shortages continue with Cohiba continuing to be the worst affected brand.  Little sign of BHK's, Siglo VI and Piramides Extra sadly. Even Siglo IV and Robustos seem to be sporadically going out of stock. My advice is stock up while you can as we don't see the supply situation improving any time soon.
But what of Christmas this year? Will we be able to return to any semblance of normality? Who knows? the best advice is to stock your bar and humidor sooner rather than later.
Have a smokey week and stay safe,
Peaceful puffing
Mitchell