It's been a rather madly busy time at C.Gars over the last week!…
Our Winter auction took place on the 1st December with a massive catalogue of aged and rare Havana cigars as well as some rather delicious looking whisky. Some incredible prices were achieved including the following:
Lot 120 – Trinidad Gran Panatela – £31,200.00
Lot 305 – Partagas 165th Anniversary – £14,700.00
Lot 292 – Dunhill Cabinetta – £12,100.00
Lot 295 – Dunhill Estupendos – £8,900.00
Lot 325 – Partagas Humidor – £8,750.00
Lot 396 – Cohiba Siglo VI Gran Reserva – £5,050.00
Lot 397 – Cohiba Siglo VI Gran Reserva – £4,950.00
Lot 66 – La Flor de Cano Diademas – £4,750.00
Lot 307 – Ramon Allones Imperiales – £4,100.00
Lot 64 – La Escepcion Gran Gener – £4,000.00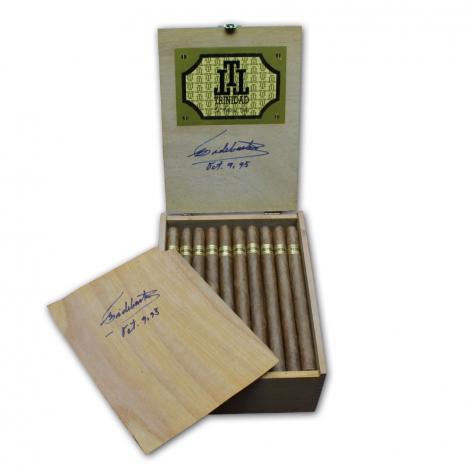 There was substantial interest from many new bidders in the Far East as well as collectors from the UK and Europe. We leave all previous sold Lot prices on the website as a resource that's easy to access using the sold search function. Our next auction will be held on the 15th March 2020 and we are now considering entries. Email the auction team.
The Cigar Smoker of The Year event was held the next night at Boisdale Canary Wharf. This was the 7th year for this amazing event which has become the largest event in the UK cigar calendar. The main award went to Dolph Lundgren. Habanos S.A. were presented (by me!) with the Producer of the year award. Giuliani Santilli was awarded Cigar Sommelier of the year. The ticket price included Partagas Serie D No. 6, Davidoff
Entreacto, Inka Cristales and AVO Orchant Seleccion Syncro Robusto cigars for sampling on the terrace and we were treated to a sumptuous dinner with splendid wines and whisky to follow.
The Christmas season kicked off with a bang with rather insane amounts of orders being placed last week hitting an all-time C.Gars record of over 4,000 packages shipped last week! Well done to my C.Gars mail order team. No idea how you coped… and it looks like this week will be even busier. If you're not sure what you need, we are here to assist and advise 24/7 just contact our team. The Turmeaus shops were equally busy and despite being up to the rafters in the finest cigars, pipes and whisky we had to do daily restocking to cope with the demand. Amazing!
The new Havana releases have proved unbelievably popular and for good reason. The blends and tobacco quality on the new Trinidad Topes, Media Luna and Punch short de Punch are simply outstanding. Best cigars I have enjoyed in a long time. Shortages of supply continue however with no sign of Siglo VI (other than in tubes) Behike, Lanceros and Esplendidos.
Cohiba Piramides Extra (I love that cigar!) are also out of stock but we are releasing stock of them from our reserve as well as Cohiba Behike this week as I dare say many of our clients will want one of these special smokes for the Christmas cigar.
My partner Ron Morrison who heads up the whisky division of C.Gars was invited to a lunch awards event in Scotland last Friday and I'm delighted to announce that we picked up a load of award for our already multi award winning Stalla Dhu range:
HIGHLANDS
Scotch Highlands Independent Bottler of the Year
No Age Statement
Gold – C.Gars Malt Orchant Seleccion
Silver – Stalla Dhu Ardmore Single Cask
SPEYSIDE
No Age Statement
Silver  – Stalla Dhu Speyside
Bronze – Stalla Dhu Saorsa Single Cask
We really have become the one stop shop for whisky and cigars in the UK. Best product range, best prices and hopefully always the best service. If not …let me know as I personally guarantee the best of everything for my customers.
Have a smokey week
Peaceful puffing
Mitchell