Well I'm back from a rather long break in sunny California 🙂 So far so good, except I came back to some idiot smashing one of the windows at our rather lovely La Casa del Habano Chester. Apparently the idiot told the police he had no idea how it happened. So well done and thank you to Cheshire police and hopefully some justice when this goes to court.
My US trip kicked off with a few fabulous days (and evenings)  at the IPCPR tobacco trade show in Las Vegas. I enjoyed meeting with some of our favourite cigar manufacturers and visiting their stands to see all the latest planned products for the year ahead.
It's really one big herf and super fun testing out the product 🙂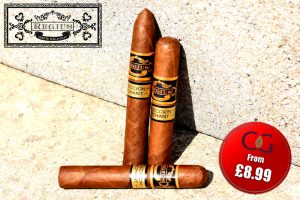 I spent plenty of time with Regius Cigars, one of my favourite boutique brands and I'm delighted to introduce the 2018 Orchant Seleccion limited editions which are not only ridiculously good value but super popular with our clients:
Regius Seleccion Orchant Robusto – 4 1/2″ x 52
Regius Seleccion Orchant Hermosos – 5″ x 48
Regius Seleccion Orchant Campana – 5 1/2″ x 52
Regius are made by Nestor Plasencia and are a full flavour Nicaraguan smoke that smoke very well straight out of the box as they are already well matured, but also age very well indeed.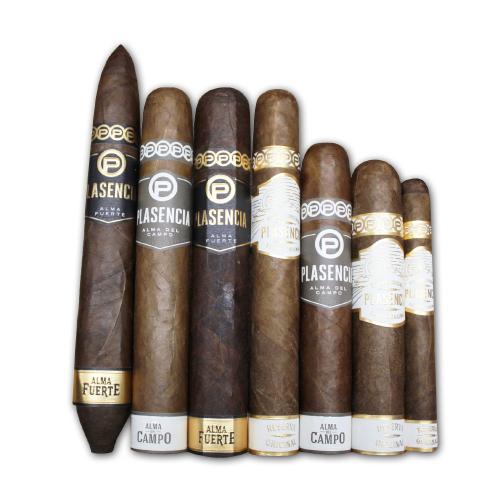 We also introduced Plasencia cigars to the UK market and the initial client reaction exceeded our expectations.
Plasencia Reserva Original Nestico Cigar – 1 Single – 4 1/2″ x 36
Plasencia Reserva Original Robusto Cigar – 1 Single – 4 1/2″ x 52
Plasencia Reserva Original Toro Cigar – 1 Single – 6″ x 50
Plasencia Alma Fuerte Generacion V Cigar – 1 Single – 7 " x 58
Plasencia Alma Del Campo Tribu Cigar – 1 Single – 5″ x 52
Plasencia Alma del Campo Sendero Cigar – 1 Single – 5″ x 52
Plasencia Alma Fuerte Sixto II Cigar – 1 Single – 6″ x 60
I was privileged to be invited to the Alec Bradley distributors dinner again (even though I'm a retailer!) and had a great evening with the AB Team as well as Scott from Tor and Steve from Robert Graham Ltd. After the dinner we moved on to the Davidoff Bar which also hosted a 50th anniversary event that we gate crashed 🙂
Our Alec Bradley Orchant Seleccion range is one of the most exciting and successful projects I have developed. These stunning smokes are now firmly in our best seller lists and we are planning range extensions before the end of the year.
Alec Bradley Orchant Seleccion Shorty Cigar – 5″ x 50
Alec Bradley Orchant Seleccion Chubby Cigar – 4″ x 60
Alec Bradley Orchant Seleccion Skinny Cigar – 5″ x 43
The Davidoff booth was humungous as usual and the UK sales of Davidoff and Avo brands are growing at a frightening rate for us! Perfect quality and great blends. Avo is an exclusive brand for C.Gars in the UK and we are very proud to represent it.
We have a limited allocation of the magnificent Davidoff 50th Anniversary Diademas Jars but when they are gone… they are gone as its truly a limited edition.
I also visited Oliva cigars who make our exclusive range of Oliva Orchant Seleccion cigars:
Oliva Orchant Seleccion Skinny – 5″ x 43
Oliva Orchant Seleccion Shorty – 5″ x 50
Oliva Orchant Seleccion Chubby – 4″ x 60
I can't seem to import enough Arturo Fuente Cigars to cope with demand! These super premium cigars are incredible smokes and we have the exclusive for the UK.
I also visited Scandinavian Tobacco who supply our exclusive Mitchellero range of cigars that are an exceptionally popular budget Nicaragua cigar made by Nestor Plasencia. Oh! and we also have the UK exclusive for Macanudo cigars 🙂
Mitchellero Chicos Cigar – 4″ x 30
Mitchellero Grandes Cigar – 4″ x 60
Mitchellero Orchies Cigar – 4″ x 52
Mitchellero Perlas Cigar – 4″ x 38
Mitchellero Sporty Cigar – 5″ x 38
Scandinavian Tobacco recently announced the acquisition of Peterson Pipes. A marriage of two brilliant companies. We love Peterson pipes and probably have the largest range and definitely the best prices in the UK.
Finally I visited our partners at Cigar Oasis, another brand that we represent exclusively in the UK. Awesome products and a great company to work with.
Cigar Oasis Electronic Humidifier – Ultra – 100 capacity
Cigar Oasis Electronic Humidifier – Excel – 300 capacity
Cigar Oasis Electronic Humidifier – Plus – 1,000 capacity
Cigar Oasis Electronic Humidifier – Magna – Cabinet humidors
Reading back all of the above exclusives I shouldn't be surprised at our sales growth this year. C.Gars truly have the biggest and best range in the UK. I dare say the amazing heatwave in the UK didn't harm summer sales levels as many of our clients like to smoke outdoors. I hope the great weather continues…
The rest of my trip was taken up with copious amounts of herfing with friends all over LA. I have an amazing crowd of friends who throw the best herfs imaginable. My New York "Rat Pack" smoking chums all flew in to herf and hang out for a week as well! … I think I need a vacation now!
Back to Blighty and putting the finishing touch to our September Auction Catalogue. This looks  like a pretty big 300 Lot catalogue again with a good variety of aged and rare, limited and regionals, as well as Pre-Embargo Havana cigars.
I'll be visiting Turmeaus Liverpool and Puffin' Rooms on Wednesday. Looking forward to catching up with friends and clients for the best live music and cocktails, and a late night cigar sampling session at Turmeaus Late Hour Cigar Shop & Sampling Lounge.
Have a smokey week,
Peaceful puffing,
Mitchell