It's been a very busy week at C.Gars… as usual – with numerous clients visiting our offices to inspect the auction Lots for next week's vintage cigar sale.
The sale features some 350 Lots of vintage, Mature, Pre-Embargo, Davidoff and Limited Edition Havana cigars. The bidding platform is easy to use and the Lots have photos and clear descriptions. It works in a similar way to eBay. Sort of a cBay for cigars 🙂
We are always happy to check and advise clients with condition reports if unable to come and inspect at our offices. Just drop us an email and quote the Lot number sales@cgarsltd.co.uk. Final inspections are this Monday and the auction will end on Tuesday.
I enjoyed a delightful tasting event at Turmeaus Liverpool on Tuesday evening featuring Davidoff 702 cigars and Dalmore whisky. We paired up the Special R with 12 and 18 year old whisky and they were indeed a perfect match.
It was a pretty packed event and we were lucky to get a table next door at Puffin' Rooms after, as Puffin' Rooms seems to now be packed full 7 nights a week. Chef was on top form and the food was quite exceptional. We had managed to get hold of some of the finest Inca chocolate slabs from Peru and chef made incredible chocolate soufflé for dessert (should come with a health warning!) Victoria Sharpe was on piano and singing beautifully as ever.
The reviews look pretty good on TripAdvisor too! For the best experience of dining, drinks and music… you just have to come to Puffin' Rooms – Liverpool. Nothing like it in the UK that I'm aware of.
La Casa del Habano held a packed tasting event on Wednesday, featuring H. Upmann Half Corona and H. Upmann Anejados Robusto cigars. One of my clients emailed to say that our La Casa was like no other he has ever visited as it has so much charm and ambience as well as the friendliest service he has ever known. He also mentioned the rather amazing selection of Havana cigars!
Thursday was time to visit Turmeaus Mayfair. I enjoyed a Trinidad Vigia and Stalla Dhu Auchroisk 19 year old whisky with friends before we headed off to The Lanesborough to herf with more friends :).
We switched to Cuaba Salomones and Distinguidos which were both amazing smokes and a great way to finish off a week of herfing.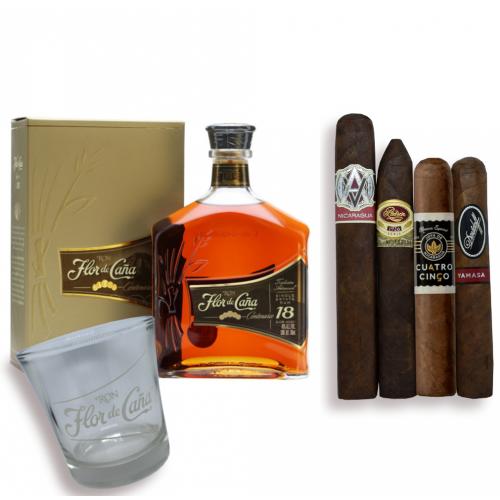 Kicking back this weekend with a bottle of Flor de Cana 18 year old (note: this one is on offer this month!… Blatant sales pitch lol) and a baggie full of:
Davidoff 702 Signature 2000 – A 'mans' cigar!
Davidoff Orchant Seleccion – Sophisticated and classy smoke
Ramon Allones Orchant Seleccion 2016 – Smoking very well indeed! (We've reached the 2 year mark with them! – if you know, you know)
Bolivar Belicosos 2007 – What a treat, I can't believe I managed to stash them for so long!
Mitchellero Orchie – Sweet and full flavoured Nicaraguan tobacco
Inka Secret Blend Red Robusto – Always a great smoke, smooth and sweet.
Let us know what you have on your weekend menu by posting a photo to our Facebook Page, or Tweet me a picture.
Have a smokey weekend,
Peaceful puffing,
Mitchell