Smokey greetings from rainy London where I have managed to get away from non-stop auction viewings for a few minutes to blog about my visit to Liverpool earlier this week.
It's hard to describe how cool this venue is but checkout the website to get an idea. This really is the finest concept we have ever created because it ticks every box for a fantastic evenings experience that tantalizes all of the senses. Our chef has created a delicious menu of small plates and our mixologists the finest cocktails. Our whisky bar has over 200 single malt whiskies by the dram, probably the largest selection in the North West.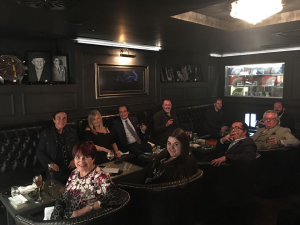 Liverpool is such a cool city with great hotels and restaurants. Well worth a visit! Puffin Rooms has live music 7 nights a week and last Tuesday when we visited we had 3 different sets ( 4 singers) …the best of jazz and blues in opulent comfortable surroundings. After dinner we retired next door to our late night Turmeaus cigar shop and sampling lounge and despite being crammed full of guests sampling the finest premium cigars there was in fact zero smoke. This is due to our state of the art smoke cleaning system.
Everything that you can sample is of course available by the box and we also feature Davidoff cigars
and a superb range of Zino accessories. I herfed with a friend at the Lanesborough last night and as its birthday week I decided to treat myself to a 1995 Cohiba Siglo V followed by a 1994 robusto and finishing with a Partagas Gran Reserva. Paired up with some excellent Rioja and a topless drive home to finish off a perfect evening.
This Sunday we will conclude our 3rd vintage cigar auction of the year. Check out the action here and very best of luck to our bidders and sellers, we are available by email 24/7 to assist and advise sales@cgarsltd.co.uk
Have a smokey weekend.
Peaceful puffing
Mitchell