The stunning Dictador rums and the exquisite Dictodor Gin from Columbia are a treat not to be missed, and I was privileged to  attend a Dictador masterclass tasting very recently!
First tasting was the Dictador Columbian Aged Treasure Gin 43%. Columbian Treasure Gin is based on a unique Columbian fruit Limon Mandarino
which blends the exotic s
weet taste of the tangerine and the acidity of the lemon to give fantastic balance.
The base spirit for the Columbia Gin is made from a neutral spirit distilled up to five times from sugar cane. The berries, botanicals, citrus peels and spice when combined with the ageing process merge to create this unique gin.
To give an extraordinary smoothness, the spirit is placed in oak barrels which was previously used to age other Dictador rums for 35 weeks.
Colour: Slight amber colour reflective of the time spent in a barrel – its clarity and brightness boasts of a truly revolutionary product.
Aroma: Initially tangerine enhanced with lemon notes before a secondary aroma of the botanicals that provide the freshness and balance. Mint, spearmint and pepper and a bit of sweetness from the wood and berries.
Palate: The pleasant notes and roundness from the tangerine, lemon, mint and pepper, with the traditional flavours of gin enhanced by the time spent in oak barrels results in a truly unique gin.
Colombian Treasure Gin – Enjoyed on the rocks, garnished with a twist of tangerine peel.
Next up was the Dictador Amber 100 Rum  40%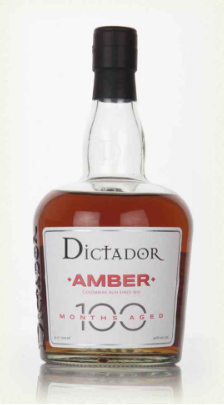 This Dictador is a Columbian Rum which is part of Dictador's 100 range. This Amber expression, which is aged for 100 months (hence the name) in ex-bourbon barrels made from white American Oak. The rum is carefully removed from the solera using only gravity to preserve the stunning natural colour, aromas and taste before bottling at 40% ABV.
This rum is well suited to neat sipping or cocktail making.
Colour: Intense dark amber.
Nose: Sweet warm notes of vanilla and fudge, with a smoked hint from cigar tobacco notes.
Palate: Light oak and vanilla with a smooth body and yet more aromatic cigar smoke.
Finish: The smoked note continues throughout the finish as it lingers.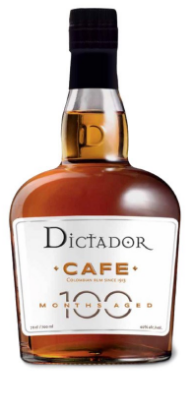 Moving on the something I was really excited to try especially as I'm a big fan of coffee was the Dictador Cafe is a 11 month aged rum which uses ex-bourbon oak barrels after distillation in a continuous column still.
This is then filtered through Colombia's most well known agricultural product – Arabica coffee beans which provides a vast and deep flavour for those who are seeking something more in their rum,
Cafe 100 is the perfect partner for the most discerning of drinkers who value their rum as much as their morning coffee.
Colour: A deep vast colour which stands out in the glass.
Nose: Rich coffee nose, plenty of sweetness with fresh vanilla blends together nicely with malt and biscuit aromas.
Palate: A light palate of dry cocoa. Aspects of the nose continues, such as coffee and fresh vanilla.
Finish: Aspects of the palate creates a lingering finish.
The final rum in the tasting was the incredible complex Dictador 20 Year Old Rum 40%
This Dictador, 20 Year Old Rum from Columbia is made from the fermentation of virgin sugar cane honey, distilled partly in copper alembic and partly in steel continuous column,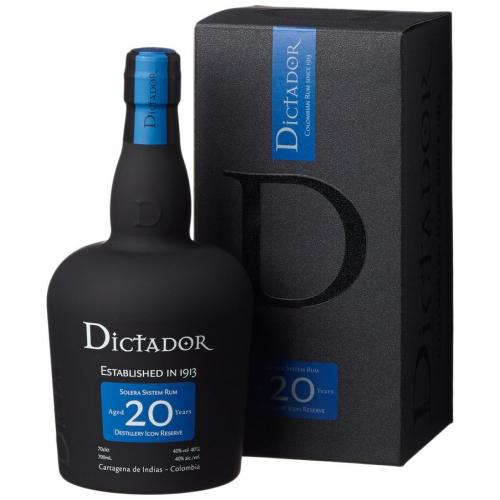 to achieve a medium body rum of which the honey is evident throughout the nose and palate.
The Dictador is then aged in pre-used oak barrels using the solera method and finally bottled under the highest quality control to ensure everything is contained in the liquid flavour.
Colour: Intense dark amber with red brown tones.
Nose: A big nose with soft caramel, vanilla and honey as well dry seeds, roasted coffee before a final rich rounded oak sensation.
Palate: Soft and rounded, dry delicate yet big and full of flavour. Caramel follows through on to the palate with more vanilla, honey and a hint of cocoa.
Finish: A strong, hard to come by texture, exceptional complexity and stunning finish.
Hope these tasting notes have inspired you to indulge in these luxurious drinks from Columbia!
Slainte
Pete