Just back from a hard weeks herfing in New York 🙂 We enjoyed excellent weather but fortunately the weather was not crucial as there are so many places to herf indoors. New York is seriously cigar friendly.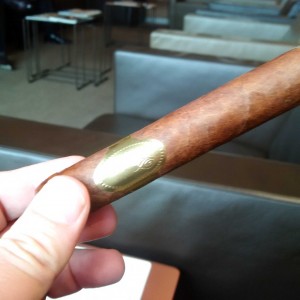 My first stop was Davidoff on 6th Avenue. This used to be my early morning hang out for many years when it was De La Concha and it's a bit of a shame that the Olde worlde charm of DLC has been replaced with an ultra-modern shop. It used to have so much atmosphere and was a very friendly place to meet and chat with fellow cigar smokers. I heard that the Davidoff Puro D'Oro range may be discontinued so I smoked a Gordito as I always enjoyed this blend. A perfectly constructed cigar (aren't all Davidoffs?!) with a slight saltiness as a flavour characteristic but light to medium strength that made for a well-balanced smoke.
Next stop was my favourite cigar store in the USA, the world famous Nat Sherman. I love this place as the staff and the customers are all super friendly. I'm bias though as they also feature Inca – Secret Blend in the fabulous walk-in humidor! That said I smoked Nat Sherman Sterling which are one of my favourite New World cigars. We proudly import and stock a good range of Nat Sherman cigars both online and in store. Great value and excellent quality cigars that we highly recommend.
I think the newest Davidoff shop and lounge is at Brookfield Place and I enjoyed a Davidoff Nicaraguan robusto whilst Karyn was busy shopping. This cigar store is beautiful and the service was very friendly too, the humidor was very impressive and the lounge very comfortable.
An hour out of NYC and I was at J.R. Cigars in Whippany, billed as the biggest cigar store in the world! I first herfed here some 17 years ago and it was great to return and see how it had changed with more
comfortable lounge areas and a mouth-watering selection of just about every cigar imaginable. Impressive would be an understatement. J.R. Cigars are now stocking Inca – Secret Blend and it was a pleasure to meet the Team that deal with all of the products, internet and marketing. Really great bunch who clearly are at the top of their game.
Saturday night was time for the late show at Carnegie Club with a Sinatra tribute show. Brilliant orchestra and singer and a fabulous late night herf with some of my best friends. We herfed our way through a ton of Fuente Opus X paired up with… A lot of Macallan 🙂 till the early hours of the morning.
Late night smokes at Bar and Books on Lexington is always fun and they have a great whisky menu too. They have a few locations including Prague in the Czech Republic so I plan to check that out next week when I'm over there.
We enjoyed some great evenings including going to Lavo which was very cool, Polo Bar – very chic, and Park Side highly recommended.
We also herfed at Gran Havana Room and blasted through a box of Regius Orchant Seleccion Hermosos that I brought over for friends to try.
Sunday was time to relax at Club Macanudo where we smoked Macanudo cigars 🙂 with some Balvenie 21.
All in all a rather mega herfing week and I can't wait for my next trip to the Big Apple!
In other news… Summer Cigar Auction is fast approaching (20th June) and the catalogue is at the printers already so we hope to have it online and in the post to registered clients in the next week or so. Its huge and interesting sale of over 300 Lots of aged and rare Havanas. There are still a few tickets left for the event which includes a whisky and cigar tasting at the Sahakian cigar lounge post auction. More details on this link.
The new Turmeaus at The Albany in Liverpool is coming along nicely and I understand the floor now exists! The builders are crashing away and we're on schedule for a late Summer opening of our latest cigar and whisky store and sampling lounge. Exciting stuff!
There was also a nice little write up on HalfWheel.com featuring a superb portrait by Brooks Wittington, so my thanks to them! You can see the article on this link.
So, after a week of delicious New World cigars it's time to get back to some of my favourite Havanas of course and the first one up in smoke was an Orchant Seleccion Bolivar Royal Corona a true return to blending form for this cheeky robusto. Full flavour and full strength, how they used to be. Dark wrappers perfect construction and a beautiful aroma with volumes of smoke to tease the palate.
It's good to be home!
Peaceful puffing,
Mitchell