Just back from a fabulous trip to Peru visiting the birthplace of Inka – Secret Blend cigars.
It was a bit of a crazy travel schedule as it's not possible to fly directly to Lima from the UK so I enjoyed a very comfortable flight on Virgin to sunny Florida as the first part of the journey. My business partner, Ron, collected me from the airport with a fair selection of cigars to choose from for the herfing drive over to my hotel on Pompano Beach, which was most welcome after 9 ½ hours without a smoke!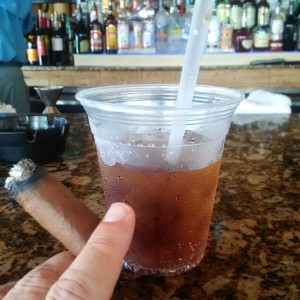 A few smokes and drinks by the pool bar later and we had just about caught up on all the Orchant & Morrison business world domination plans 🙂 and a few hours later we were on an American Airlines flight to Lima. Without any doubt one of the busiest airports I have ever been to but fortunately we weren't there too long before boarding our flight to Tarapoto.
Tarapoto is in the San Martin province in the North of Peru. It reminds me of Pinar del Rio but far larger and 20 years more advanced. Hot, humid and noisy but a very vibrant city.
Arriving at Tarapoto we were collected by our partner Gennaro from Tabacalera del Oriente and taken to our hotel which was a charming little place to stay right in the centre of town, right next to a French bakery and Italian restaurant (that was me sorted then!) The owner of the hotel has her own boutique brand of coffee and treated us to a coffee tasting which helped me get over the jet lag as I could not sleep at all after that!
Great timing as we arrived at the start of a heatwave which kicked off at 97°F and seemed to stay around that temperature for the next few days!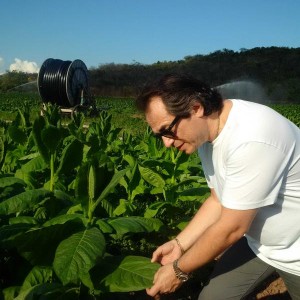 We spent the next few days in the fields and the factory going through every stage of production from seed to cigar. We are making huge efforts to ensure consistency of blending and quality control generally as we are truly a crop to shop business.
Our Inka Secret Blend project started in the UK some 3 years ago and rapidly turned into our most successful best-selling New World cigar. Recently launched in the USA as Inca – Secret Blend and rolling out to Europe next year as we start to introduce additional vitolas and scale up the production.
The new blends we were working on included a 20 count box of robustos with a Pinar del Rio wrapper and a 10 count limited release of robustos with a Pele D'Oro wrapper (and some of the filler as well) It's a genuine Limited Edition, not a sort of  limited to as many as we can sell as many seem to be these days. We only have enough of this low yield/high quality leaf to make 10,000 sticks and they are super premium quality. A sweet zing on the palate, dark colorado maduro wrapper. Medium strength and perfect construction. I'm very excited about this project.
Tabacalera del Oriente is going through some major expansion and building works to cope with the demand for this superior quality Peruvian tobacco that is used I believe as filler in some of the big brand new world cigars as well as the Secret Blend Puros range. The work should be finished in around 8 weeks' time and will feature a new visitor centre including scotch whisky bar and cigar sampling area. We are looking forward to our new C.Gars – Peru premises being completed 🙂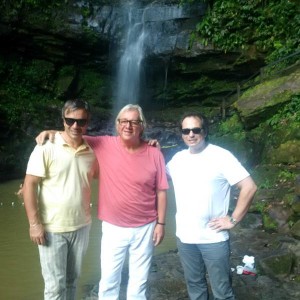 We managed a little time off during the trip, herfing at bars, restaurants and friends' homes. Super friendly people and very laid back ambience. Tarapoto is a cool place to visit. We toured round waterfalls and relaxed at a friend's house in the jungle close to the water. Perfect herfing spot.
Heading home via Miami , I popped in to our friends at Alec Bradley, had a dram of Jura 1984 and a Prensado and chatted about a new exclusive cigar project that we are working on together for early next year. All exciting stuff 🙂
Back in London and one day to catch up in the office until I was back on the road again to head up North on Friday for a mammoth 3 stop trip starting with architects meetings in Liverpool (and a quick smoke at Turmeaus Liverpool) and finishing with a visit to Turmeaus and LCDH – Chester.
The expansion to Turmeaus Chester is almost complete and with the three intercommunicating shops we now have all the space we need for our complete retail range of tobacco and alcohol. The builders are almost finished and if I do say so myself the results are pretty stunning. I reckon the additional premises will be integrated and open in around a weeks' time and I'm looking forward to showing clients around at our next tasting evening on the 29th October.
If all goes to plan next week we will complete the acquisition of another specialist cigar shop/lounge up North and Turmeaus will be expanding again. I'll keep the location secret till my next blog 🙂
Our Winter Cigar Auction catalogue is now closed and very full. In fact I am fairly certain this is the largest catalogue we have ever offered and will likely be the largest cigar auction in history. We have a breath taking range of Davidoff, Pre Embargo, Limited Edition humidors and other vintage cigars in the auction which we are selling on behalf of many collectors, aficionados and connoisseurs.
The sale will be held at The Bulgari on the 30th November. Catalogue will be online and in print 3 weeks before the sale. I'm fairly sure the Bulgari event is more or less sold out already.
In Havana cigar news this week, the H. Upmann No.2 Reserva has been released in tiny allocated quantities, excellent cigar but what a shame more aren't available at this time. The UK regional Bolivar Belgravia is due out in November and I still have no idea when we will received the Montecristo 80th anniversary.
We are releasing the Orchant Seleccion Ramon Allones Specially Selected next week. Just 64 boxes selected personally for their beautiful condition, appearance, quality and blend. I'm grateful for Hunters & Frankau's continued support with the Orchant Seleccion Havana cigar range, Read more about them on this link.
It's a '2 day week' for me this week as I head overseas again on Wednesday… Although it won't be as hot as last week in Peru!
Have a smokey week,
Peaceful puffing,
Mitchell