Happy New Year folks! I had a few days break over Christmas and New Year with family and friends and enjoyed some of the finest Havanas including an outrageously good cabinet of Davidoff Chateau Mouton Rothschild from the 1980's.
I paired up the smokes with a few bottles of Dom Perignon for New Year's Eve which worked very well indeed. I contrasted the old with some new and it just had to be Cohiba Robusto Supremo Limited Edition. Puffing our way through a box of these with my Father and pairing them up with some Robert Graham Dancing Stag Deanston was a sublime experience.
This has to be one of the finest limited edition cigars ever to have come from Havana. Crafted to perfection, volumes of smooth sweet flavours and perfectly balanced with medium strength. They have become our fastest selling limited edition of all time.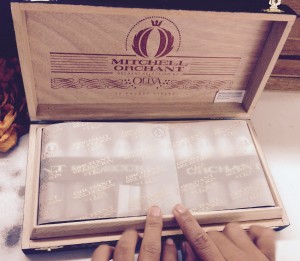 Back to work now and very excited about 2015  🙂 Next week I expect to launch our new and exclusive range of Orchant Seleccion Oliva cigars. 3 sizes in boxes of 10 in a limited edition that my clients will love as they are exceptionally quality and will be incredibly good value.
I love Oliva cigars and clearly so do C.Gars and Turmeaus clients as our sales on this range keep growing year on year. Oliva had a fabulous year winning awards both in the UK and the USA. We have the full range available and of course will never be beaten on price in the UK.
New World cigars gained a level of popularity increase like I have never seen before in the last year with so many smokers trying different regions and brands to contrast against Havanas. It's great to have exclusive lines and one that is rapidly becoming a firm favourite is the Nat Sherman range (only available from C.Gars) First rate quality, popular sizes and fantastic value.
Also expecting the rare and limited edition Padron 50th Anniversary Humidor next week. I first saw this beautiful creation at the IPCPR trade show in Las Vegas last Summer and it took my breath away. Stylish and classy and containing 50 cigars measuring 6 ½" length and 50 ring gauge.
('The Hammer') Only 1000 numbered humidors have been made and they are sure to become a desirable collector's item.
More new Havana cigar releases expected in the next few weeks too including the Partagas SD No. 6  🙂  a short fat 50 ring gauge 20 minute smoke that is a great size. More details to follow.
Our next vintage cigar auction is being held online on the 1st February, visit the website here, and the catalogue is already full. A magnificent range of aged, rare, Davidoff, Pre Embargo and vintage cigars will be offered to online bidders. I expect that the Lots will all be online for clients to peruse and bid on mid-January. Almost 300 Lots will be sold and no doubt some bargains will be bagged. Most of the Lots are at our London offices and as usual will be available for viewing by appointment.
I'm heading up to Liverpool and Chester Turmeaus and La Casa del Habano shops early next week and meeting our architects to go through first draft plans of our new cigar megastore that we expect to open by the Summer. This will be the largest cigar store in Europe with almost 5000 square feet of retail space showcasing our entire range of cigars, humidors and accessories. If you have ever been to a JR cigar store in the USA you will get the picture! It's a helluva project but very exciting 🙂
Later next week I'm heading over to the USA to finally start the launch process of the long awaited Inca Secret Blend range of cigars that I have created for the International market. Launching an aged leaf limited edition of 2 sizes as the inaugural release which will be followed  up by a comprehensive range. Unique box design and incredible blend. I should know as I've been working on it for the last 3 years!
The premium International range of Inca – Secret Blend follows the success story of the mid-market range of Inka – Secret Blend I created for the UK market some 3 years ago which rapidly became our best-selling New World cigar in the handmade sweet Peruvian tobacco at an unbeatable price range in its category.
Okay so I better stop blogging and make sure the orders are being packed! From the volume of orders received over the last 48 hours it looks like everyone had a very smokey New Year!
Have a smokey weekend,
Peaceful puffing,
Mitchell