Nice to get back to routine (if my life is ever routine!) after the crazy holiday season 🙂 And clearly a lot of humidors were emptied and enjoyed, judging by the order volume over the last week. So my thanks for all the orders and keeping our shops and offices busier than ever!
I am amazed at the gain in popularity of New World cigars and our clients seem to show more interest in trying out new regions and new brands/sizes all the time.
Some of the recent releases that have been hugely popular include: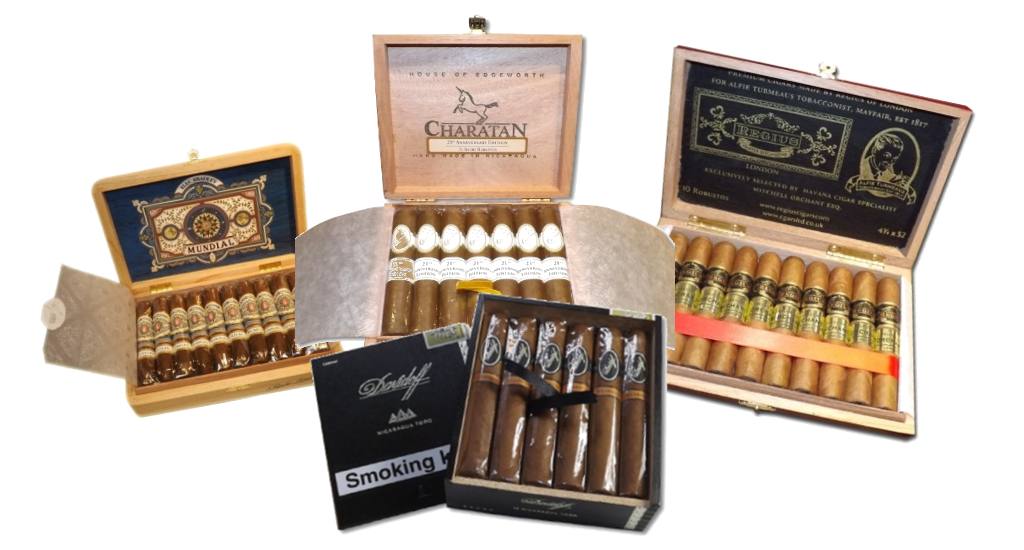 Charatan 21st anniversary – 21 cigars from Nicaragua at £185. A cracking short fat full flavoured cigar
Alec Bradley Mundial – One of my favourites 20 delicious premium cigars for £189.
Regius Robusto – Limited Turmeaus Edition, 10 Nicaraguan cigars for under £80 quid a box which are tremendous value
Davidoff Nicaraguan Toro – These ain't cheap but they are a great smoke and selling like mad.
It's great that smokers are expanding their horizons. Quality of the above brands is quite excellent and I can't remember a complaint about blend or draw but I do get a lot of emails (thank you) from clients who are very pleased with the quality as well as the massive range we carry.
I think we must have the largest range of premium cigars in the UK. Essentially if its imported into the UK – we have it in our warehouse for rapid mail order delivery as well as comprehensive ranges in our retail cigars stores across the UK.
My partner Ron from Robert Graham was down from Scotland this week as we had to do some serious whisky sampling from our ever changing and expanding range of whisky.
We now have award winning core range including:
Hoebeg – Our best selling Islay single malt
Ailein Mor – Our best selling Highland single malt
Caerban – A delicious vatted malt
Next we have our inspired series of single cask Dancing Stag, bottled at 46%. These casks yield around 300 numbered bottles and obviously can never be repeated when sold out.
Finally we have our Treasurer Selection range of cask strength single malts
Checkout the current range on this link.
Ron and I herfed with friends Dov and Joe at the lovely Bulgari Hotel (Edward Sahakian cigar lounge) and smoked our way through quite a few Cohiba BHK 54's followed by Partagas P2's until well… rather late. We paired up the cigars with a bottle of 30 year old Fettercairn which worked very well indeed.
The Bulgari is a perfect herfing venue. Perfect service, great food, very comfortable – who could ask for more?
Hard week in the office for me next week as Michelle is heading to Havana and I'm starting to put together catalogue for our next online Auction in February expecting a good range of limited edition, aged and rare, reserva and gran reserva to be entered. For more details drop me an email sales@cgarsltd.co.uk
Have a smokey weekend,
Peaceful puffing,
Mitchell