A very happy new year to all friends of C.Gars, Turmeaus and Robert Graham 🙂
There was a really weird  if not bizarre article in the Financial Times about cigar smoking declining in the UK and dying out by 2026 a couple of days ago. My first though was great… I can set up a retirement date as that would make me around 61 years old 🙂 but then I thought nahhhh!… What on earth would I do with my time, it's not as if I play golf lol.
So dear blog reader, I decided to do a little actual research as it seemed that the writer of the article had not done his research accurately (if at all!) Basic research would have suggested that he may get some more accurate feel for the industry by contacting C.Gars Ltd. As retailers both online and in our cigar stores we should have a good handle on whether the premium cigar industry is declining, surely?
I asked my marketing department for some stats relating to our business. Now you may think that the stats are only relevant to my businesses but by my reckoning we are the largest cigar specialist in the UK and whilst I think we are also the best cigar specialist, the reality is that if we are doing well and our sales are increasing, our contemporaries and competitors in the UK are also likely to be experiencing something fairly similar.
Well… The FT article partially blamed the smoking ban for their theory that cigar smoking is declining and will die out by 2026 but my Marketing Team stats show that our sales have increased more or less 20% annually since 2007 which would rubbish the FT article completely. We have opened new specialist cigars stores in Edinburgh, London West Hampstead, London Mayfair and Cambridge as well as relocated to better premises in Liverpool and Glasgow. Hardly any sign of a declining business or industry
Perhaps the writer of the article never bothered to visit any of the fabulous cigar terraces in London or elsewhere in the UK that always seem to be exceptionally busy when I visit them for a scotch and a smoke or two on just about any evening of the week. If the demand wasn't there why would these businesses invest so much money in providing the facility? My favourites include: Boisdale, Ten Manchester Street, The Wellesley, The Bulgari, The Ritz  and the Lanesbourogh (now closed for refurb) to name a few.
Perhaps cigarette smoking is declining? I don't know and I couldn't care less as it's a different business to the cigar trade. That said perhaps cigarette smoking is declining due to the whopping UK taxes and the huge amount of smuggling that I am guessing goes on?
But let's get back to cigars and how the industry has, and is, changing and evolving. I should know as I have been in the cigar trade longer than most in the UK. Well, when I started in the 1990's, the main premium cigar market was always Havana cigars and in fact it still is. But, the market for New World cigars (Nicaragua, Dominican Republic, Honduras, Peru etc.) has steadily grown over the last decade and I would say is going through something of a mini boom. We are not selling any less Havanas, in fact we are selling more, so who on earth is buying the New World cigars? You guessed it, it's a younger generation of cigars smokers who want to experience cigars from all different New World brands as well as try Havana cigars.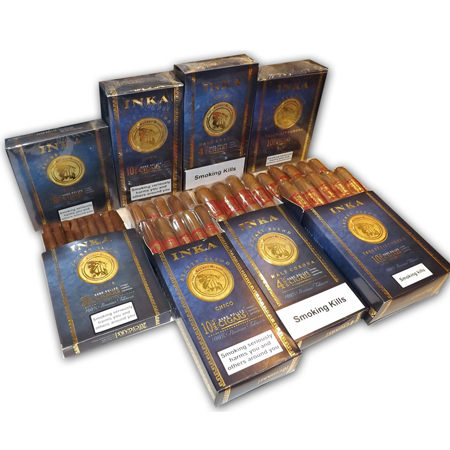 Brands like Davidoff, Alec Bradley, Inka – Secret Blend and Regius to name a few, are growing in sales for us literally month by month. Novice cigar smokers aren't afraid to try new cigars and experienced cigars smokers are also 'mixing it up' with their Havanas too.
I had a phone call on New Year's Eve from a journalist from The Times newspaper who had seen the FT article and wanted to do her own article and get some information from me. Here's the article which seems to reflect a more accurate picture. Well done to The Times newspaper
No need to panic then! I'm not retiring any time soon and despite what barmy legislation our successive anti-smoking obsessed governments may throw at us, I can't honestly believe it makes any difference to the cigar smoker.
I'm no expert on the planned changes in legislation (I stopped worrying about this years ago!) but understand that our lovely cigar shops have to cover up any window displays from next year so we don't show any tobacco products… OK – c'est la vie – so we will fill window displays with whisky instead. Will it stop anyone from popping in to their favourite cigar shop to buy their usual Montecristo or Davidoff to enjoy? I think not!
Then the news goes on and on about 'plain packaging' yes – no – yes – maybe. Who bloody knows! No really helpful data of consequence regarding effects on cigar smokers has ever been produced nor is it likely to. Like I say I have no idea about cigarettes – that's a different business but I dare say it's a law that should never happen to premium cigars and heaven forbid it does it still won't make a jot of difference to the cigar smoker
Don't read this as a rant, I find it all very amusing that lawmakers go on and on about bans and packaging and can't help to think that perhaps they should be worrying and applying themselves more to real problems such as drugs and homeless people. Surely they are more serious issues. Isn't this the UK? The country of cigar chomping Winston Churchill? And a democracy last time I looked where people should still enjoy a moiety of freedom of choice for cigar smoking which is of course a very legal product.
Our most popular cigars for 2013 included:
Cubans
Montecristo No. 4 (no surprise there… heehee)
Montecristo Edmundo and Petit Edmundo
Romeo Short Churchills
Cohiba Robusto and Siglo VI as well as the new Piramides Extra which is hugely popular
Partagas SD No. 4 and Hoyo de Monterrey Epicure No. 2 – our two most popular Robustos
Ramon Allones Specially Selected and Bolivar Royal Coronas – making a strong challenge to the two robustos above
Cohiba BHK52 and 54 – more popular than we would ever have imagined
Hoyo de Monterrey Epicure Especial – a surprise newcomer in our best seller list
Bolivar Belicosos – always a firm favourite for the campana smoker and always superior quality from C.Gars ltd as our stock is all 6 years + matured
Can you see a trend? Well, a bit of a trend at the very least – short and fat smokes, big volumes of flavour from large ring gauges. 40 minute + smokes
New World
Fuente – fabulous range, something for everyone. Superior quality without any doubt
Inka – Secret Blend – need I say more ?!
Davidoff Nicaraguan – storming off the shelves
Alec Bradley – great value and superior quality Mundial range is a huge hit with our customers and the Fine and Rare range isn't too shabby either
Regius – popular since the day we launched and uber popular with the addition of the Turmeaus limited edition Robustos and Culebras
Torano regular range as well as the C.Gars Seleccion robustos and petit coronas – could this be the best value premium cigar available? It's a good contender that's for sure.
We finished 2013 as our best year ever so my thanks to my Team at C.Gars London and Norfolk as well as our retail Teams at Robert Graham and Turmeaus shops. My thanks to our fabulous suppliers for all their support but most of all my thanks to our 40,000 regular UK customers (up from 32,000 previous year)
I'm looking forward to an even busier 2014. More range and more special release cigars, perhaps an auction or two and perhaps a new cigar & whisky shop or two. As ever, it will be an exciting year… That's for sure 🙂
Peaceful puffing
Mitchell