Our Summer and Winter Cigar Auction events have outgrown themselves! We've been holding twice yearly Cigar Auctions since 2009 and literally knocked down millions of Pounds worth of great cigars. Davidoff, Dunhill, Pre embargo, Aged, Rare and Mature – you name it and we have sold it at our auctions in substantial quantity.
Our problem is that our auction catalogues are bursting at the seams when we get to 300 Lots, we have even auctioned up to 400 Lots and still have more sellers asking us to include their late entries which just becomes impossible.
So… The only solution to keep the sellers happy was to start our very own Online Cigar Auction website. That will also keep the regular bidders happy as well no doubt as we are frequently asked if we can do more regular auctions.
… And of course we will still be holding our regular Summer and Winter Auctions at the fabulous Boisdale Canary Wharf.
Laura, my Managing Director of C.Gars Ltd – Norfolk and her team have been hard at work creating an online cigar auction platform as we didn't want to use any off the shelf auction software and wanted it to function very specifically for our cigar auctions. Now, if all goes to plan it should function fairly easily if not similar to eBay. In fact I wanted to call the website cBay but was dissuaded as we didn't want to upset eBay!


Delighted to confirm that our first Online Cigar Auction is now live and active on our new Auction website OnlioneCigarAuctions.com. We have listed a small quantity of Lots initially to make sure everything is working as it should 🙂 but from late next week we will be listing new Lots every day Monday – Friday with 7 days to get your bids in.
We have quite a backlog of Lots to enter (probably a month or so backlog!) but sellers are welcomed to email us should they wish to enter Lots for next available listings. I've kept bidders and sellers fees at the same low rate as our regular auctions which is roughly 40% cheaper than most other auction houses.
As ever happy to assist in shipping of Lots but advise bidders to read descriptions very carefully as certain Lots cannot be shipped to the UK/EU as we have tried to clearly describe. I hope you enjoy bidding and win some bargains 🙂 and best of luck to our sellers too of course.
If you need any advice or guidance shoot me an email sales@cgarsltd.co.uk, always happy to help.
…And in other news this week 🙂 Hunters & Frankau have announced that their 'Summer Party' will be held on the 15th October on HQS Wellington which looks like a jolly good venue to me. The star of the evening will be the long anticipated launch of the UK regional edition La Flor de Cano Gran Cano which measures in at 5 ½" length and 50 ring gauge which is a Gordito though I like to think of it as a Long Robusto 🙂 If the blend is anywhere near as popular as the outrageously superb LFDC short robustos, we are in for a treat. These cigars will be presented in SBN boxes of 10 cigars. Needless to say I'm counting down the days in excitement and anticipation.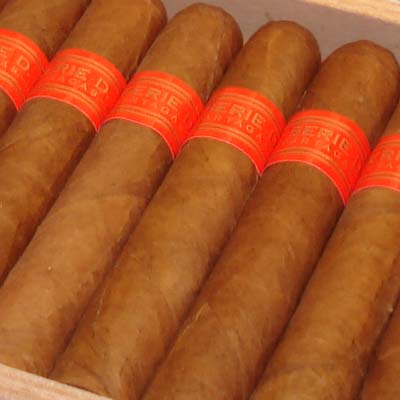 Had an impromptu herf with Mr Orchant Snr.  last night and enjoyed some D4's on the balcony together with some rather smoky and peaty Hoebeg exclusive to Robert Graham Ltd. My dad moaned on and on and on about how 'Partagas Serie D4's just don't taste the same as they used to' but had to admit that whilst they are not as earthy and powerful as he remembers a quarter of a century ago! They were a delicious smooth and sweet smoke that worked well with the whisky.
Dinner was at the scrummy White Fish restaurant with a bottle of Petit Castel followed by a Davidoff Chateau Haut Brion 1988 back at home snagged out of my Dads humidor. Splendid evening… Now back to the diet.
Last couple of days in the office and then I'm off to the USA for just over a month. No Cubans for a month but plenty of Davidoff, Fuente, Torano and Inka – Secret Blend… Not too shabby. Looking forward to the magnificent IPCPR tobacconist trade show in Las Vegas from the 14th July where I will be seeking out the best accessories and cigars to import into the UK exclusively for C.Gars Ltd, Turmeaus Tobacconist  shops and Robert Graham Ltd whisky & Cigar shops.
Next blog from sunny Los Angeles… Hasta luego!
Peaceful puffing
Mitchell